'P-Valley' Was Rejected by Tons of Networks Before It Landed on Starz
Over the summer, P-Valley became one of the biggest breakout hits on TV. Set in Chucalissa, Mississippi, the acclaimed drama series follows Uncle Clifford (Nicco Annan) and the women of her beloved strip club, The Pynk.
In Season 1, as Uncle Clifford struggles to keep the club afloat due to mounting debt, a mysterious newcomer arrives at The Pynk's doorstep. Autumn (Elarica Johnson) is a woman running from her past and suspicious of everyone around her. She immediately clashes with Mercedes (Brandee Evans), The Pynk's long-time headliner, who has plans to get out of the strip scene. We were also introduced to Keyshawn, aka Ms. Mississippi (Shannon Thornton), a dancer in an abusive relationship, and many other characters.
Though P-Valley was a massive hit and fans are eager for Season 2, the show was rejected by numerous networks before it finally landed at Starz.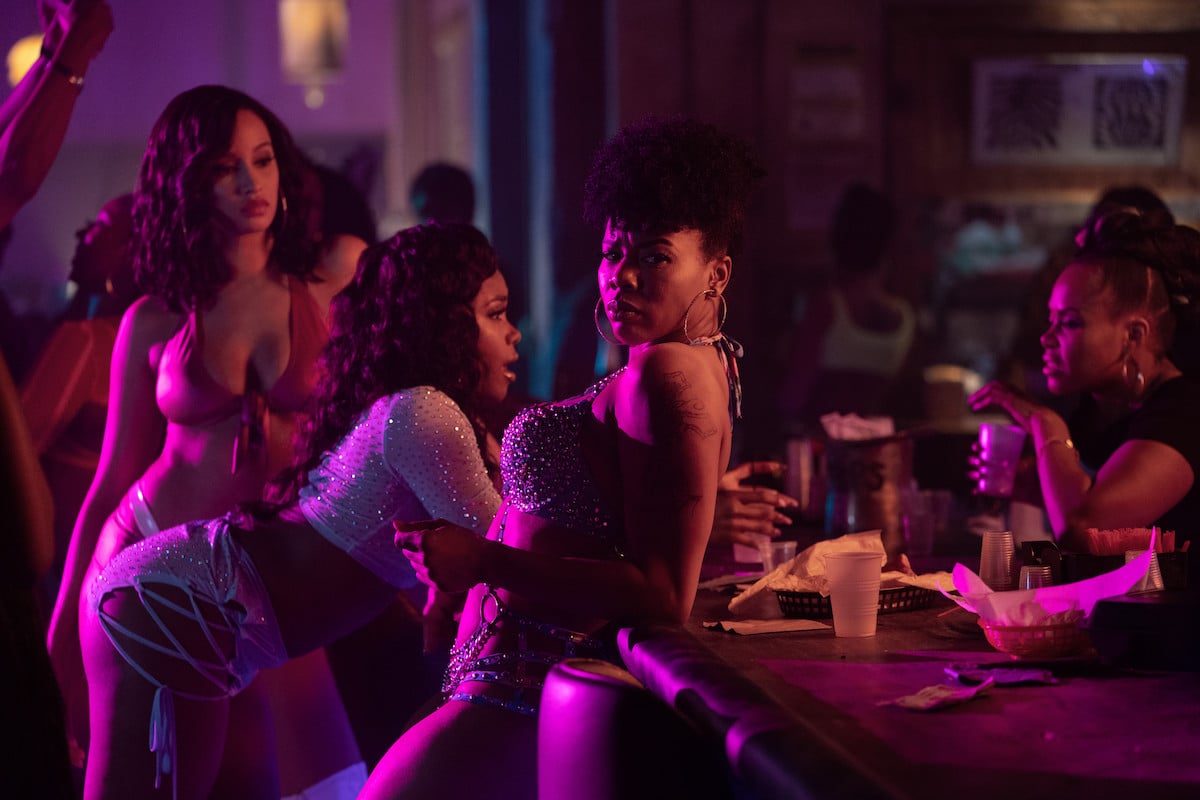 Inside 'P-Valley' Season 2
P-Valley has already been renewed for Season 2. However, amid the coronavirus (COVID-19) pandemic, there have been no details as of yet, as to when filming might begin.
In Season 2, we saw Autumn save The Pynk from being sold while Mercedes' dream was stolen from her by her own mother. "We have not started, but I've started it in my mind," P-Valley creator Katori Hall told ELLE. "I have kept a log of all the stories I've wanted to tell and a lot of threads to pull, especially after the season finale. This is an interesting moment, what's happening in our world with the virus and the uprisings, and I am definitely thinking of how we can participate in those conversations through this art. But just know, it's not coming any time soon."
Recently, Hall offered some insider details into what fans can expect when the series returns to the small-screen. She will focus on how the coronavirus crisis affects the Black community and small businesses head-on. She told Variety,
This pandemic has stopped many businesses from gathering. You can't have music concerts, yet strip clubs down South are on and popping. I really feel as though we need to honor the moment and tell this story. And we have to have a document as to how we survived — particularly how Black folks are surviving this moment, because no one's telling that story.
RELATED: 'P-Valley' Creator Talks About Mercedes and Autumn's Future, Plans for Season 2, and More
Cardi B inspired Katori Hall to write 'P-Valley'
Initially, Hall was inspired to write P-Valley because of the success of Cardi B, who was a stripper before her rap career took off. She told ELLE,
Cardi B literally rolled out the Pynk carpet for P Valley. I was following her on social media when she was a dancer because I loved her personality. She was funny as fu*k and smart as fu*k, and even being young, she was this vibrant and political woman who was articulating herself in this powerful way. So fast forward, she just popped, and this story about this stripper-turned-rapper was on everyone's tongue. She made other people feel comfortable and be more accepting—and was unapologetic about it the entire time. She was the starting point.
This is why 'P-Valley' was rejected from a ton of networks
Despite Cardi's success and the success of the series overall, Hall had many doors slammed in her face when she began shopping P-Valley to networks; they all rejected her idea. "I went all around town in Hollywood, and so many people wouldn't even let me in the door, like, 'There are no shows about exotic dancers, and no one wants this," she told ELLE. " In her discussion with Variety, she discussed why Starz became the perfect fit. She explained,
I remember there was some people who wouldn't even let me in the room. It was just so taboo, and (there was) also the assumption that I wasn't going to do it justice and that it was always going to be just salacious. But at Starz … they really understood what I was trying to do. I was really trying to humanize these women, these women who have been marginalized, dehumanized, misunderstood, misrepresented.