'P-Valley': Why New Dancer Roulette Looks so Familiar
Gail Bean has joined Starz drama series P-Valley as a "powerhouse" dancer with a rebellious streak, Roulette. Before appearing on the show, the 29-year-old Missouri native has starred in several movies and television shows since 2011.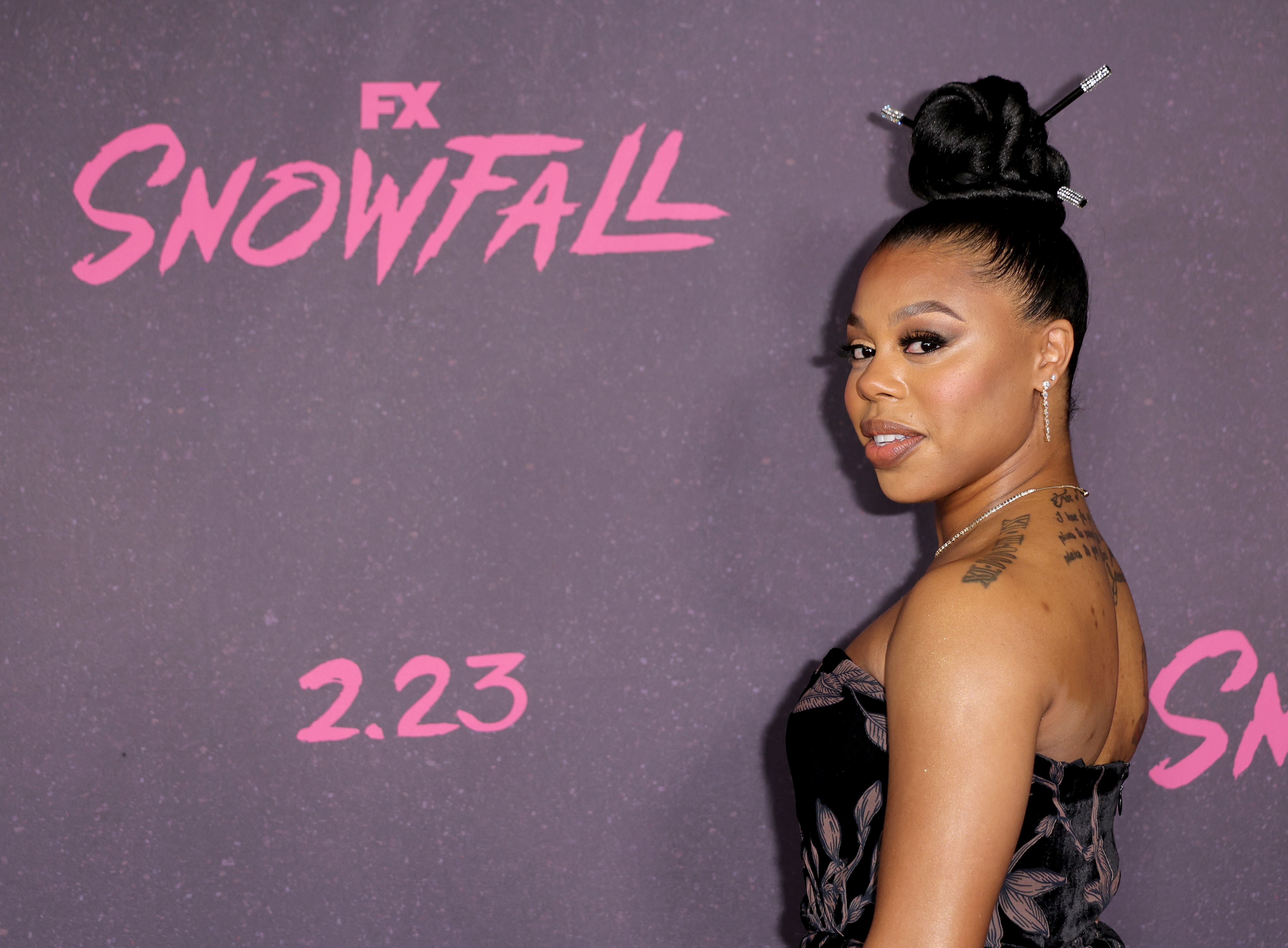 Gail Bean portrays 'P-Valley' dancer, Roulette
Described as a "powerhouse" when she hits the pole by show creator Katori Hall, Roulette (Gail Bean) shows up to The Pynk in season 2 when Hailey (Elarica Johnson) holds open tryouts for new talent.
After impressing her, Mercedes (Brandee Evans), and Uncle Clifford (Nicco Annan), the Jackson-based dancer, joined the lineup alongside another newcomer, Whisper (Psalms Salazer).
RELATED: 'Snowfall' Season 5: Leon and Wanda Romance Teased by Gail Bean
Her fiery personality clearly sets up a match for veteran Mercedes, who is already threatened by the new girls.
Wanting to prove herself as the top dog, she attempted a trick on the pole before her shoulder properly healed, resulting in a long fall to the stage. Roulette is a main character and will appear in nearly every episode of season 2.
Bean is known for her roles in 'Snowfall' and 'Paradise Lost'
Before depicting Roulette on P-Valley, Bean stars as Wanda in FX's drama Snowfall. The actor has portrayed the character since season 1, which is currently her longest starring role.
She has garnered praise for her depiction of Leon's girlfriend, who viewers watched spiral after getting addicted to crack.
However, she got into rehab and turned her life around, eventually holding a full-time job and managing to stay clean. The actor recently received a Black Reel nomination for Outstanding Guest Actress in a Drama Series for her performance in 2021.
Bean also starred in Spectrum Originals TV series Paradise Lost as ambitious small-town Mississippi native Gynnifer Green. 
She began her career in 2011 and has since appeared in 'Insecure' and 'Atlanta'
The 29-year-old Missouri-based actor, writer, and producer began her career in 2011 with the drama Diamonds Aren't Forever as Jessica Roberts. After performing in shorts for a couple of years, Bean landed the role of Amanda in At Mamu's Feet  (2013).
She then went on to star in comedy-drama Unexpected (2015) as Jasmine and the thriller The Belko Experiment (2016) as Leota Hynek. The upcoming actor then landed a memorable guest role as Rasheeda or DaDa, the only other Black female employee at Molly's law firm in season 1 of comedy Insecure. Bean has also appeared in the popular drama series Chicago P.D. (2018) as Sienna in season 5, episode 11.
Additionally, she portrayed another notable guest role, this time in comedy Atlanta as Nadine in season 2, episode 7's "Champagne Papi." After appearing in a couple of episodes of Detroiters (2018), she starred in the comedy mini-series Velvet as the main character Demetra.
She then landed her first recurring role in season 1 of BET's Games People Play (2019) as Quanisha. In 2020, Bean appeared in Grey's Anatomy Season 16 Episode 18 as Caitlin Freeman before landing her role in Paradise Lost. Other than Snowfall and P-Valley, the actor most recently starred in all four episodes of comedy-drama Love in the Time of Corona (2020) as Adeah. P-Valley airs Sundays on Starz.