'P-Valley': Season 2 Will Have Elements of Horror
P-Valley Season 2 has only just gotten started but already it's darker than anything we've seen from the first season of the series. Set in the fictional town of Chucalissa, Mississippi, P-Valley centers on Uncle Clifford (Nicco Annan), the owner of the popular strip club The Pynk and the women who work for her.
Mercedes (Brandee Evans), the club's headliner had hoped to retire, but her plans were thwarted by her mother, Patrice (Harriet D. Foy). Additionally, Autumn (Elarica Johnson) was a newcomer to The Pynk last season. She was a terrified woman running from her past. Now, she co-owns the spot with Uncle Clifford. There is a lot happening this season including some elements of horror.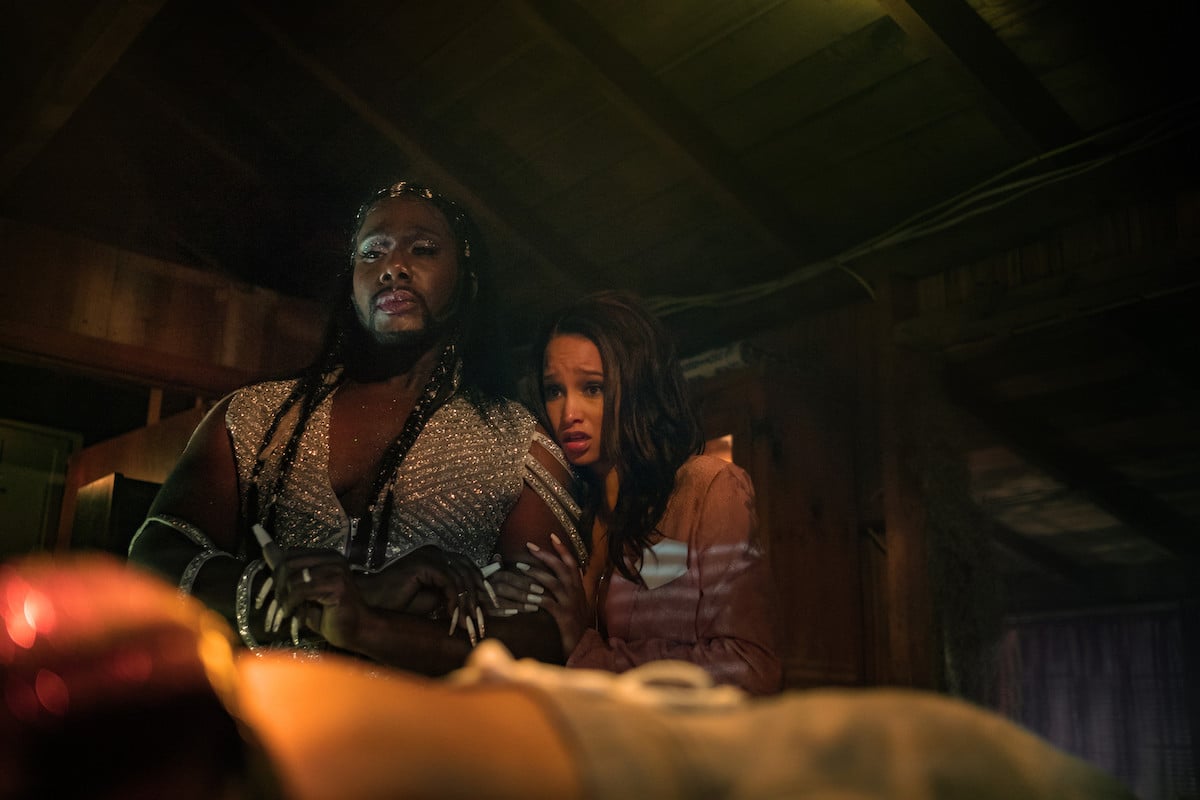 'P-Valley' Season 2 is already off to an explosive
We are only two episodes into this season of P-Valley and already things are starting to get explosive. The Pynk has reopened following the shutdown orders amid the coronavirus (COVID-19) pandemic. Moreover, Uncle Clifford is now sharing ownership of The Pynk with Autumn, and it's not exactly going well.
Moreover, Mercedes has hired several new dancers who each bring something very different to the strip club. Though fans are used to the traditional drama of P-Valley, this season is bringing forth elements of horror.
RELATED: 'P-Valley': All the New Cast Members for Season 2
Season 2 will have elements of horror
Fans were shocked during the second episode of season 2 of P-Valley when a bit of Diamond's (Tyler Lepley) past was revealed. Many fans already knew that Diamond had been a Marine who had been dishonorably discharged from the service. However, many people did not know that he also practiced hoodoo.
The second episode showed him using the practice to try and heal Mercedes' shoulder, but that's only the beginning of some of the mystical elements of horror that will be showcased in this season of P-Valley. In fact, the series' creator Katori Hall says that The Pynk is now a haunted place.
"Some things went down," Hall told ET Online. "We really wanted to embrace horror and the tropes of horror in order to really articulate how people were haunted on an individual level, but also this is a community that is haunted," Hall continues. "In Mississippi, even now, they're haunted by the original sin of slavery and we're delving into the injustice system that's still present not only in Mississippi but quite frankly around the world."
Whisper may know about what happened on Murda Night
Newcomer Whisper (Psalms Salazar) is one of the most enigmatic characters on P-Valley and she has a lot more going on than people would expect. She seems to be able to predict the past and even reveal things about people that they may not have known themselves.
According to her character description via Shadow and Act, Whisper is "an enigmatic free spirit with a spooky streak who speaks in riddles and eerie truths. She's blessed with a direct line to the universe and sight beyond the earthly realm. The air to Roulette's fire, Whisper becomes a full-blown tornado when she hits the pole."
From the second episode of the season, "Seven Pounds Of Pressure" it looks like Whisper knew something bad went down in the Champagne Room during Murda Night. She just might not know Mercedes, Autumn, Diamond, and Big L (Morroco Omari) are involved with it yet.
RELATED:'P-Valley': Brandee Evans Was Told Not to Lose Weight for Her Role as a Stripper