'P-Valley': What Diamond Did to Mercedes, Explained
P-Valley Season 2 is showcasing a new side of The Pynk. The series follows Uncle Clifford (Nicco Annan), the owner of the popular strip club The Pynk, and her co-owner Autumn Knight (Elarica Johnson). This season, we're also going deeper into the lives of the club's dancers including the OG headliner Mercedes (Brandee Evans).
In episode 202, fans watched Diamond (Tyler Lepley) using the practice of hoodoo to try and heal Mercedes' shoulder. Here's how it worked.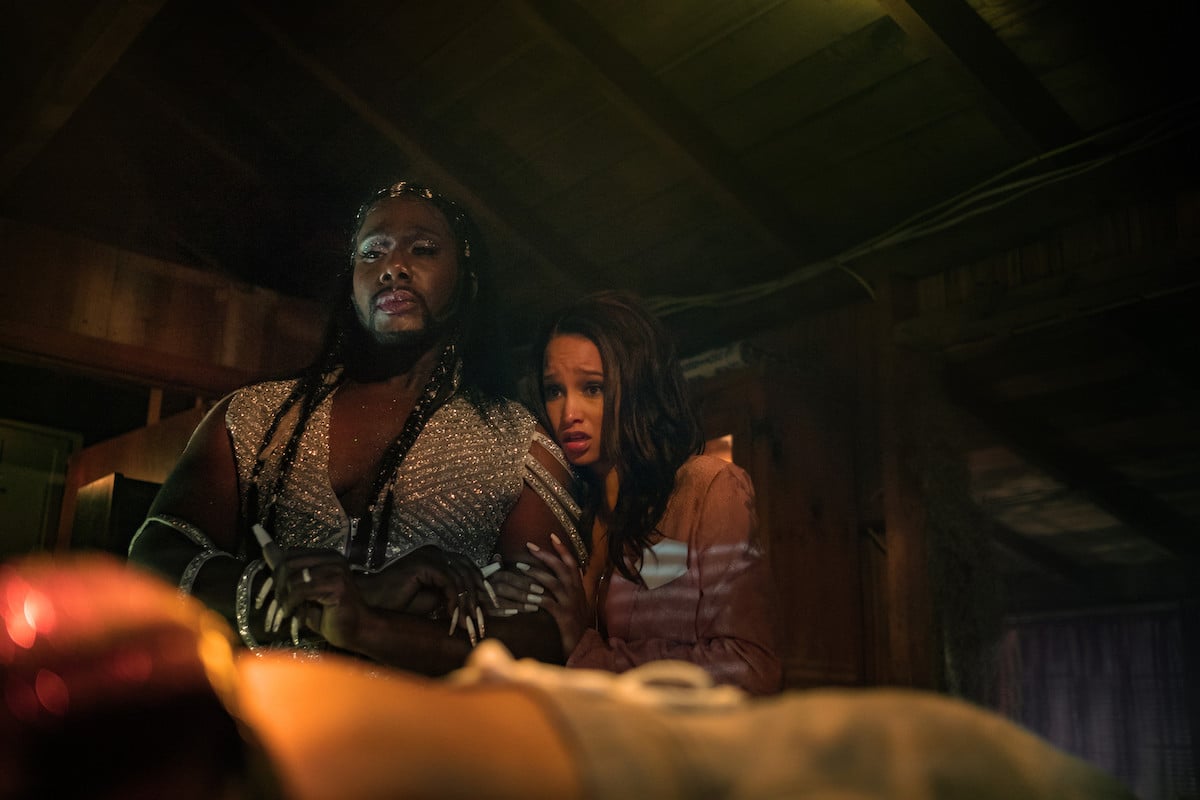 RELATED:'P-Valley': Brandee Evans Was Told Not to Lose Weight for Her Role as a Stripper
'P-Valley' Season 2 has elements of horror
The second season of P-Valley is well-underway and fans are already commenting on how much darker it is than season 1. In fact, creator Katori Hall says that this season has elements of horror especially since The Pynk is now a haunted space.
"Some things went down," Hall told ET Online. "We really wanted to embrace horror and the tropes of horror in order to really articulate how people were haunted on an individual level, but also this is a community that is haunted," Hall continues. "In Mississippi, even now, they're haunted by the original sin of slavery and we're delving into the injustice system that's still present not only in Mississippi but quite frankly around the world." 
Hoodoo explained
Fans were stunned in episode 202, "Seven Pounds of Pressure" when Diamond healed Mercedes's shoulder using the practice of hoodoo. Now, Hall has explained what exactly that means. "One of the most shocking moments in #PValley has been the realization that Diamond is a rootworker," she tweeted. "His removal of trauma from Mercedes' right shoulder in 202 "7lbs of pressure" has caused quite the stir — but there have been signs from jump."
In episode 103, the former Marine used crushed pepper and alcohol to remove soreness. In Hoodoo, the objects of the dead are extremely powerful. In season 1, Diamond gave Keyshawn (Shannon Thornton) a carnelian necklace was made from the stone of a friend who died in Iraq.
Many fans have been apprehensive about seeing Hoodoo on screen. However, Hall explained its origins. "Hoodoo is not an inherently evil practice," she said. "In fact, many born in the South practice it w/o even knowing. The fact that our ancestors brought their spiritual practices and beliefs to this country, merging them with their knowledge of the earth in order to survive, is a testament to our resilience and our Africanness. We are a powerful, MAGICAL people."
The Pynk could be shut down this season
With so much happening around The Pynk, fans are still fearful that Uncle Clifford and Autumn won't be able to keep The Pynk open. After all, a new dancer Roulette (Gail Bean) seems intent on breaking all of Uncle Clifford's rules. In episode 203, "The Dirty Dozen" she even began doing sex acts for money, which is a huge no-no and could lead to the club's closing.
"I was already a fan of the show before I was added to the cast," she told Ebony. "My character Roulette is a new dancer at The Pynk. My character is from Jackson, Mississippi. So she's not from Chucalissa. My character is not like any of the dancers at the strip club. She's new. She's young and she's real. I can say she's very vulnerable, but she has a wall up. I think a lot of people will be able to relate to her. A lot of people will love her."