When Did Pamela Anderson Get Her Barbed Wire Tattoo Removed?
If it feels like the '90s, it might be because a new wave of stars are sporting Pamela Anderson-style barbed wire tattoos.
If it feels like the '90s, it might be because a new wave of stars sport Pamela Anderson-style barbed wire tattoos. Celebrities have been showcasing a range of barbed wire ink in recent years, bringing the trend back just when it seemed it'd fade away forever.
Read on to find out when Anderson got her barbed wire tattoo removed, which celebs show off the revitalized style, and how Pam & Tommy puts a new perspective on the '90s icons.
The real reason Pamela Anderson got a barbed-wire tattoo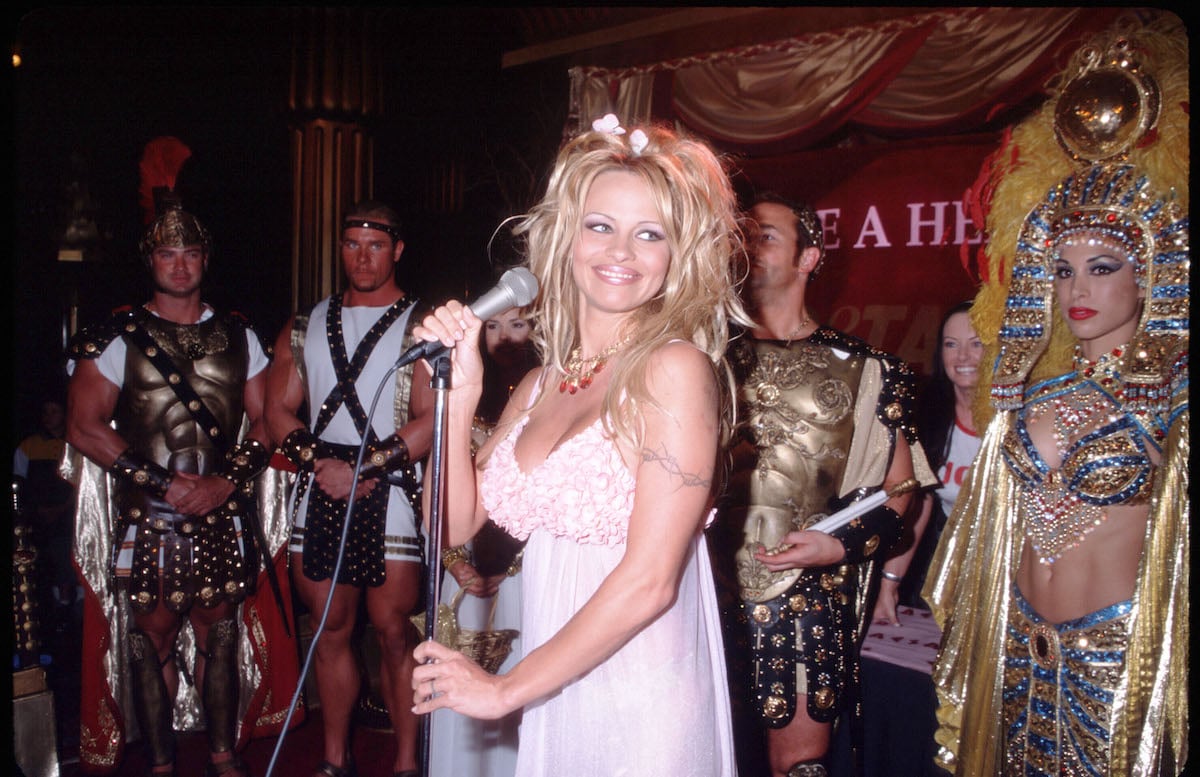 Anderson wasn't trying to make a statement when she sat for her famous barbed-wire tattoo in 1995. According to Chronicle Live, she simply didn't want to have to spend hours in the makeup chair every day while shooting the action flick Barb Wire. This led to her considering a permanent tattoo. After trying out a temporary version, she went for it, saying, "I love it. I think it's very feminine, for barbed wire."
Although the movie didn't really catch, Anderson continued to be an A-list star for over a decade. Subsequently, barbed wire tattoos became a craze. Anderson would ultimately keep the tattoo for nearly 20 years, though she finally scrubbed it in 2014. Per the HuffPost, the faded tattoo could still be seen for some time after starting the removal process. 
The barbed wire look also wasn't the only ink she was famous for. When she married Tommy Lee in February of 1995, Anderson had "Tommy" tattooed on her ring finger in lieu of a wedding ring. In a legendarily asymmetrical move, Lee supposedly tattoed "Pamela" on his penis before exchanging vows with Anderson, as GQ reports.
Anderson eventually changed the finger tattoo from "Tommy" to "mommy" after the two were divorced. This was depicted accurately in the recent Hulu series Pam & Tommy.
Many stars are bringing back barbed wire tattoos like Pamela Anderson's
Instagram is flooded with stars showing off the latest trends, especially in the world of tattoos. This past January, Travis Barker of Blink 182 showed off his new ink: a barbed wire tattoo wrapped around a skull he already had. Instead of just going to a tattoo parlor, however, Barker followed other stars like Post Malone and brought his tattoo artist to the dentist. Per US Magazine, Barker picked up his new ink while getting a routine dental cleaning.
Younger generations have also gotten into the mix. Grammy-winning singer Dua Lipa picked up a barbed wire heart tattoo on the inside of her arm a few years ago, reports Body Art Guru. The 26-year-old star has completed more than a dozen tattoos, although her barbed wire tattoo is one of the easiest to spot. Singer and TV personality Cheryl Cole also got in on the trend. She showed off a barbed wire and a rose hugging her right thigh.  
Though stars have used barbed wire ink with a range of aesthetic intent, the style has a dark history. Long before Anderson was trendsetting, criminals got barbed wire tattoos to show off how long they spent in prison. The number of spikes often equates to years served.
From TatRing, it's typically associated with overcoming a struggle or mastery over tough conditions. But its darkest roots seem to come from Stalin-era Russian prisons. Inmates sometimes got barbed wire tattoos on their faces to symbolize a life sentence, reports Timeline.
'Pam & Tommy' has reignited interest in the famous couple
A quarter-century after Anderson appeared in Barb Wire, her life is front and center once again on Hulu's Pam & Tommy. An eight-episode limited series starring Lily James and Sebastian Stan, the show showcases Anderson's spectacular rise to fame and her unique relationship with the Mötley Crüe drummer. Pam & Tommy gives viewers a fresh look at the couple's publicized drama. This includes the infamous stolen sex tape that created a firestorm.
But the show also gives a new perspective on the life of Anderson, who became a pop-culture icon as a Playboy model and one of the stars of Baywatch. Her marriage to Tommy Lee ultimately fizzled around the same time her career cooled off. Anderson stepped back from the spotlight and raised her two sons.
The series provides a different view on Anderson. But apparently, the 54-year-old isn't willing to give it a shot. When James reached out to Anderson to glean some pointers, Anderson never got back to the Downtown Abbey star. She apparently won't watch the series.
Capitalizing on the uptick in interest surrounding Pamela Anderson and Tommy Lee, Netflix announced a documentary to give her the final word.