Parents Agree That 'Bluey' on Disney+ Is Less Obnoxious Than Other Cartoons for 2 Major Reasons
Parents agree that some children's shows are more enjoyable than others. While most cannot stand the whining on Caillou or the endless rhetorical questions on Dora the Explorer, there are certain programs that offer entertainment for both young and old. StoryBots, Beat Bugs, Phineas and Ferb… there are plenty of mutually agreeable yet age-appropriate options to choose from.
But one of the most popular of all is an animated short from Australia called Bluey. Ever since its launch, parents can't stop raving about the characters, the writing, and the 2 major ways this cartoon differs from everything else on television.
'Bluey' features an adorable puppy with an Australian accent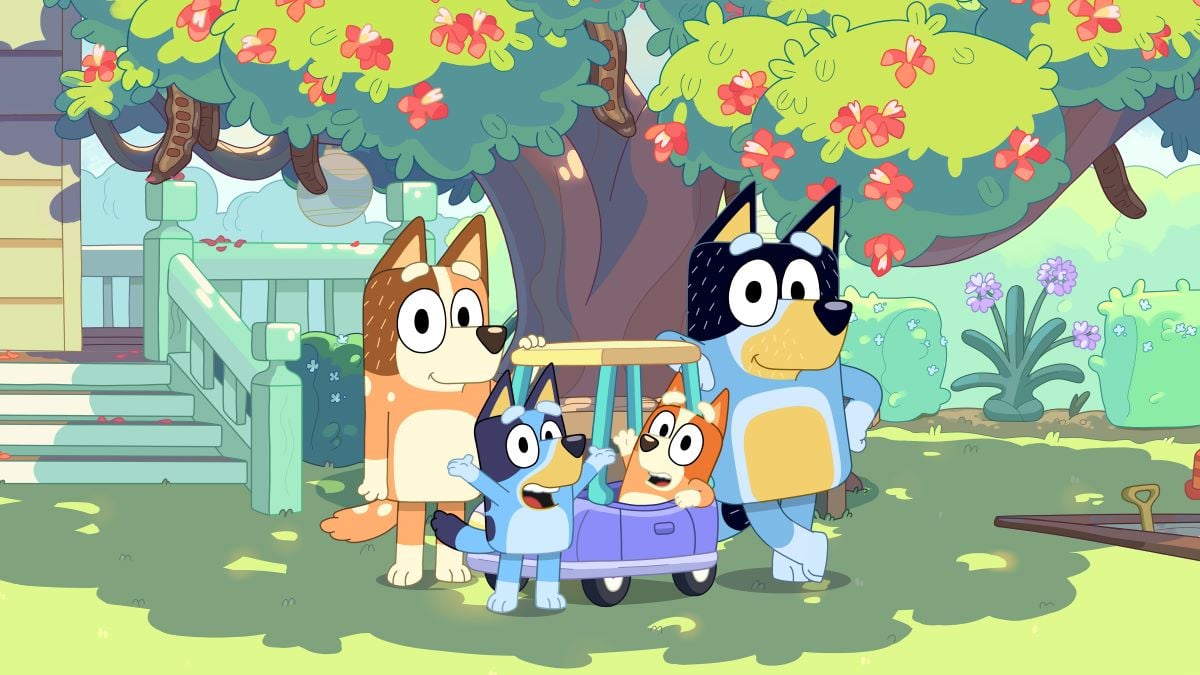 The show Bluey on Disney+ revolves around a 6-year-old character by that name plus her whole Blue Heeler family, including her mom Chilli, dad Bandit, and little sister Bingo. The sweet and wholesome show focuses on family themes and Australian culture in the capital city of Queensland, according to IMDb.
Bluey premiered on ABC Kids in October 2018. It won several awards, including the International Emmy Kids Award. The cartoon also gets rave reviews from critics and more importantly, from parents and kids who are looking for new and inspiring content.
The kids' show is about pretend play, not forced learning
RELATED: 5 of the Best Animated Shows on Netflix That Adults Love
Obviously, parents want to make the most of television-watching time by making sure their children are learning something. But unlike so many other kids' shows that hide learning lessons in the content, Bluey is simply about imaginative play. And it's a breath of fresh air because of its simplicity.
Bluey and her sister frequently engage in pretend play and role-playing that the show's creator Joe Brumm modeled after his daughters' real interactions. These may be as simple as keeping a balloon in the air or pretending to be at the supermarket.
"Bluey is based on the experience of raising two daughters," Brumm said in an interview with ACTF. "Playing seems as natural to them as breathing. It's fascinating seeing how much they learn from devising and playing their own games, especially the more elaborate and social ones."
Gender roles and rigid age rules go out the window on 'Bluey'
Bluey is a blue female character who plays in creeks or pretends to be pirates with her little sister (who also isn't pink). In the series, the father splits childcare and household chore responsibilities with the mother. Again, the messaging here is subtle yet important.
Another aspect parents love about Bluey is how often the parents engage with the kids and play pretend right along with them. They're frequently seen postponing adult responsibilities in favor of silly antics with their daughters. It's all enough to inspire real parents to do the same.
And perhaps best of all, each episode of Bluey is only seven minutes long, so it's a palatable amount of time to spend with the loveable characters. "Just one more episode" doesn't drag on for too long.
The first two seasons of Bluey are available on Disney+ for kids and kids at heart.