Paris Hilton Bought Her Chihuahua a $5,500 Black Designer Bag
Paris Hilton splurged on her pet dog with a designer bag.
Paris Hilton's public image is undergoing a rather seismic shift thanks to the star's careful crafting of her comeback tale. Opening up about her struggles in the past has made fans who were once harsh about Hilton's lifestyle much more sympathetic, and it certainly seems that there is more to the star than many have been willing to grant in recent years. 
Still, not everything about Hilton's prior persona has changed. A recent shopping spree demonstrates that Hilton's love for tiny dogs and expensive bags has remained intact. 
Paris Hilton rose to fame as a rich socialite
In the late 1990s and early 2000s, there was a rising celebrity scene that defied conventional understanding of how stars came to be. A collection of rich socialites started to fill the spotlight. Rather than being famous for musical talents or acting careers, these stars were simply famous for being famous — creating a kind of feedback loop for influence that would usher in the rise of reality TV and social media stardom as we know it today.
These kinds of proto-influencers pre-dated Instagram and TikTok, and they would do things like charge for a club appearance or partner with brands to be caught casually using their products when the paparazzi were around to snap pictures. Kim Kardashian was among this famous crowd, but at the time, none stood out as prominently as Paris Hilton. 
Hilton leveraged her media attention into reality TV appearances, a music career, and some lukewarm attempts at acting. Her star burned bright and fast, and soon she — and most of the other socialite celebrities of the day — were seen as has-beens. 
Paris Hilton frequently sported tiny dogs in expensive bags
Carrying a dog around in a handbag doesn't sound particularly practical — or, for that matter, sanitary — but it was a trend of the early 00's thanks in large part to Hilton. 
She has a well-documented love for tiny dogs, especially Chihuahuas. She had one pet named Tinkerbell who lived to be 14 and passed away in 2015. Tinkerbell was frequently spotted out and about with Hilton and captured in tabloid pictures.
Hilton would tuck the pup into stylish handbags, and soon fans were copying the "style" choice. The trend became so popular that many animal rights activists spoke out against the practice of treating animals like accessories, fearing that pups purchased for a photoshoot would soon lose their luster and be left in the lurch as their owners lost interest. 
For Hilton, though, being a pet caretaker doesn't seem to be just for show. She has spent some serious cash on her four-footed friends and reportedly splurged on a $300,000 mansion to house her pets. 
A recent shopping spree for Paris Hilton included a pricey designer bag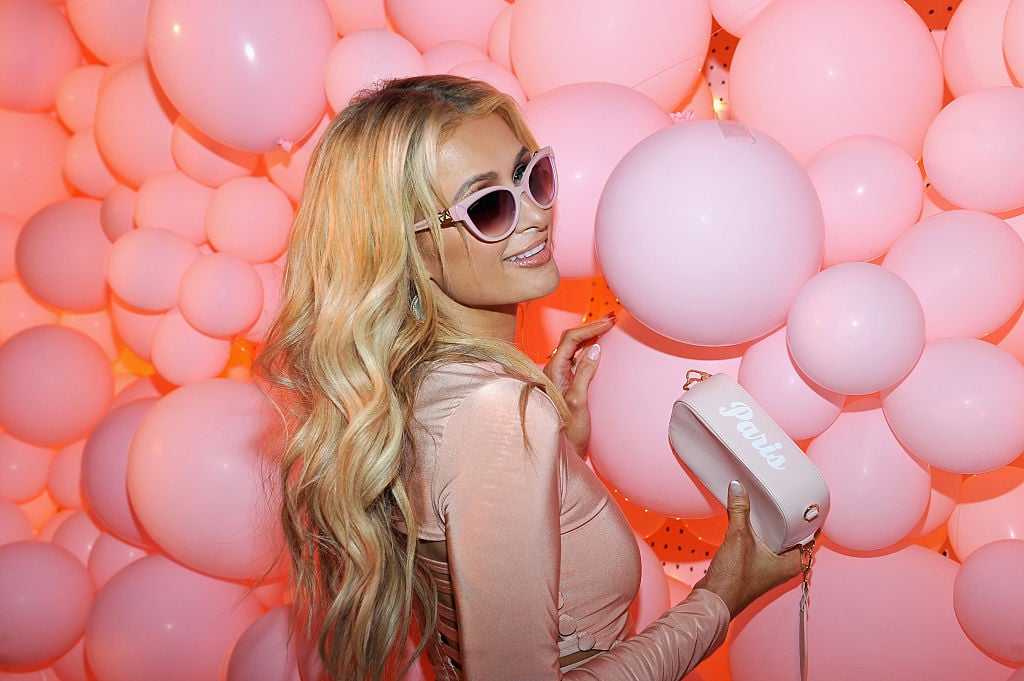 As Page Six reports, Hilton recently treated herself to a shopping spree in Miami, Florida. That included a trip to Privé Porter, a luxury retailer that has staked its reputation on the ability to acquire rare goods, especially Hermès Birkin bags. 
Indeed, it was precisely a Birkin that Hilton gravitated toward once at the shop. She got herself a Bleu de Nord Togo Birkin that sells for around $24,500. 
It wasn't just herself that was getting pampered in Miami, however. Hilton also purchased a Hermès Micro Kelly Charm valued at a whopping $5,500. The recipient? Her dog Diamond. The itty bitty Chihuahua was featured in an Instagram story "opening" her gift by tearing into the decorative packaging before posing for some posh pics.