'Parks and Recreation': Is There Really a Gag Reel of Amy Poehler's Leslie Knope and Nick Offerman's Ron Swanson Making Out?
When a movie or a TV show features a "gag reel with various scenes of people blowing their lines or generally being very silly, that is often a sign that the movie or TV show isn't really that funny. But NBC's Parks and Recreation was an exception. 
The Amy Poehler-led series, which ran for seven seasons and had a reunion earlier this year was actually rather renowned for its gag reels – so much so that people compile best-of lists about them. There is one gag reel moment that is so legendary, it may or may not actually exist. 
What was 'Parks and Recreation' about?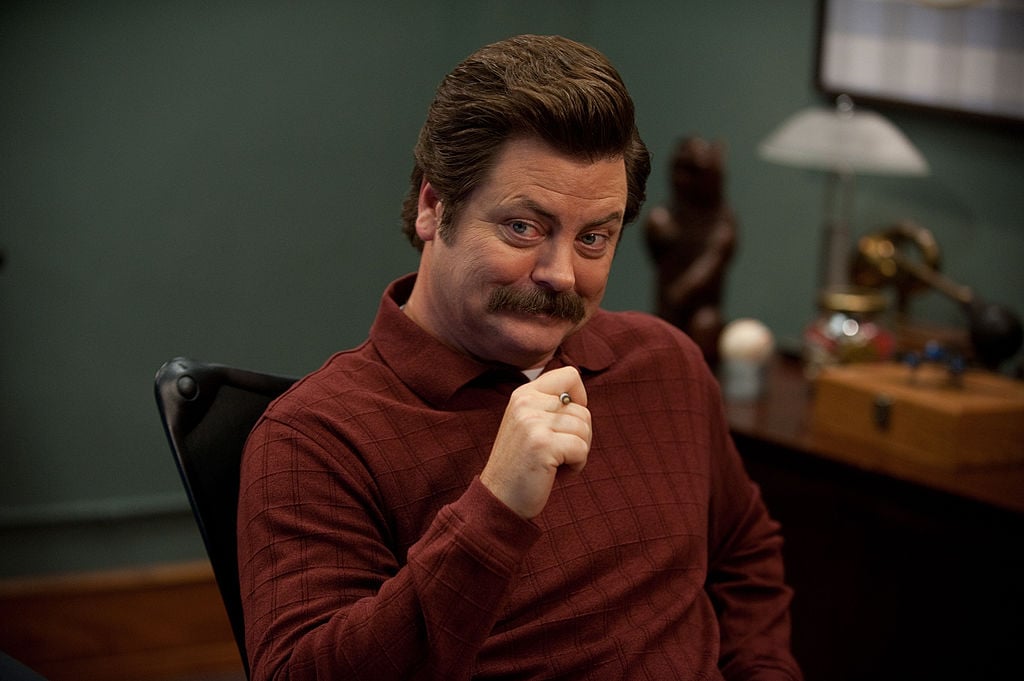 The series first centered Leslie Knope, the deputy director of the parks and e=recreation Department in the fictional town of Pawnee, Indiana. The inciting incident of the series comes when nurse Ann Perkins demands that the construction pit next to her house be filled in after her boyfriend, Andy Dwyer, fell in and broke his legs. Leslie aims to turn the pit into a park, despite resistance from her own co-worker, parks director Ron Swanson.
The show was co-created by Greg Daniels, who had led The Office, and Mike Schurr, who was a writer on The Office and who would go on to create The Good Place. The brief was to make a spinoff of The Office, but even though both shows deal with bureaucratic entanglements, the creators sought to make Parks and Recreation stand out with a loose, improvisational style – one that left room for a lot of off-the-cuff gags. 
It may seem hard to believe now, given its strong following, but Parks and Recreation was never a huge ratings hit, per the Nielsens. The show never ranked higher than number 96 in the ratings, which puzzled the show's producers. Now, like another NBC comedy that was never a rating juggernaut Community, Parks and Recreation has a new lease on life with the episodes airing on Netflix. 
How was Amy Poehler and Nick Offerman's chemistry? 
Insider assembled a list of fun facts about the show, and one of those facts centered around Poehler and Nick Offerman's characters. Poehler starred on Parks and Recreation in the wake of her stint on Saturday Night Live, while the show was Offerman's breakout TV gig. Their characters often butted heads, with Ron believing in small government – a position that runs counter to having a job in a government-run office. 
When the cast appeared at Paleyfest in 2013, Poehler said of her and Offerman's characters. She said: "When you start a show, you kind of have to broad stroke it a bit. 'This is a show…about two kinds of people … Ron and Leslie were a very Mary [Tyler Moore] and Lou Grant kind of relationship."
The relationship got a lot hotter than Moore and Grant did. Or at least that's what Poehler indicated. Offerman said Leslie and Ron were never meant to be romantic, but Poehler shot back: "I will say every year there's a scene, just for the gag reel, where Leslie and Ron make out."
Schur added: "And it never makes the gag reel because it's super disgusting to watch."
Sometimes gag reels are funnier than the show
While the gag reels are part of the appeal of Parks and Recreation, in other shows and movies they tend to be kind of window dressing. At best, gag reels enhance the success of a comedy. At worst, they make audiences wish they were watching the gag reels instead of the actual show. 
Looper wrote about gag reels that are better than the attached movies, including Suicide Squad, Twilight, and the misbegotten Gerard Butler/Katherine Heigl vehicle The Ugly Truth. One of Looper's favorites was Mr. and Mrs. Smith, with Angelina Jolie and Brad Pitt, which surely plays much differently now than it did in 2005. One can only wonder what the Parks and Recreation gag reels would have looked like had Ron and Leslie been an item. Pohler and Offerman supposedly did.