'Parks and Recreation' Star Nick Offerman Went to 'Pawnee' to Vote on Super Tuesday
Actor Nick Offerman of 'Parks and Reaction' gave a nod to the series when he headed to the polls on Super Tuesday 2020. Learn more here.
Actor Nick Offerman, like many other celebrities, headed to the polls for Super Tuesday in California. But the Parks and Recreation star had a special connection to his polling place. Here's how he paid homage to the comedy and how he responded to criticism over his choice in Democratic primary presidential candidate.
Nick Offerman portrayed Ron Swanson on 'Parks and Recreation'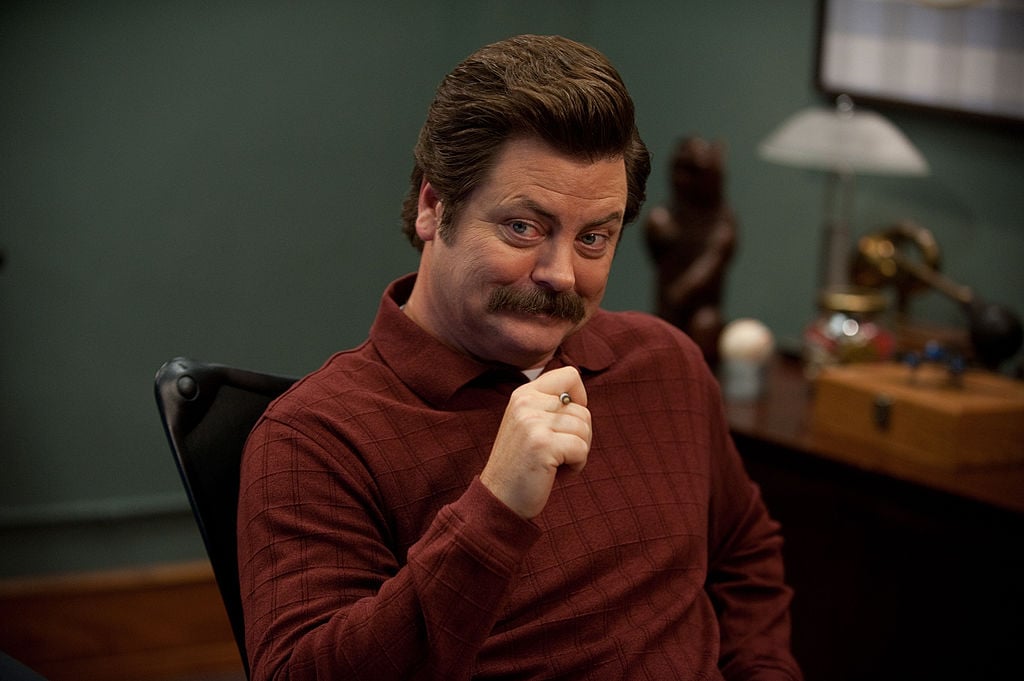 For all seven seasons of the beloved NBC series, Offerman portrayed Ron Swanson. The character is the boss of Leslie Knope (Amy Poehler) at the Parks and Recreation department in the fictional town of Pawnee, Indiana. Over the years, he goes from a curmudgeon who maintains a distance from his co-workers to a close member of Leslie's group of friends.
Since the series ended, Offerman has had roles in films such as Bad Times at the El Royale and Lucy in the Sky. He has made appearances on TV series like Will & Grace and Brooklyn Nine-Nine. Additionally, he co-hosts a reality competition series, Making It, with Poehler.
Many have compared him to his character over the years
When an actor plays a character for as long as Offerman did, viewers often becomes very attached to them in that role, and refuse to see them any other way. And Offerman does have a few things in common with Ron — namely, their affinity for woodworking.
But Offerman is not Ron, and he doesn't pretend to be. "Everything good and bad about Ron Swanson exists in a very two-dimensional world that is very outside of reality," he told the Daily Beast in 2018, "whether it's the amount of steak and scotch that he can consume or his hatred for the government and how that affects his life. You can exist that way on a TV show, but it doesn't work in reality. That's why it's funny."
Offerman voted for Elizabeth Warren on Super Tuesday
On Super Tuesday 2020, Offerman went to vote. He donned red, white, and blue (in the form of a Chicago Cubs baseball cap and a Spice Girls t-shirt), and made his way to his polling place. Which, for fans of Parks and Recreation, is a familiar location.
"I wanted to be a winner so I geared up and went to Pawnee to vote," wrote Offerman on Twitter, standing in front of the building that served as the outside of Pawnee City Hall on the show. This is actually the city hall of Pasadena, a town just outside Los Angeles. Whether or not this was actually Offerman's polling location is unknown, but either way, it made for a great photo op.
Some were unhappy with his choice
You'll note that Offerman, unlike some celebrities, revealed quite a bit about his political affiliation in this post. The hashtag #VoteWarren clarifies that not only is he a registered Democrat, but he voted for Massachusetts Senator Elizabeth Warren in the primary election. And not all of his followers were on board.
"Ron voted for a woman????" wrote one follower on Twitter, including a GIF of the character. Ron Swanson, for the record, considered himself to be a Libertarian, but few would call him sexist. Certainly not Offerman himself, who responded, "How sad to be this bad at watching television."
The creator of 'Parks' was on his side
Before sharing his voting selfies, Offerman shared who he was planning to vote for. He retweeted Mike Schur, creator of Parks and Recreation, who also was all in for Warren. "It's usually a very good idea to vote for a smart woman with good ideas," tweeted the showrunner, who goes by the moniker "Ken Tremendous" on Twitter.
These two men have certainly aligned their ideals with the show in question. Leslie Knope was on her way to being the president, and despite the character's love of Joe Biden, we have a feeling she, too, would be a Warren supporter, like Schur and Offerman.