'Parks and Recreation' Reunion Special: Who Is Returning?
One of the most celebrated sitcoms of the past decade is NBC's Parks and Recreation. As with many shows like it, fans are always clamoring for a reunion. And now, it look like those dreams are coming true, with a coronavirus (COVID-19) pandemic twist. Read on to learn what the scripted special is about and who from the Parks and Rec cast will be featured in it.
'Parks and Rec' began airing in 2009
The beloved series first came into our lives 11 years ago. Originally pitched as a spinoff of The Office, Parks and Rec follows Amy Poehler's Leslie Knope, a dedicated local government official for a small Indiana town. Leslie's passion for Pawnee and its residents spreads to those she works with, who become her family.
After seven award-nominated seasons, Parks and Rec came to an end in 2015. The finale episode flash-forward to reveal the future for many of the show's beloved central characters, though its unknown whether this will come into play in the special.
The cast spoke about a revival in 2019
The cast of Parks and Rec got together a little over a year ago for the 10-year anniversary of the show's premiere. They attended a panel at PaleyFest, where they spoke about their time on the show. When asked about a potential revival or reboot, creator Mike Schur was a bit hesitant.
"I would never ever say never. The chance to do it again should it arise would be incredible, but I think that we would all only do it if we felt like it was something compelling us to do it," he said. "As tempting as it is, I don't want to just make more episodes of the show or something. If one single person says no, then we wouldn't do it — whatever that would be."
Poehler announces 'A Parks and Rec Special'
"Hi, it's Amy Poehler inviting you to a very special Parks and Rec [episode], all shot from our homes," said the actor in a video shared on April 23. The special is meant to raise money for Feeding America. It airs live on NBC on Thursday, April 30, at 8:30 pm ET/PT. It will also be streaming on the app the next day for those who miss it.
As the advertisement says, this will be "an all-new story." The synopsis, from TV Line, reads: "Pawnee's most dedicated civil servant, Leslie Knope, is determined to stay connected to her friends in a time of social distancing." It sounds like this will be the perfect antidote to our current times.
Who will be joining her?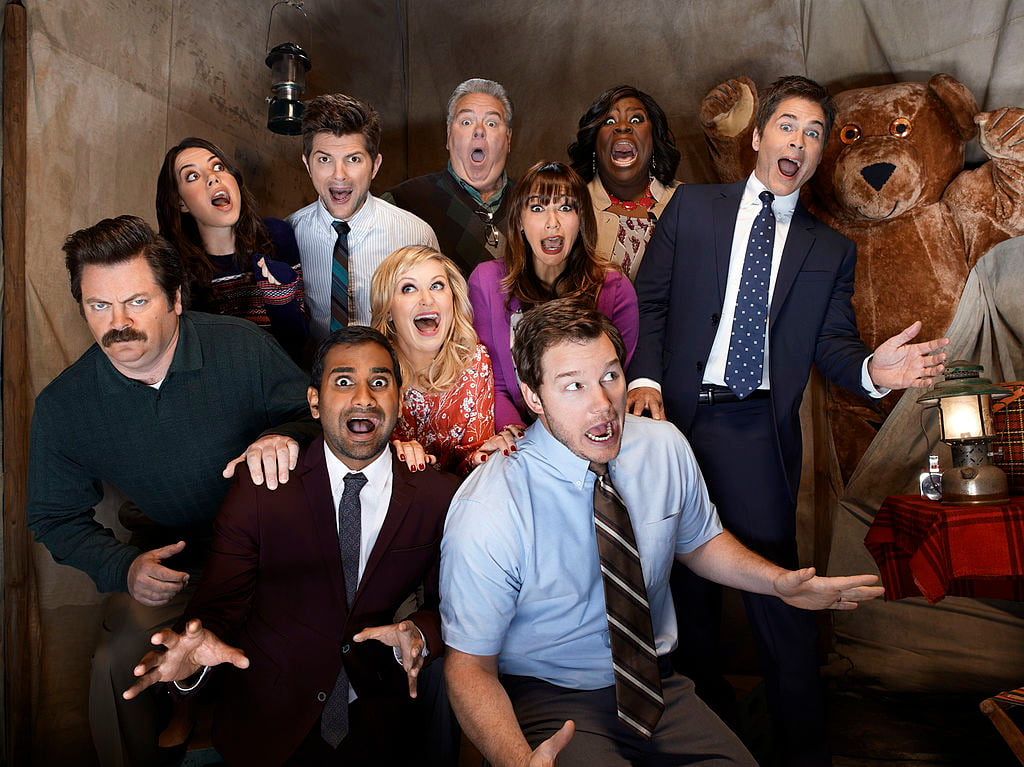 The clip above reveals that in addition to Poehler, Rashida Jones (Ann Perkins), Aziz Ansari (Tom Haverford), Aubrey Plaza (April Ludgate), Chris Pratt (Andy Dwyer), Adam Scott (Ben Wyatt), Jim O'Heir (Jerry/Garry, etc. Gergich), Retta (Donna Meagle), and Rob Lowe (Chris Traeger) are all scheduled to appear in the episode. Additionally, "Several guest stars from the Pawnee universe" could also make appearances.
Who organized all of this? Schur, of course. "Like a lot of other people, we were looking for ways to help and felt that bringing these characters back for a night could raise some money," he wrote. "I sent a hopeful email to the cast, and they all got back to me within 45 minutes. Our old Parks and Rec team has put together one more 30-minute slice of (quarantined) Pawnee life, and we hope everyone enjoys it. And donates!"