Pascal Siakam Opens up About Experiencing Racism in America: 'I'm Hurting'
Over the past four years, Toronto Raptors forward Pascal Siakam has gone from little-known bench player to one of the critical pieces on a Championship team. His journey to the NBA, which started in Africa and continues in Toronto, gives Siakam a unique look on the current racial divide that's popping up around the world. Although he may play in Canada, Siakam has seen American racism first hand, and he recently spoke about the effect it has on him.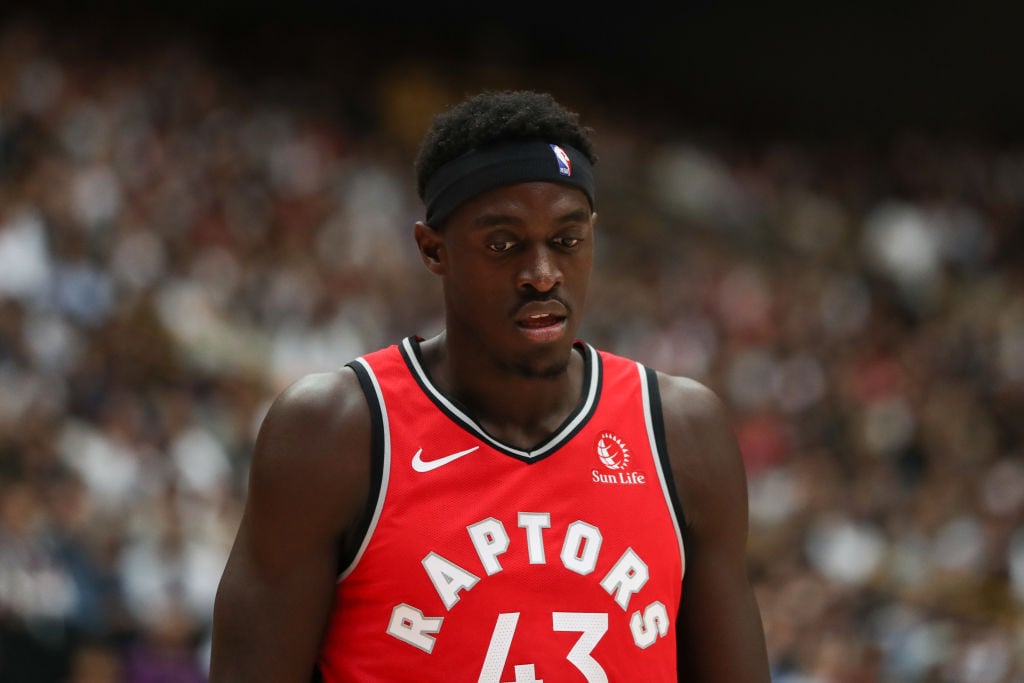 Pascal Siakam's life before the NBA
Siakam was drafted into the NBA just four years after getting his start in organized basketball. Growing up in Cameroon, basketball was never the number one sport between Siakam and his friend, according to ESPN.
He grew up in the town of Bafia, where Rockets forward Luc Mbah a Moute's mother also grew up. A secluded village nearly 80 miles away from Cameroon's capital, Siakam didn't have dreams of NBA glory as a kid. He just wanted a way to make something of himself.
Siakam went to St. Andrews Seminary, where he learned the value of hard work and dedication under the tutelage of Father Armel Collins Ndjama. Ndjama runs a strict regimen for the boys at his school, and while this requires hard work, it also helps the boys go close with the priest and grow to appreciate his leadership in their lives.
Siakam was a stubborn child, according to Father Collins. While he was among the top performers in the classroom, he had a hard time staying focused. Father Collins told ESPN that he considered dismissing the future NBA star, but his grades were too good to justify. Siakam had other basketball players in his family. Still, he never thought the sport as a means to get ahead until he was 18.
After going to a camp put on by Mbah a Moute, however, everything changed.
NBA journey
RELATED: What Does Spike Lee Do for a Living and Does He Own the Knicks?
Pascal Siakam quickly impressed at basketball camps across the continent of Africa. His skills in basketball drew the attention of several American High Schools. After receiving a full scholarship to God's Academy in Texas, Siakam earned a college scholarship at New Mexico State.
Siakam had to sacrifice a lot for basketball. He wasn't able to attend his father's funeral after a tragic accident took his life out of fear that he would be unable to return to the United States.
Siakam used this as motivation and began to turn the heads of NBA scouts across the country. In the 2016 NBA Draft, Siakam was selected by the Toronto Raptors with the 27th overall pick.
Starting as a role player near the middle of the bench, Siakam, quickly showed that he was more than raw talent. He was a real deal. Every year he made fantastic leaps, and in 2018-19, he provided a valiant second option behind Kawhi Leonard.
With Leonard gone this year, Siakam took another step and made his way into the All-Star game on 24 points per game, seven rebounds, and three assists, according to Basketball Reference. With the season in limbo, however, Siakam has his eyes on something else.
Pascal Siakam's struggles
RELATED: What Is Steph Curry's Net Worth
Siakam has a unique perspective in the NBA. He didn't grow up in the United States, and the team he has played for since entering the NBA is in a diverse section of Canada. Still, after going to school in North America and spending much of the season traveling, Siakam has experienced an uglier side of America's relationship with the black community. He opened up about the effect it has on him to Complex while reflecting on the recent racial tensions in the country.
"When you look at the issues, it's about police brutality, and just watching that video, it's really… it hurts," Siakam said to Complex.
"I'm speechless, just thinking about it. Seeing someone take someone else's life just like that, that's heartbreaking. I think about the families and the people—you know, he was crying out for his mom. I know how big I am on family. I can just connect to that, and I'm a black man. It hurts, like, it hurts…"
Siakam explained what a culture shock it was, for better and for worse, to see such a diverse group of people once he moved to America. He saw the good side of people from different backgrounds coming together as one. Still, he also learned what it's like to be otherized by many inside the country.
As an African-born NBA product who plays in Canada, Siakam has climbed the ladder to become a recognizable name across several borders. While this has given him wealth and experience he may not have otherwise had, it has also thrown him into the lion's den. Because of this, his insight is especially prevalent as the country deals with these trying times.