Patrick J. Adams Hasn't Called Meghan Markle Out of 'Pure Fear'
Patrick J. Adams used to work with Meghan Markle on 'Suits.' He reveals why he's scared to call her.
Fans of Suits know Meghan Markle's last episode was in 2018. She went on to marry Prince Harry, becoming the Duchess of Sussex, and hasn't returned to acting. Her former co-star, Patrick J. Adams went to the wedding, but hasn't kept in touch with her. He revealed the main reason why he won't reach out.
Patrick J. Adams wrapped up 'Suits' without Meghan Markle
Suits ended in 2019 and Adams decided to return to help wrap up the show. His character, Mike Ross went to New York after leaving the city to be with Rachel in Seattle.
"For Mike, this is just a trip to New York," Adams told Entertainment Tonight. "He's in Seattle, [Mike and Rachel] are building their life together, it sounds like he's doing well."
The actor said Markle's character would be included even if she didn't return. "There's phone calls with Rachel saying, 'Goodbye, I love you,' and, you know, I think there's some obvious acknowledgment that she's still there and a part of the show," he said.
The series later ended in 2019. Adams recently admitted to not reaching out to his former co-star.
He hasn't called her out of 'pure fear'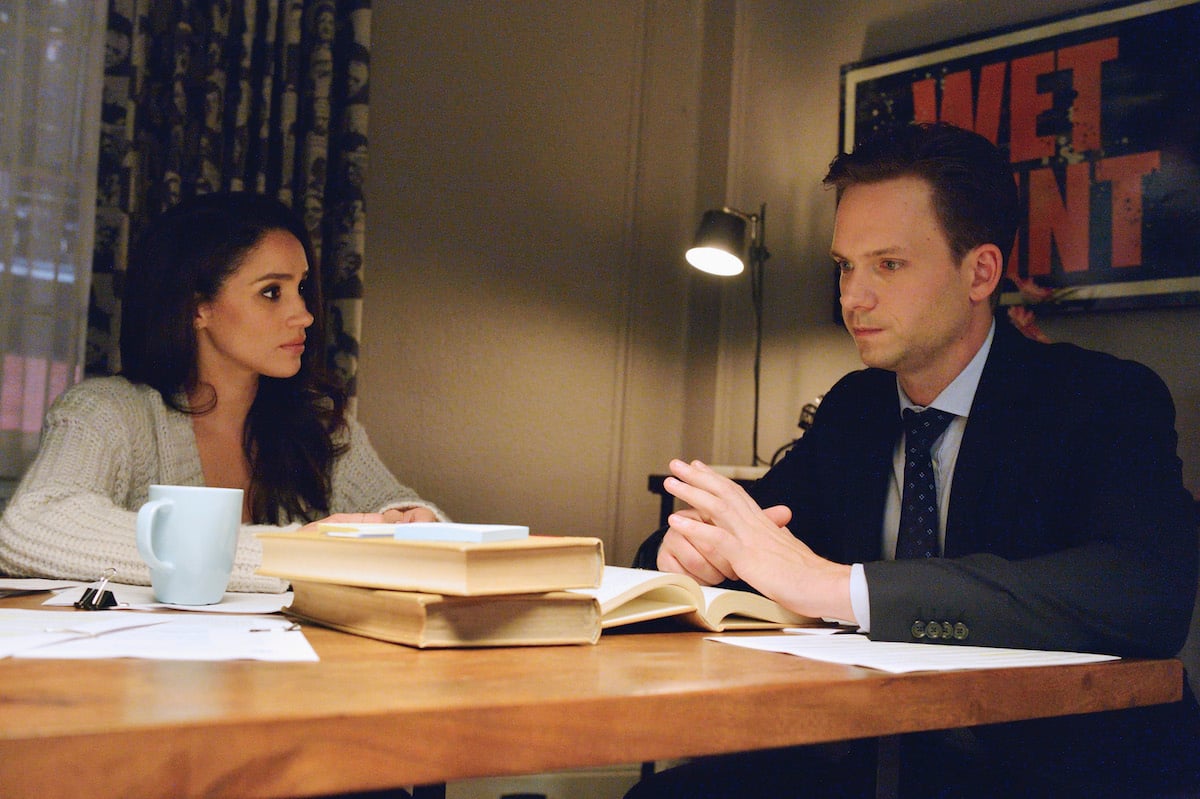 The Suits star gave an update on his relationship with Markle. The actor hasn't kept in touch with the duchess for a reason.
"Quite frankly, I think I'm intimidated," Adams told Radio Times. "I have no doubt I could pick up the phone and call her at any moment, but I don't know what I would say."
Adams had a daughter with Troian Bellisario in 2018. Markle gave birth to Archie in 2019. The former co-stars reached out to each other after their children were born.
"After our children were born, there were some texts sent and gifts sent, but I guess I'm a little scared," he said. "I think it's pure fear. I guess I'm scared about the idea of breaking through whatever walls exist to have that conversation."
He's happy she's back in the states
Markle and Prince Harry moved to California. Adams talked about being happy to have his former co-star closer.
"I think she's pretty busy, but I am happy to have her stateside," he told Access Hollywood. "I miss my friend, but I'm very happy she's doing well."
He also talked about being happy she's encouraging Americans to vote. "I'm very, very happy that she's becoming very vocal and doing whatever she can to help the election in November," Adams said.
Markle talked about the importance of voting with Emily Ramshaw. "When I have these conversations about encouraging people to go out and vote, I think it's often challenging for men and women alike, and certainly for people, to remember just how hard it was to get the right to vote and to be really aware of not taking that for granted," she said according to Harper's Bazaar.
"I look at my husband [Prince Harry] for example; he's never been able to vote, and I think it's such an interesting thing to say the right to vote is not a privilege, it is a right in of itself," she said.
It sounds like Adams and Markle haven't talked for some time. But he's very happy for her.