Patrick J. Adams Shares Pictures of Meghan Markle and the Rest of the 'Suits' Cast Ahead of Series Finale
The end of Suits is upon us. 
To commemorate the USA legal drama's 9-season run, Patrick J. Adams, who played Mike Ross until he left the show at the end of Season 7, shared pictures from "the early days" of the series as he put it in an Instagram post. Learn how to stream the show here.
Adams began his walk down memory lane by posting a mirror selfie of himself from way back when. He shared a picture from the first wardrobe fitting he had for his character.
"This week the last episode of Suits will air and the nearly [sic] 10-year journey we've all been on together will finally be over. So it seems right to post some photos the next couple of days from the early days. This photo was from the first fitting I ever had for Mike Ross," he captioned the post. 
He shared pictures of Meghan Markle on set
Sure enough, Adams posted additional behind-the-scenes snaps of his Suits co-stars including his onscreen love interest, paralegal-turned-lawyer, Rachel Zane, played by Meghan Markle, Duchess of Sussex, in her pre-royal family days. Like Adams, Markle also left the series at the end of Season 7 in preparation for her royal duties. 
Below, scroll through to slide No. 4 to see Markle standing outside her trailer wearing a tank top and Ray-Ban sunglasses. 
During her first joint interview with Prince Harry, now the Duke of Sussex, following their engagement announcement in 2017, Markle confirmed she intended to stop acting, according to People.
"I don't see it as giving anything up. I just see it as a change," Markle said during the interview.
"It's a new chapter, right? And also, keep in mind, I've been working on [Suits] for seven years. We were very, very fortunate to have that sort of longevity on a series," she said, before adding, "I've ticked this box, and I feel very proud of the work I've done there, and now it's time to work with [Harry] as a team."
Markle appeared in more than 100 episodes of Suits and had been on the show since the pilot episode aired in 2011.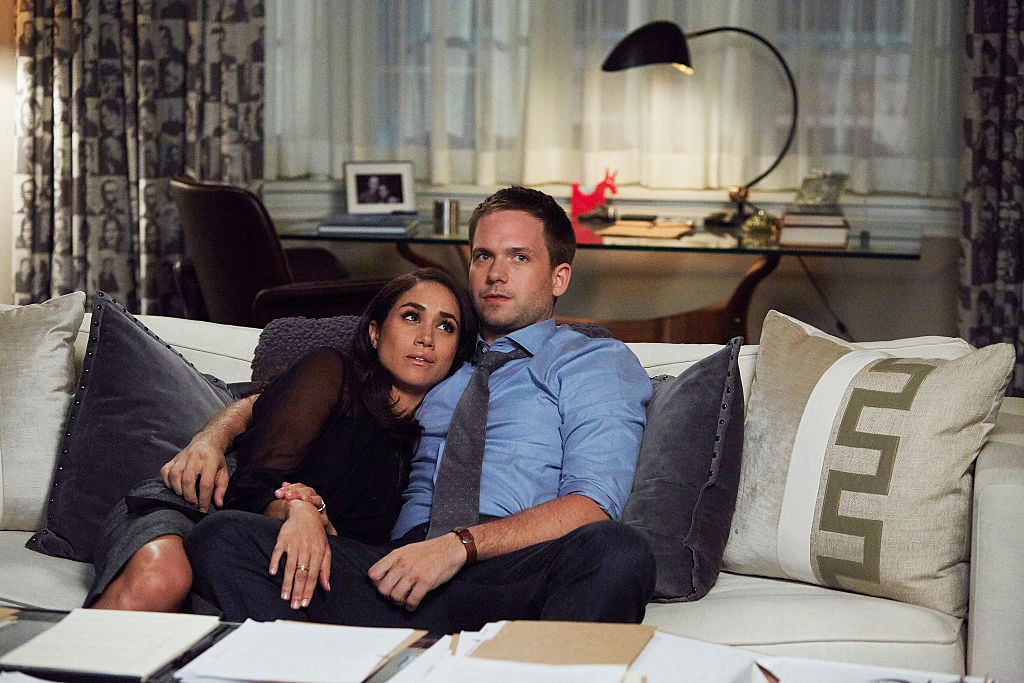 Check out more behind-the-scenes pictures of the cast in this post.
There's a snapshot of Markle standing in front of a fake New York City skyline, another one of her relaxing on a couch, and one of her in a bathrobe and heels as well as Adams with other cast members such as Wendell Pierce (Robert Zane) who recently shared an anecdote about shooting a scene with Marke when things were getting serious with Prince Harry. According to Pierce, she almost exited a vehicle (with paparazzi waiting) wearing a prop engagement ring. 
Then there's this post with even more photos of the cast hanging out behind-the-scenes.
What happened after Mike and Rachel left 'Suits'
Rachel and Mike were written out of the show over the course of Season 7. Spoiler alert! They finally got married and left New York City (in reality, they filmed the show in Toronto) for Seattle, Wash.
After the actors left, the show focused on the rest of the cast: Mike's mentor, Harvey Specter (Gabriel Macht), Louis Litt (Rick Hoffman), Donna Paulsen (Sarah Rafferty), Jessica Pearson (Gina Torres) and other newer additions to the cast such as Katrina Bennet (Amanda Schull), Alex Wiliams (Dulé Hill)and Grey's Anatomy alum, Katherine Heigl, who joined the cast in Season 8 as Samantha Wheeler.
In an early episode in Season 9, Adams reprised his role as Mike to make a final appearance on Suits. He made a joke about his onscreen wife doing very well. 
Since Adams and Markle have left the series, both have become parents with possible playdates on the horizon.