Patrick Mahomes and Brittany Matthews Are Engaged! From Prom to the Super Bowl — a Look Back at Their Fairytale Romance
Kansas City Chiefs quarterback Patrick Mahomes received his Super Bowl ring during a ceremony at Arrowhead Stadium on September 1. Just moments later, the 24-year-old NFL superstar proposed to his high school sweetheart, Brittany Matthews. Here's a look back at their fairytale romance.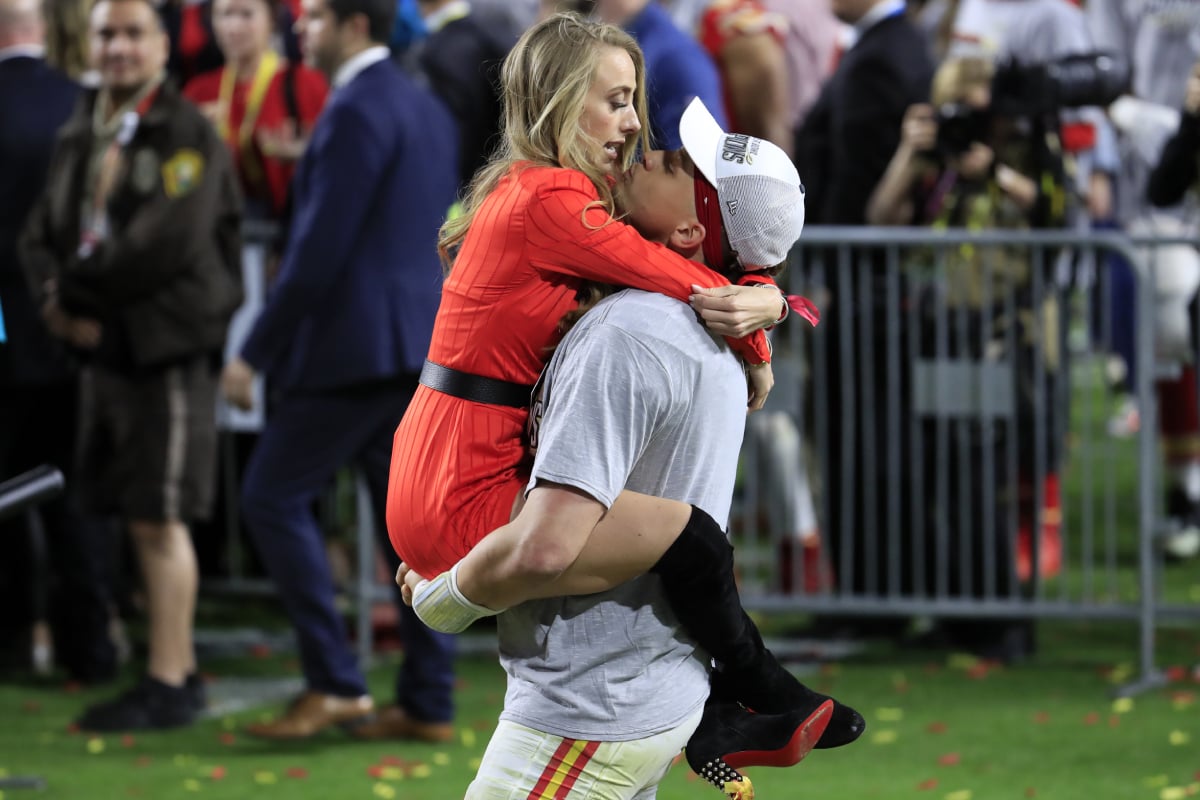 Patrick Mahomes met his bride in the 10th grade
Patrick and Brittany's romance jumped into the spotlight back in February after he led the Chiefs to a Super Bowl victory. But, the couple has been together since they were teenagers. According to The Daily Mail, they first started dating during their sophomore year at Whitehouse High School in Whitehouse, Texas.
At the time, Patrick was playing baseball, basketball, and football. Brittany was a cheerleader, and she was also on the soccer team. The earliest Instagram photo of the couple is from December 2011. In the pic, Brittany is sitting on Patrick's lap, and in the caption she calls him her "best friend." They officially started dating in March 2012.
Brittany has been cheering Patrick on in every sport he has played ever since. In throwback photos from high school, she's often wearing his jersey.
"She has been supportive of me in whatever I do even before I played quarterback in high school,' Patrick told Utterly Patriots in 2016. 'She has been my No. 1 fan since the beginning. Her support means the world to me."
Their romance transitioned to long-distance during college
After Patrick Mahomes and Brittany Matthews attended the prom together in 2013, they transitioned to the next chapter in their relationship.
Patrick moved 400 miles to Texas Tech University in Lubbock, Texas. But, instead of ending their high school romance, they transitioned to a long-distance relationship. Patrick quickly became the starting quarterback for the Red Raiders football team. He was also a relief pitcher for the baseball team.
Brittany chose to attend the University of Texas, Tyler, located about 20 minutes away from their hometown. She studied kinesiology, became a certified personal trainer, and played for the UT Tyler soccer team.
"Her competitive nature is one of the many things I love about her. She hates losing and wants to be the best. She works extremely hard to be great and it inspires me to work just as hard," Patrick said.
"We feed off of each other," Brittany added. "He's an incredible leader and player and I've learned a lot from him."
Brittany Matthews moved to Kansas City to be with Patrick Mahomes
Patrick skipped his senior year at Texas Tech to enter the NFL draft in 2017. He was the Chiefs' first-round pick, and he immediately signed a four-year contract worth more than $26 million. At the same time, Brittany became a pro soccer player. She signed with the Iceland pro team of UMF Afturelding/Fram, who are based north of Reykjavik.
After one season, Brittany says she fell in love with being in the gym more than being on the soccer field. She decided to leave pro soccer behind and form her own fitness company, Brittany Lynne Fitness.
Patrick bought a home in Kansas City, and Brittany moved in after leaving Iceland. They have two dogs named Steel and Silver, and they just celebrated eight years together on March 31.
Mahomes signed the biggest contract in NFL history this summer – $503 million over 10 years. Before his romantic proposal, Matthews was in the stands cheering her boyfriend on while he received his Super Bowl ring.