Patrick Mahomes and Brittany Matthews Are Taking a Detour From Wedding Planning…To Have a Baby!
Patrick Mahomes and Brittany Matthews will never forget September 2020. Less than one month after announcing their engagement, the Kansas City Chiefs quarterback and his bride-to-be have revealed they are expecting their first child. The couple shared the exciting news on Tuesday, September 29.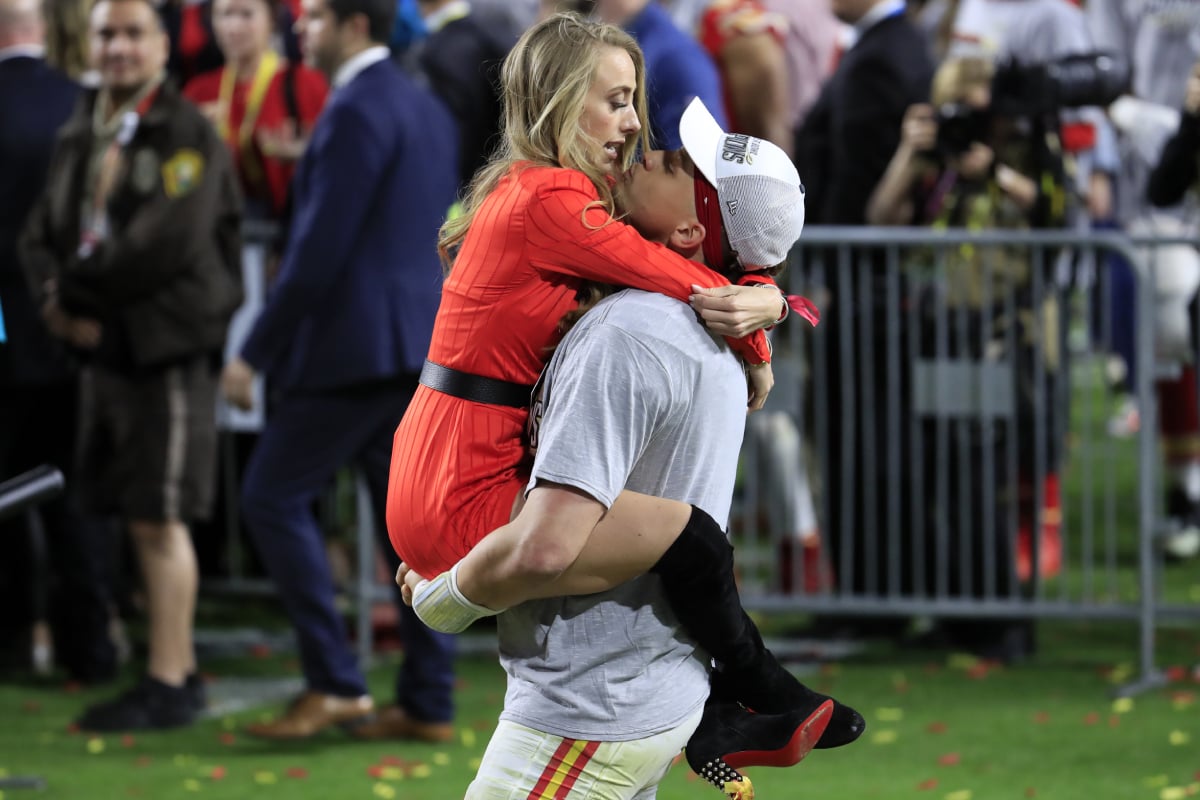 Patrick Mahomes and Brittany Matthews shared sweet Instagram posts
Both Mahomes and Matthews shared the baby news via Instagram. Matthews posted two photos of herself with Mahomes. He has his arms around her and is cradling Brittany's growing baby bump. She is holding the sonogram pic in both photos. The couple is looking down at her bump in the first photo. In the second, they are smiling for the camera.
In the caption, Matthews wrote, "Mom & Dad, taking a small detour to the wedding❤️."
Mahomes posted a close-up of the same photo with a focus on the sonogram. In his caption, he simply posted a red heart emoji. Fans immediately started posting messages of congratulations on both Mahomes and Matthews' pages.
Mahomes' brother Jackson wrote, "You guys will be the best parents!! CANT WAIT TO BE uncle Jack!!!" One fan noted that, "This baby boutta be the greatest athlete ever."
That fan knew that Mahomes is a professional football player who played multiple sports in high school and college. They also knew Matthews is a former pro soccer player turned fitness trainer.
The high school sweethearts have had an unbelievable 2020
While the world has been turned upside down in 2020 due to the pandemic, Mahomes and Matthews have arguably had the best year of their lives. In February, Mahomes led the Kansas City Chiefs to their first Super Bowl win in fifty years. He also earned the MVP trophy for his performance in the game.
His relationship with Matthews made headlines after cameras caught his high school sweetheart jumping into his arms after the big win. Then in July, Mahomes became the first professional athlete in any sport to sign a half-billion-dollar contract.
According to The Today Show, Mahomes signed a 10-year, half-billion dollar contract extension. The agreement is worth $503 million, with $477 million in guarantee mechanisms and a no-trade clause.
Then in September, Mahomes popped the question to his longtime love at Arrowhead Stadium after receiving his Super Bowl ring. Matthews shared the engagement news on Instagram. She posted pictures of the romantic display Mahomes set up in one of the stadium's suites.
Patrick Mahomes and Brittany Matthews are putting down roots in Kansas City
Mahomes went all out for the proposal. He decorated the suite with white fur carpet and rose petals. He also covered the room in white flowers and candles. There was also a life-size, lit sign that read, "Will you marry me?"
Matthews shared photos from the special moment. In the caption she wrote, "On a day that was meant to celebrate you, you turned it into celebrating us. It's always us, it's always you and me. The words you looked into my eyes and said to me at this moment, will NEVER leave my mind!"
She went on to say that Mahomes made the day perfect, and he took her breath away. She finished her message by writing that she was looking forward to spending her life with Mahomes. Matthews also noted their "inseparable bond."
Mahomes and Matthews were high school sweethearts at Whitehouse High School in Whitehouse, Texas. The couple purchased a home in Kansas City together last year. Between their new digs, new baby, and his long-term contract, they plan to be in Kansas City for good.