Patrick Mahomes Favorite Foods Includes 1 of the Most Famous Sandwiches in Kansas City
Kansas City Chiefs quarterback Patrick Mahomes grew up in Texas with his brother Jackson and their parents, Pat and Randi. The QB was born in Tyler, attended Whitehouse High School, and was a star for the Texas Tech Red Raiders.
But after getting drafted by the Chiefs in 2017, Mahomes and his fiancée Brittany Matthews relocated to the Midwest and started putting down roots. The proud Texan now calls Kansas City home and his favorite foods include one of the city's most famous sandwiches.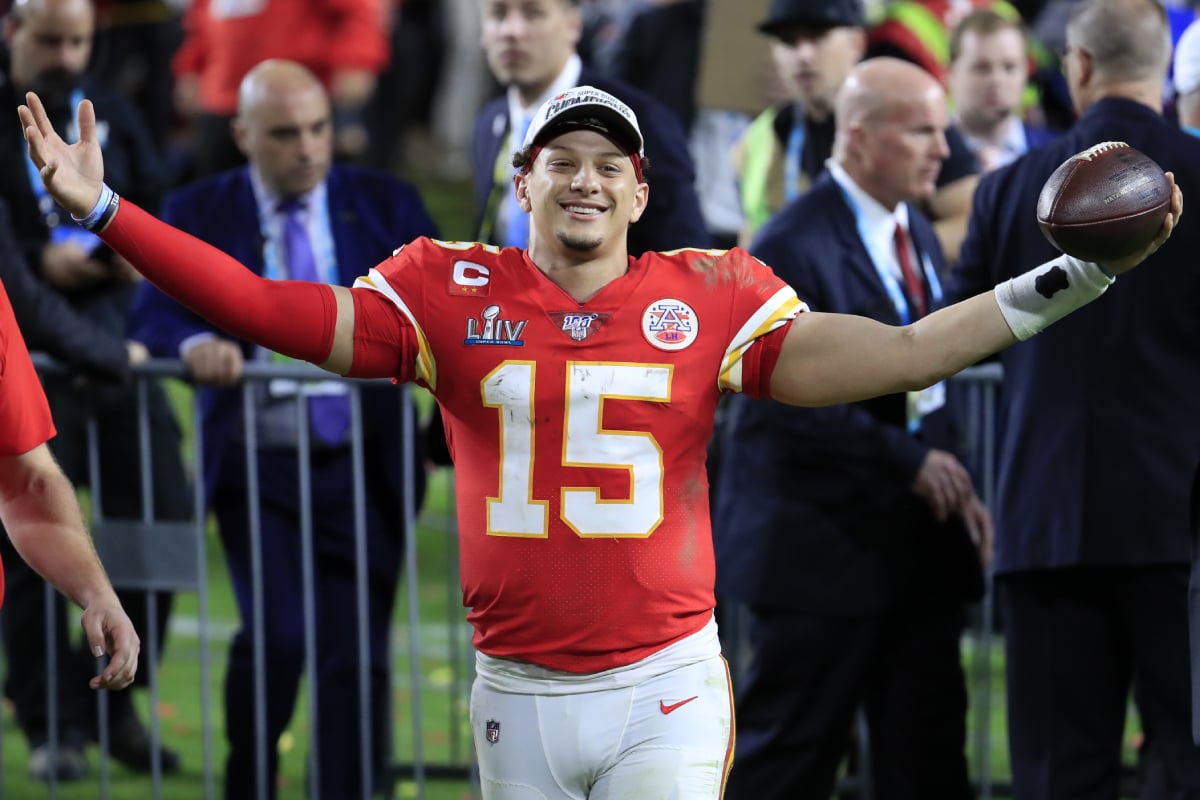 Patrick Mahomes really, really loves ketchup
During Mahomes first year as the Chiefs starting QB, a story by Sports Illustrated's Seth Wickersham revealed to fans that the Super Bowl LIV MVP is a major ketchup enthusiast. Mahomes' love for the condiment quickly took on a life of its own. And it led to an endorsement deal with Hunt's.
"I don't think it's that weird, but I put it on my macaroni and cheese," Mahomes said at the time. "People seem to think that's a weird thing, some people think that's disgusting, but it's good to me."
Mahomes loves the condiment so much that even has a "favorite ketchup." It comes from the fast-food restaurant chain Whataburger.
RELATED: Patrick Mahomes Is Embarrassed to Eat This in Public, But His Family Will Still Sneak it to Him
The quarterback has admitted in past interviews that his nutrition wasn't the best when he first entered the NFL. Mahomes also has a fondness for Chick-fil-A. To satisfy his sweet tooth, he enjoys Jolly Ranchers hard candy. He says he got hooked on "a certain kind, Jolly Rancher Bites."
To improve his nutrition, Mahomes says that Matthews has helped him eat better and cut body fat. He says he is "blessed" that Matthews is a certified personal trainer who prioritizes fitness and nutrition.
Postmates reveals the first order they received from the Kansas City Chiefs quarterback
When Mahomes moved to Kansas City, he signed up with Postmates and started to regularly use the delivery service. On their blog The Receipt, the company revealed that Mahomes made his first order on his 23rd birthday, which was September 17, 2018. This was the same day he became the youngest QB ever to throw six touchdowns in one game.
To celebrate, Mahomes ordered a meal from Rye, a Kansas City restaurant. His order included "Prime Rib with mashed Yukon Gold potatoes, macaroni and cheese with crispy bacon, three-piece fried chicken, and pan-roasted scotch salmon."
RELATED: Patrick Mahomes' Offseason So Far: Training, Golf, Cabo, and Tik Tok
Postmates also revealed the five meals that Mahomes has ordered the most since he signed up for the service. The prime rib dinner from Rye was number one on the list. His favorite pre-game order was a grilled chicken sandwich with cheddar cheese from Potbelly Sandwich Shop.
Also on his list of favorites was a burrito bowl from Chipotle and a chicken biscuit from Chick-fil-A. What's not on the list is vegetables. Mahomes admits that greens aren't his favorite, but he has to eat them so he "makes it work."
Patrick Mahomes has a famous Kansas City sandwich on his list of favorites
Rounding out the top five of Mahomes' favorite foods that Postmates has delivered is the Z-Man sandwich with french fries from Joe's Kansas City Bar-B-Que. During a 2019 appearance on Jimmy Kimmel Live!, Mahomes admitted he was a big fan of the sandwich.
"Oh, a hundred percent," Mahomes told Kimmel. "I get it Postmated to me. I get it probably once every two weeks. It's a gas station that you just walk up to and there's a side restaurant. It's pretty amazing."
RELATED: Paul Rudd Loves This Sandwich from Kansas City so Much, the Marvel Star Actually Has Is Flown To NYC
Despite being a Texan, Mahomes does enjoy Kansas City BBQ. In addition to Joe's, Mahomes also enjoys Q39 because it's close to his house and it has the "most vibe."
"But all of them are good to me. It's not like there's just one that's over the other," Mahomes said.
Super Bowl LV airs Sunday, February 7 on CBS.