Patrick Mahomes' Fiancée Brittany Matthews Celebrates Baby No 1 With a Jaw-Dropping Baby Shower
Kansas City Chiefs quarterback Patrick Mahomes and his fiancée Brittany Matthews revealed last month that they were expecting a baby girl. Ahead of her daughter's arrival, Matthews is putting together the nursery. And, she also had a jaw-dropping, perfectly pink baby shower in her home state of Texas.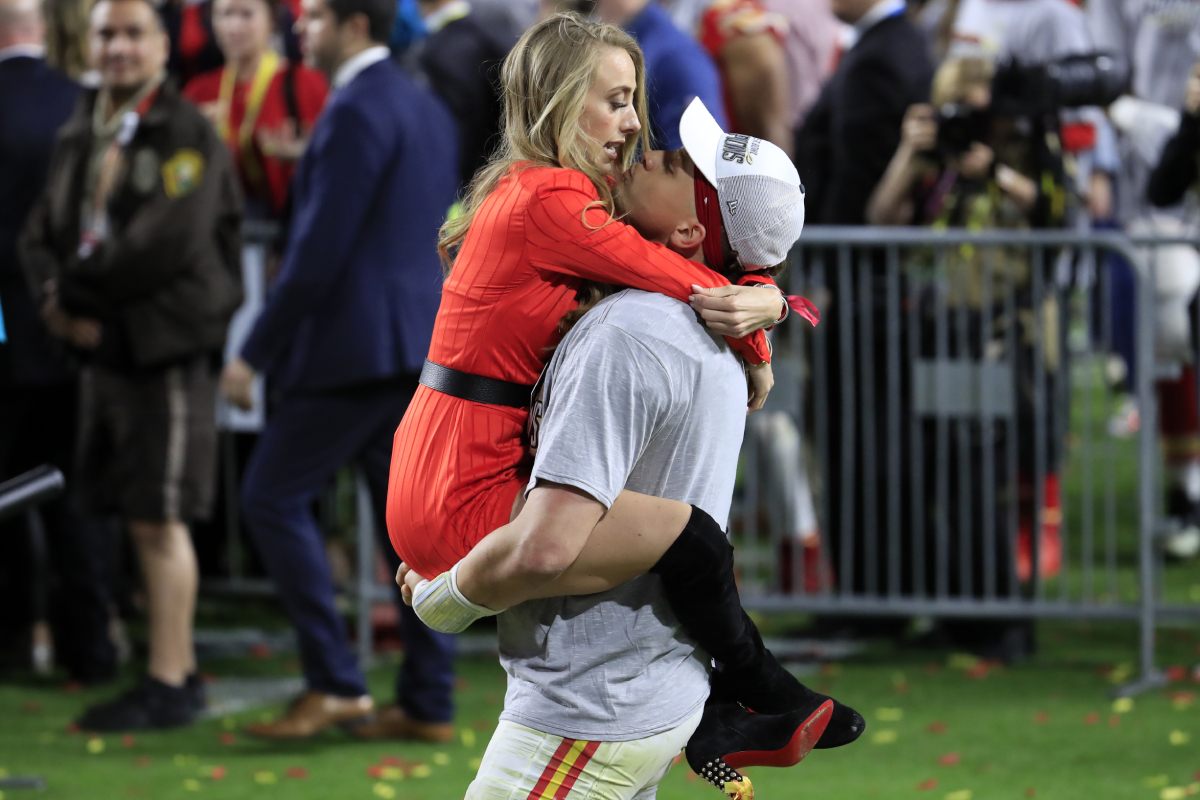 Brittany Matthews gave her Instagram fans a first-look at the nursery
In early November, Matthews took to her Instagram Story to show off the progress she and Mahomes have made in their daughter's nursery in their new home in Kansas City. At the time, the 25-year-old fitness trainer was nearly done with the setup.
Matthews showed off a white dresser with sparkling handles in a room that had a starry night theme. "The most beautiful handles for the most beautiful baby girl," the mom-to-be wrote in the caption.
Above the crib, Matthews adorned the walls with decorative pieces in the shape of the moon and stars. One piece read, "Good night sleep tight," and another said, "Love you to the moon."
The room also features a toy basketball hoop. But just because Mahomes and Matthews are both athletes, that doesn't mean they will pressure their daughter into following in their footsteps.
"It could be baseball, it could be basketball, it could be being a doctor, it could be a lawyer," Mahomes told The Drive on KCSP 610 Sports Radio.
Mahomes explained that whatever his kid wants to do, he wants her to go out there and just be the best she can be at it.
Patrick Mahomes' fiancée goes all out for her baby shower
During the first weekend in December, Mahomes and the Chiefs were busy beating the Denver Broncos. At the same time, Matthews traveled to her and Mahomes' home state of Texas with some girlfriends to enjoy a jaw-dropping baby shower.
According to The Daily Mail, Matthews shared a photo on her Instagram Stories from an airport tarmac in Texas that featured the expectant mom and her closest girlfriends. In the caption, the former pro soccer player assured her followers that everyone had quarantined and tested negative for COVID before traveling.
RELATED: Patrick Mahomes and Brittany Matthews Are Officially Having a Better 2020 Than the Rest of Us
"Thanks to my gals for going to TX to shower baby girl & I," Matthews wrote. "Everyone has quarantined and been COVID tested for my baby shower. Thankful to have amazing close friends & family that will stay safe for the sake of me & baby girl!"
At the winter-themed baby shower, Mahomes' family went all out for Matthews by decorating with pink-tinted Christmas trees, stuffed polar bears, cotton-ball snow, and a massive display of pale pink balloons. She soundtracked the videos that she posted with Baby It's Cold Outside.
Both Patrick Mahomes and Brittany Matthews own professional sports teams
After Mahomes signed his history-making $503 million contract this past summer, he became a minority owner in the Kansas City Royals, the city's professional baseball team. Now, according to USA Today, Matthews is part of an ownership group that was just awarded an expansion franchise in the National Women's Soccer League.
The group that Matthews is a part of is Palmer Square Capital Management, led by Angie and Chris Long. They will assume the player rights, draft picks, and other assets from the shuttered Utah Royals FC.
Matthews played soccer at the University of Texas-Tyler before a brief professional stint with UMF Afturelding in Iceland. She now lives in Kansas City with Mahomes and is a fitness entrepreneur.
"I have a true level of appreciation for what these incredible women do on a daily basis," Matthews said in a statement. "We have the greatest fans and community here in KC and I can't wait to huddle around this team."