Patrick Mahomes' Girlfriend Brittany Matthews: 5 Fast, Fun Facts
Patrick Mahomes is coming off an amazing season in the NFL that landed him the Most Valuable Player award – and he credits his longtime girlfriend, Brittany Matthews, for helping him along the way. With the couple celebrating their seventh anniversary together this year, here are five fun facts about Matthews that may surprise you.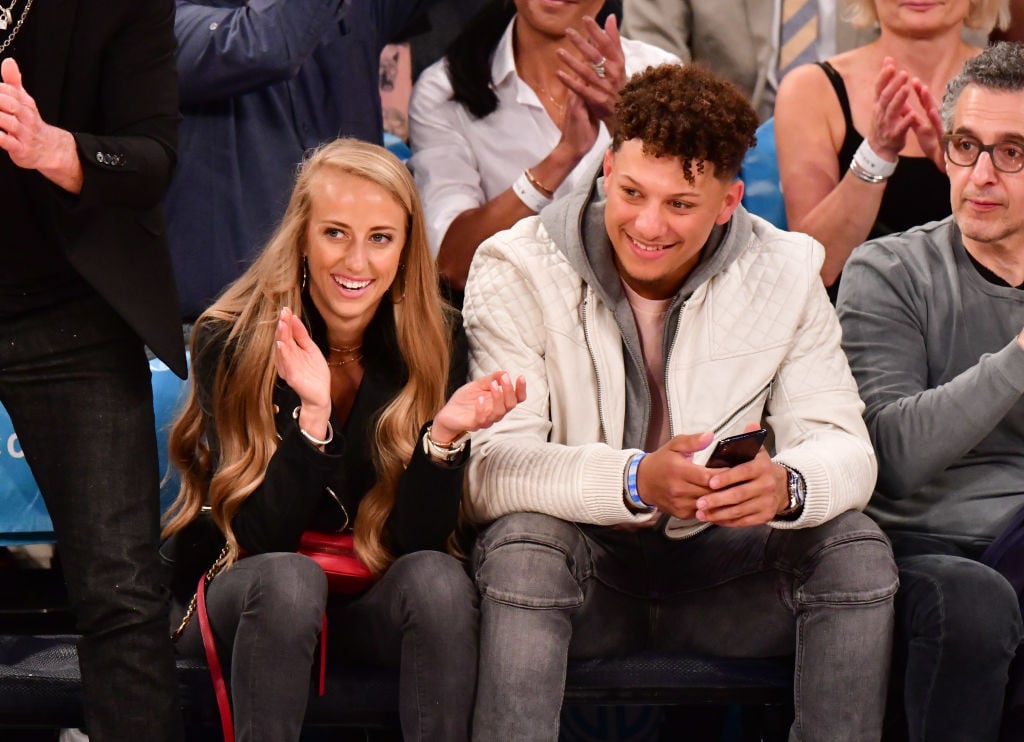 Brittany Matthews is an athlete
Like Mahomes, Matthews excelled in sports at a young age, though her main activity was soccer (or football for the rest of the world). Matthews played soccer in college and upon graduation landed a spot on a team in Iceland called UMF Afturelding/Fram. According to Mirror, Matthews never thought her career in soccer would pan out until she got a scholarship from UT Tyler, where she fell in love with the sport all over again.
"I didn't even see myself playing college soccer when I graduated high school," Brittany Matthews shared. "However, I ended up coming to UT Tyler to play soccer because it was close to home and I knew a few girls that played here that loved it and told me I need to join the family."
While she was playing at UT Tyler, Patrick Mahomes was playing football for Texas Tech University. It is unclear how long Matthews played soccer overseas, but it was not long before she moved back to the states and started a career.
Matthews works as a trainer
Brittany Matthews has spent the past several years building a career in the physical fitness world. She graduated UT Tyler with a degree in Kinesiology and currently works as a personal trainer. Her company is called Brittany Lynne Fitness. Her Instagram account often features videos of her workout routines and has grown to 42,000 followers.
Brittany's knowledge in physical fitness has also come in handy for Patrick Mahomes, who has been relying on her advice this offseason.
Matthews is in her early 20s and is originally from Texas, just like Mahomes. The two met when they were in high school and have remained together through all of these years.
Patrick Mahomes relies on Brittany Matthews to stay fit
Over the past few months, Mahomes has been posting videos of his offseason workouts on social media. In a recent interview, Mahomes admitted that his goal this year was to decrease his overall body fat to below 10 percent.
To meet his goal, Mahomes enlisted Matthews' help. Matthews crafted a diet for Mahomes that gives him all the nutrition he needs while keeping him trim.
Patrick Mahomes revealed that one thing he has cut from his diet are trips to local fast food joints. He also tries to stay away from foods that do not offer any nutritional value. While Mahomes is strict on himself when it comes to food, he still eats things that have good flavor, like salmon and chicken. But it is safe to say that Mahomes has stopped going to Whataburgers whenever he visits Texas.
Mahomes and Matthews love dogs
Brittany Matthews and Patrick Mahomes share two dogs: Steel and Silver. Their lovable pit bulls have their own page on Instagram, which already has over 63,000 followers. The couple recently opened up about owning dogs and revealed that they cannot get enough of their pups, even when they are getting themselves into trouble in the backyard.
The pair adopted Silver last year, around the same time that the Kansas City Chiefs were making a run in the NFL playoffs. Mahomes had wanted a second dog for a long time but was waiting for the offseason to get one.
Matthews, however, convinced him that the timing was right and the two settled on Silver. They also had him properly trained before they introduced him to Steel, their other Pitbull.
Brittany Matthews is not in a rush to get married
Although some people might feel pressured to marry someone like Mahomes, Matthews is not rushing down the aisle. The two recently celebrated their seventh anniversary and shared some heartfelt notes with each other on social media. At the end of her post, Matthews told fans that they will get tie the knot whenever they feel the timing is right.
The anniversary post came after the couple flew to Hawaii to watch Texas Tech play in the Final Four round of the NCAA tournament. Mahomes also stopped by Good Morning America and gave a shout out to Brittany Matthews in front of the cameras.
Patrick Mahomes is currently getting ready for the start of another NFL season.