Patrick Mahomes Instagram Is a Love Letter to Brittany Matthews, His Dogs, and the Kansas City Chiefs
Patrick Mahomes' Instagram is the latest craze of the NFL, and with close to two million followers, fans cannot get enough of the superstar quarterback. For Mahomes, his Instagram is basically a platform to show his unfailing love to his longtime girlfriend, Brittany Matthews, his two adorable dogs, Steel and Silver, and, of course, the Kansas City Chiefs. Here's a look at what Mahomes cherishes most in life.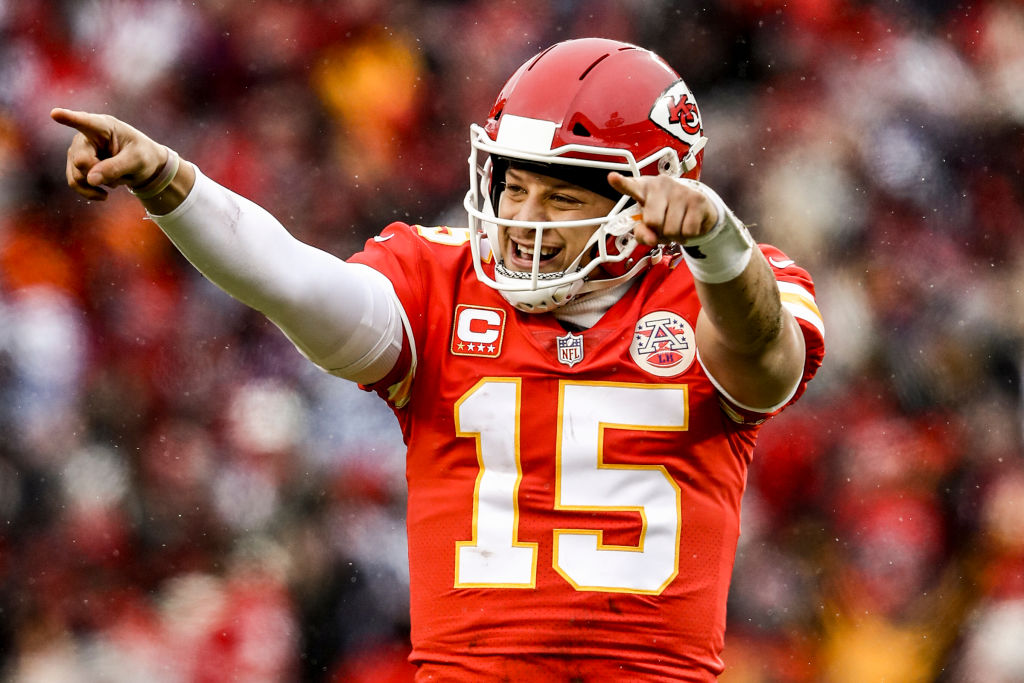 Patrick Mahomes' Instagram love letter
Mahomes has never been shy about posting pics of his day-to-day activities on social media, and many of his photos feature his long-time love, Matthews.
Earlier this year, for instance, the pair went on vacation together prior to the start of the Chiefs' training camp. Matthews popped up quite a bit on Mahomes' Instagram feed at the time and the two clearly enjoyed hanging out at the beach.
She has also been photographed on the sidelines before games, out on the town with the Chiefs quarterback, and lounging inside their gorgeous home.
Matthews' prominence on Patrick Mahomes' Instagram proves how much they love each other. But she has received some criticism following his rise to stardom, with some fans thinking he could do better.
So, what makes Matthews the perfect match for a guy like Patrick Mahomes?
Who is Brittany Matthews?
Matthews and Mahomes met when they were in high school in Whitehouse, Texas. The pair quickly fell in love and have been going strong since they were sophomores.
After attending the University of Texas, Matthews played a bit of professional soccer in Iceland before moving to Kansas City to be with Patrick Mahomes full-time.
According to the Kansas City Star, she now works as a personal trainer in the area and runs her own business, called Brittany Matthews Fitness. Matthews often posts photos of her fitness routines and company products on social media, offering fans an inside look at what she does best.
"As a Certified Personal Trainer with a four-year bachelor's degree in kinesiology, I have experience with all levels of fitness and have carried that experience with me to create exercise programs for people at all stages on their fitness journey," her website states.
Apart from her professional life, Matthews loves living in Kansas City and cannot get enough of her and Mahomes' two pit bulls, whom they treat like their children.
Patrick Mahomes and Brittany Matthews adopt a new puppy
When they moved to Kansas City in 2017, the couple brought with them their pet pit bull, Steel. Eager to give Steel a playmate, Mahomes and Matthews decided to adopt another pit bull, Silver, earlier this year.
Taking to Instagram, the couple announced the exciting news in a series of posts on Steel's Instagram account. That's right, Steel has his own account and it is about as adorable as you might expect.
Before they brought the new pup home to meet his brother, they made sure Silver was well trained. This made for a smooth introduction between the two pups, who have quickly bonded over the past year.
While Mahomes and Matthews love their pets, he was actually afraid of dogs when he was a child. The two hope that having two lovable pit bulls in their home will help dispel some of the myths about the breed, which is often unfairly viewed as being super aggressive.
Is Mahomes staying put in Kansas City?
With Patrick Mahomes' career trending upwards, many Chiefs fans are wondering if he is planning on staying with the organization throughout his career. The Chiefs drafted Mahomes in 2017, and he took over the starting quarterback duties last year.
Mahomes enjoyed an incredible season in 2018 that ended with him winning the league's Most Valuable Player award. As far as Mahomes is concerned, he could not be happier with the team and the city he now calls home.
During an interview on Jimmy Kimmel Live! a few months ago, Mahomes was asked if he loves living in Kansas City. The quarterback revealed that he does, in fact, love the city and enjoys seeing fans around the country.
"I love it, I honestly do. Look, we've got the Chiefs Kingdom right here," he shared.
Mahomes also posts a lot of photos of the Chiefs on Instagram and recently gave fans a tour of his gorgeous home. While giving the tour, both Mahomes and Matthews revealed that they love Kansas City and hope to be there for many years to come.
Rumor has it that the Chiefs will make Patrick Mahomes the highest-paid quarterback ever in the NFL after this season in order to keep him in Kansas City.