Patrick Mahomes Is Embarrassed to Eat This in Public, But His Family Will Still Sneak it to Him
Patrick Mahomes has a bright career ahead of him as the quarterback of the Kansas City Chiefs. Not only did he win the NFL's MVP award in his first season as a starter, but he also led the Chiefs to their first playoff win in decades. Although Mahomes has a knack for shattering records, his food decisions are a little more questionable. Here's a look at the one thing Mahomes is too embarrassed to eat in public.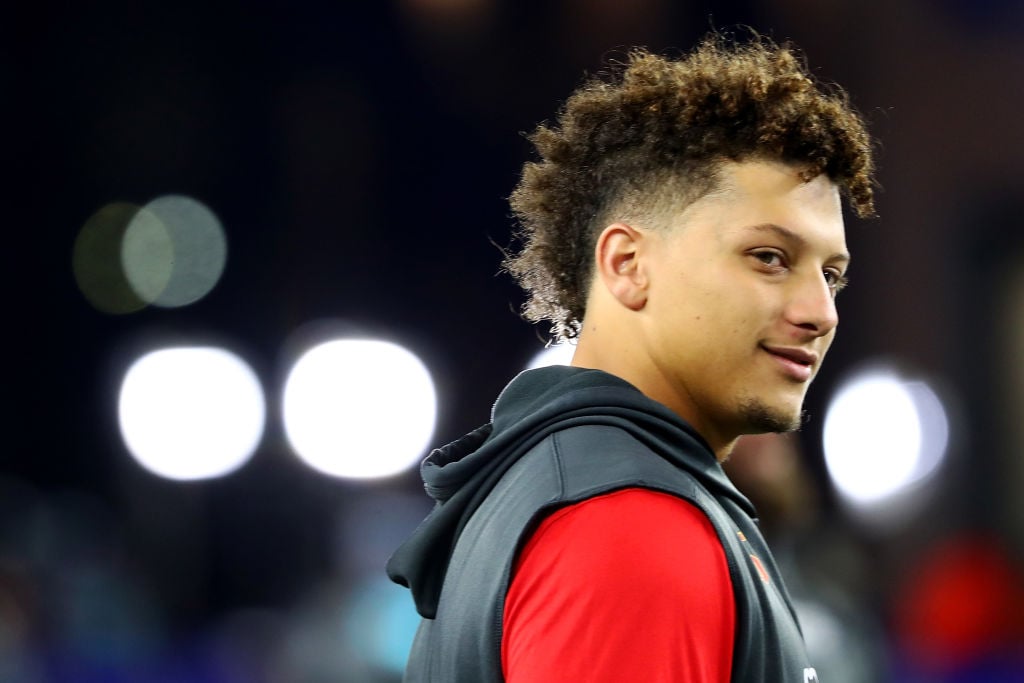 What is Patrick Mahomes' strangest food combination?
One of the oddest facts about Mahomes is his unfailing love for ketchup. The NFL star loves this condiment so much that he even puts it on his steak (among other things).
News broke that Mahomes likes his steak smothered in ketchup in 2018, sparking an intense debate amongst fans on social media and an official response from the Chiefs quarterback himself.
"Yeah, it's crazy — social media can blow anything up," Patrick Mahomes shared. "I'm a big ketchup fan, I've always been, a little bit more when I was younger."
According to Sporting News, Mahomes does not believe his unnatural obsession with ketchup is a big deal. In fact, he pretty much puts the tomato-based sauce on everything he eats, including — brace yourself — macaroni and cheese.
"People seem to think that's a weird thing, some people think that's disgusting, but it's good to me," he added.
While some fans may think Mahomes' love for ketchup is strange, he's been dealing with the cravings his entire life.
When did Mahomes' obsession with ketchup start?
Patrick Mahomes' love for ketchup was first revealed in 2018 and it has grown to epic proportions ever since. Some fans even send Mahomes bottles of ketchup as birthday presents and that's just the tip of the iceberg.
His love for the red condiment started when he was a child. Back then, Mahomes was unafraid to put ketchup on everything he ate and did not feel judged.
That has changed now that Mahomes is constantly in the spotlight. In fact, the Chiefs star is now hesitant to use ketchup in public and has even ordered steak without the precious sauce.
That said, Mahomes partnered with Heinz Ketchup last season when he was on track to break the touchdown passing record. The company vowed to give Mahomes ketchup for life if he threw 57 touchdown passes.
Sadly, Mahomes only reached 50 touchdowns that year and did not cash in on the prize.
What do fans think of Patrick Mahomes' love of ketchup?
So far, Chiefs fans have been split on the subject of Mahomes' obsession with ketchup. For the most part, people fall into three groups: those who agree with Mahomes, those who could care less, and those who think putting ketchup on steak is wrong.
Taking to Twitter, those who support Mahomes' ketchup obsession made it loud and clear that he has nothing to worry about.
"Hey @PatrickMahomes5 … don't let them throw shade on you for enjoying ketchup on steak. I'm 46 and have been doing that all my life. Stay strong brother!" one fan wrote, while another added, "It's not as weird as everyone thinks. Don't worry @PatrickMahomes5 I also enjoy ketchup on my steak!"
There were, of course, others who slammed Mahomes for ruining perfectly good steak with the red sauce, while others fell between the two camps and really don't see what the big deal is.
Although Patrick Mahomes may be afraid to openly display his love for ketchup, he recently teamed up with Hunt's to promote their brand of ketchup.
Mahomes goes all in with a ketchup ad
Last December, Hunt's won its war with Heinz and inked a deal with Mahomes to become their official ketchup ambassador.
One of the advertisement features Mahomes talking about how he used to eat ketchup sandwiches when he was little, a treat that included two slices of bread smothered in the condiment.
A different ad shows Patrick Mahomes cooking a plate of macaroni and cheese and adding a dash of ketchup to the meal. For Mahomes, he claims that he really uses Hunt's ketchup over the competition because it has a quality that is unmatched.
He also assured viewers that he never hesitates to order a bottle of ketchup whenever he easts out, so it sounds like he may have gotten over the embarrassment factor.
As far as Heinz is concerned, the company lost out on Mahomes, but they did find another celebrity to fill his shoes. Heinz recently launched a series of ads with Ed Sheeran, who adores the brad so much he got a tattoo of their ketchup bottle. That is some serious dedication that even Patrick Mahomes has yet to match.