Patrick Mahomes is Obsessed With His Dogs and Now You Will Be Too
The star quarterback of the Kansas City Chiefs, Patrick Mahomes, is all about his two pet dogs, Steel and Silver. When he isn't on the field preparing for his next matchup in the NFL, Mahomes is usually hanging out with his girlfriend and dogs and sharing adorable photos of them on social media. While Mahomes is clearly obsessed with his small pack of pooches, there is a good chance you will be too once you start following them on Instagram.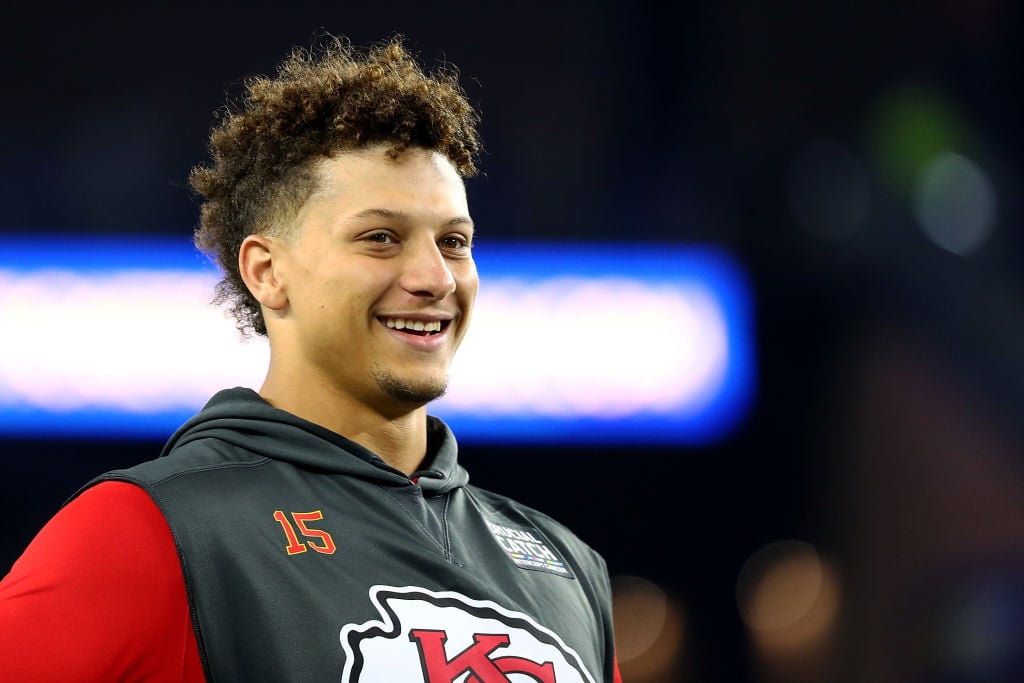 A look at Patrick Mahomes' adorable pets
Mahomes has become one of the NFL's brightest stars over the past two seasons, yet his dogs are starting to catch up to him on the popularity scale.
The Chiefs quarterback frequently posts photos of his two pet dogs on Instagram, and fans cannot get enough of their adorable little faces.
This includes shots of the dogs rocking some Chiefs gear and hanging out with their proud human father. And when Mahomes announced that he was getting a second dog on social media, fans almost lost it (can you blame them?).
Taking to Instagram, Patrick Mahomes made the announcement at the beginning of the year, shortly after he was named the NFL's MVP for the season. He broke the news alongside a photo of his first pit bull, Steel, who was dressed in Chiefs merchandise.
"Just my dad telling me he won MVP & that I'm gonna be a big brother," Mahomes wrote alongside the pic.
Mahomes opens up about getting another dog
The NFL star has since shared numerous photos of his pet dogs on Instagram, including some cute shots of the newest member of their family, Silver (who is also a pitbull).
A few months ago, Mahomes opened up about adding another dog to his pack. According to Kansas City, the quarterback revealed that it was a joint decision to adopt Silver with his stunning girlfriend, Brittany Matthews.
"It was a joint decision," Patrick Mahomes shared. "She definitely wanted it. I was trying to wait until the offseason, but she wanted to get it up here quickly."
Mahomes added that they had Silver for a few weeks before they made the announcement. During that time, the dog was getting trained so that introducing him to Steel would go a lot smoother.
He added that he was always afraid of dogs as a child but has since grown out of it. He and Matthews have had Steel since they moved to Kansas City in 2017. Fans can follow him on Instagram, but they should be warned that they might become obsessed if they do.
Patrick Mahomes dishes on his love for Steel
Speaking of Steel, the dog has amassed over 26,000 followers on Instagram, and that number is steadily growing. Between his success on the field and his love for animals, Mahomes could not help but gush over his pit bull, whom he calls his "best friend."
"He's an awesome dog, very loving, very energetic, so just having him, he's like my best friend," Patrick Mahomes stated. "It's a great dog to have."
Mahomes is currently in his second year as the starting quarterback of the Chiefs. Last year, he led the team to their first playoff win in the past two decades. Although they eventually fell short to the New England Patriots, the Chiefs are eyeballing a Super Bowl appearance this season.
Until then, fans might be surprised to learn that Mahomes' dogs actually play a part in his off-season workout regime, which goes down in Fort Worth every year.
Silver steals the show
During spring training, Patrick Mahomes showed off his new pit bull while training with his long-time coach, Bobby Stroupe, in Fort Worth.
Silver made an appearance at one of the training sessions and fans could not get enough of seeing the little guy in action.
Back home, Mahomes has done a lot of work with charities and has used his dogs to help raise money for the Children's Mercy Hospital. Earlier this year, Mahomes donated an MVP package for an auction at the hospital, which ended up selling for a whopping $52,500.
The deal included hanging out with Mahomes (and his dogs) for a day. The lucky winner of the auction was invited to attend an event at EJ's Urban Eatery in Kansas City, where they could chat with Mahomes about his life and his adorable pooches.
While spending $50,000 is a lot of money for most people, it was probably totally worth it when you consider the prize. After all, who wouldn't want to spend an afternoon with Patrick Mahomes and his dogs?