Patrick Mahomes Is Still With His High School Sweetheart Brittany Matthews
Patrick Mahomes has risen to NFL stardom as the starting quarterback of the Kansas City Chiefs. Although Mahomes is enjoying his time in the spotlight, he keeps his romantic life pretty humble. Not only is he still with his high school sweetheart, Brittany Matthews, but she has built an impressive career in the fitness industry on her own. Here's everything we know about Matthews.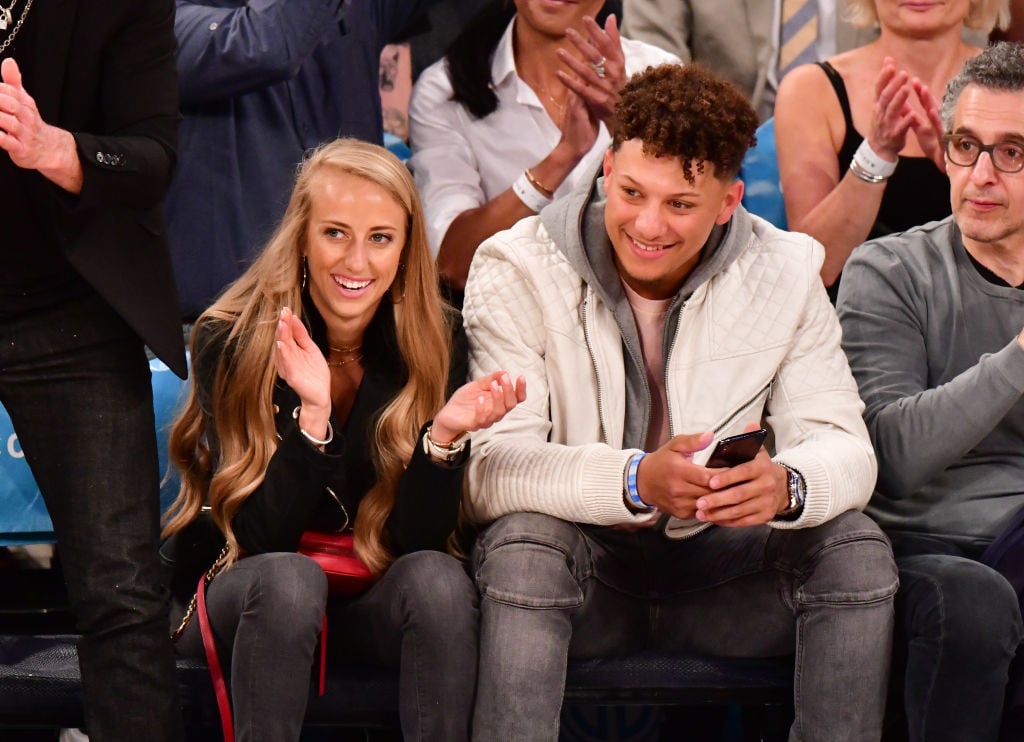 Mahomes and Matthews spark a romance
Patrick Mahomes and Brittany Matthews met while they were in high school in Whitehouse, Texas. The pair began their romance in the 10th grade at Whitehouse High School and have never looked back.
Matthews graduated from high school in 2013 and enrolled at the University of Texas at Tyler, where she played soccer. Mahomes, meanwhile, graduated a year later and accepted an offer to play sports at Texas Tech University.
Over the course of their college career, Patrick Mahomes and Brittany Matthews were separated by 400 miles. Luckily, they did not let the distance ruin things – though this was not the only time they were forced to enter a long-distance relationship.
According to Business Insider, after graduating from college, Mathews signed on to play professional soccer in Iceland. We do not know how long Matthews stayed in Iceland, but she was excited about the prospects of playing overseas.
"Every coach I have had at UT Tyler made a huge impact on my love for this game and my decision to play professional soccer," Matthews shared. "An opportunity opened up for me in Iceland and I could never pass up such an amazing experience to go do what I love."
Brittany Matthews builds a fitness empire
Before she jetted off to Iceland to continue her soccer career, Matthews graduated with a degree in kinesiology. She put her degree to good use after Mahomes was drafted by the Kansas City Chiefs in 2017.
While Patrick Mahomes was earning his first MVP in 2018, Matthews got herself a fitness certification and opened up her own workout company called Brittany Lynne Fitness.
On her official website, Matthews says that she has programs for people of all ages and that her one requirement is that people do not make any excuses.
"I have experience with all levels of fitness and have carried that experience with me to create exercise programs for people at all stages on their fitness journey," Matthews stated, adding that she believes in "working hard, staying dedicated, not making excuses, and most of all, no BS!"
Matthews officially launched her company in 2019. Since then, she has been sharing tips and tricks on social media and is steadily creating an impressive fitness empire.
Although Matthews works hard to build her brand, she always makes room in her schedule to spend time with Mahomes.
Patrick Mahomes and Brittany Matthews call Kansas City home
With their romance stronger than ever, Mahomes and Matthews have officially set down roots in Kansas City.
The couple purchased a gorgeous home in the area last year. They moved into the Mission Hills neighborhood of Kansas City and spent close to $2 million for their house.
Mahomes and Matthews recently gave fans a virtual tour of their new digs, which includes a massive room for all of his shoes. As a rough estimate, Mahomes believes he has close to 180 pairs, give or take some.
When it comes to the decorations, Patrick Mahomes admitted that he left things to Matthews and their interior designer. Based on how things looked in the video, we have to say that she did an excellent job.
The two also spoke about the importance of buying a home in Kansas City and how they absolutely love the city. Depending on how his contract talks go next summer, Mahomes assured fans that he wants to stay in the area for the long haul.
"Setting down roots in Kansas City was huge for us. I think the people are what we love the most about Kansas City," Mahomes explained. "We're trying to be here for a long, long time."
Are Mahomes and Matthews ready to wed?
Brittany Matthews and Patrick Mahomes are a family of four with their two adorable pit bulls, Steel and Silver. Mahomes gifted Steel to Matthews for Valentine's Day in 2016, while Silver became a part of the family in 2019.
The couple adopted Silver ahead of the playoffs that year and have since been sharing his journey on social media.
While they seem to be creating a life together in Kansas City, do the high school sweethearts have any plans to make it official and walk down the aisle?
According to Matthews, she and Mahomes will get married whenever they want. Last year while celebrating their 7th anniversary, she shared a post on Instagram letting her followers know the answer before they even asked the marriage question.
Patrick Mahomes and the Kansas City Chiefs take on the Houston Texans Sunday with a chance to win and go to the AFC Championship.