Patrick Mahomes Just Dropped a Hint He and Brittany Matthews May Already Be Planning Baby No 2
Kansas City Chiefs quarterback Patrick Mahomes and his fiancée, Brittany Matthews, announced last fall that they were expecting their first child. They later revealed that they are having a baby girl.
Baby Mahomes hasn't arrived just yet. But could the couple already be planning for baby number two?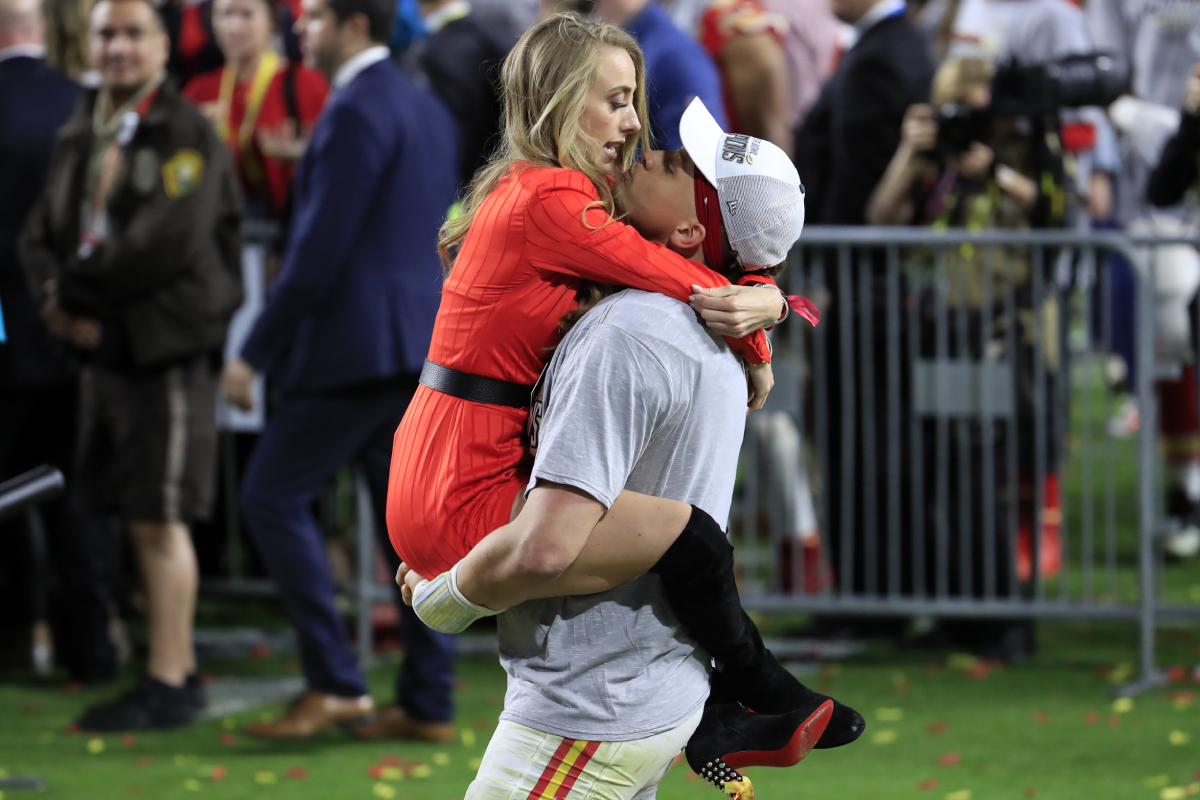 Patrick Mahomes and Brittany Matthews had an amazing 2020
It would be difficult to argue that anyone had a better 2020 than Mahomes and Matthews. First, he led the Chiefs to their first Super Bowl in 50 years. Then, during the off-season, Mahomes signed the biggest contract in sports history worth $503 million over 10 years.
Next, the quarterback popped the question to his high school sweetheart at Arrowhead Stadium on the night of the Super Bowl ring ceremony. A few weeks later, the couple announced they were expecting their first child.
"Mom & Dad, taking a small detour to the wedding," Matthews wrote on Instagram.
Not long after their baby announcement, Mahomes and Matthews revealed they were having a baby girl.
Now, it looks like 2021 is shaping up to be another great year, as Mahomes and the Chiefs are looking for back-to-back Super Bowl titles. And, he and Matthews will become parents not long after.
Brittany Matthews has been documenting her pregnancy on Instagram
Matthews is a certified personal trainer who has embraced her pregnancy by sharing maternity workouts on social media. The mom-to-be posts different pregnancy-safe workouts each week, and she advises her followers to listen to their bodies.
"Honestly, I'm lucky enough to get 3 workouts in a week so full body is just what I am doing right now," Matthews wrote. "Listening to my body, and just keeping it moving is where I'm at right now. Everyone is different, every pregnancy journey is different, but we are all mamas creating a beautiful child and that is such a blessing!!"
RELATED: Patrick Mahomes' Fiancée Brittany Matthews Celebrates Baby No 1 With a Jaw-Dropping Baby Shower
In addition to her workouts, Matthews has also posted numerous pics from her different pregnancy photoshoots. The former professional soccer player has also shared videos from her baby shower, gender reveal, nursery photos, and behind-the-scenes pics with Mahomes.
Did Patrick Mahomes just drop a hint about baby number two?
While Mahomes and Matthews haven't revealed a due date, it appears that they are just a few short weeks away from welcoming their daughter. During an interview on Kansas City's 610 Sports Radio show The Drive, Mahomes said that his little girl would be arriving soon.
"Hopefully right after the Super Bowl I'm able to bring a little girl into this world and get to become a dad in the offseason and get to see that process as well," Mahomes said.
In a separate interview with NBC Sports' Dan Patrick, Mahomes seemingly hinted that he and Mathews are already planning for baby number two even though baby number one hasn't arrived yet.
While discussing the new home that he and Matthews are building in the Kansas City area, Mahomes revealed that the property will be an athlete's dream. He is building a half-football field so he can "get some work in with some guys out there." And, he'll also have a basketball court, despite Kansas City general manager Brett Veach's worries about Mahomes getting injured.
"I'll have a basketball court — but don't tell Brett Veach," Mahomes said with a chuckle. "That's not for me, that's for the kids. It'll have a little golf stuff out there as well."
Yes, Mahomes said the basketball court was "for the kids." Which sounds like he and Matthews aren't stopping at just one.
Super Bowl LV airs Sunday, February 7 on CBS.