Patrick Mahomes May Trust Travis Kelce on the Field, But Does He Trust Him to Babysit His Baby Girl?
Patrick Mahomes and Brittany Matthews announced they are engaged and expecting a baby back in September.
Kansas City Chiefs quarterback Patrick Mahomes certainly trusts his tight end Travis Kelce on the field. And they have the stats to prove it. The Mahomes-to-Kelce connection is arguably the best in the NFL. Yes, they are trusted teammates with undeniable chemistry on the gridiron. They are even friends off the field. But does Mahomes trust Kelce to babysit his baby girl?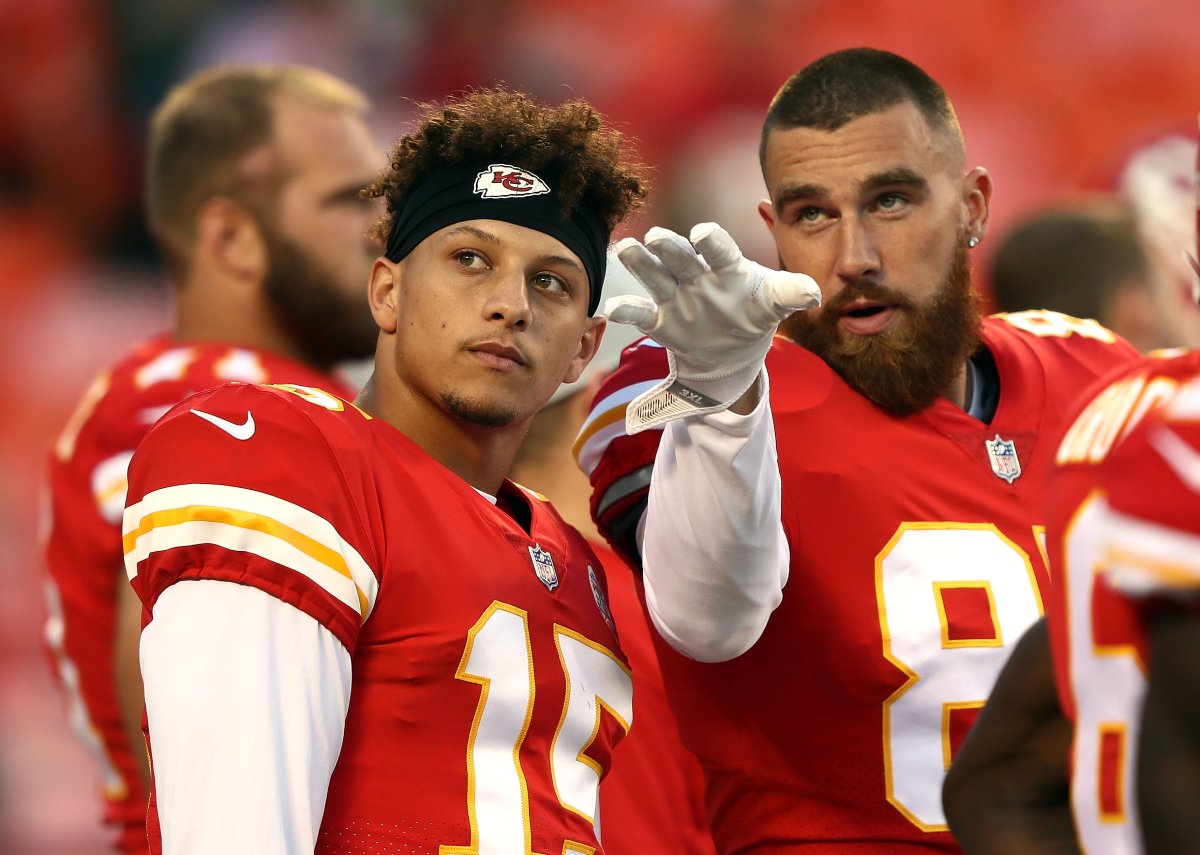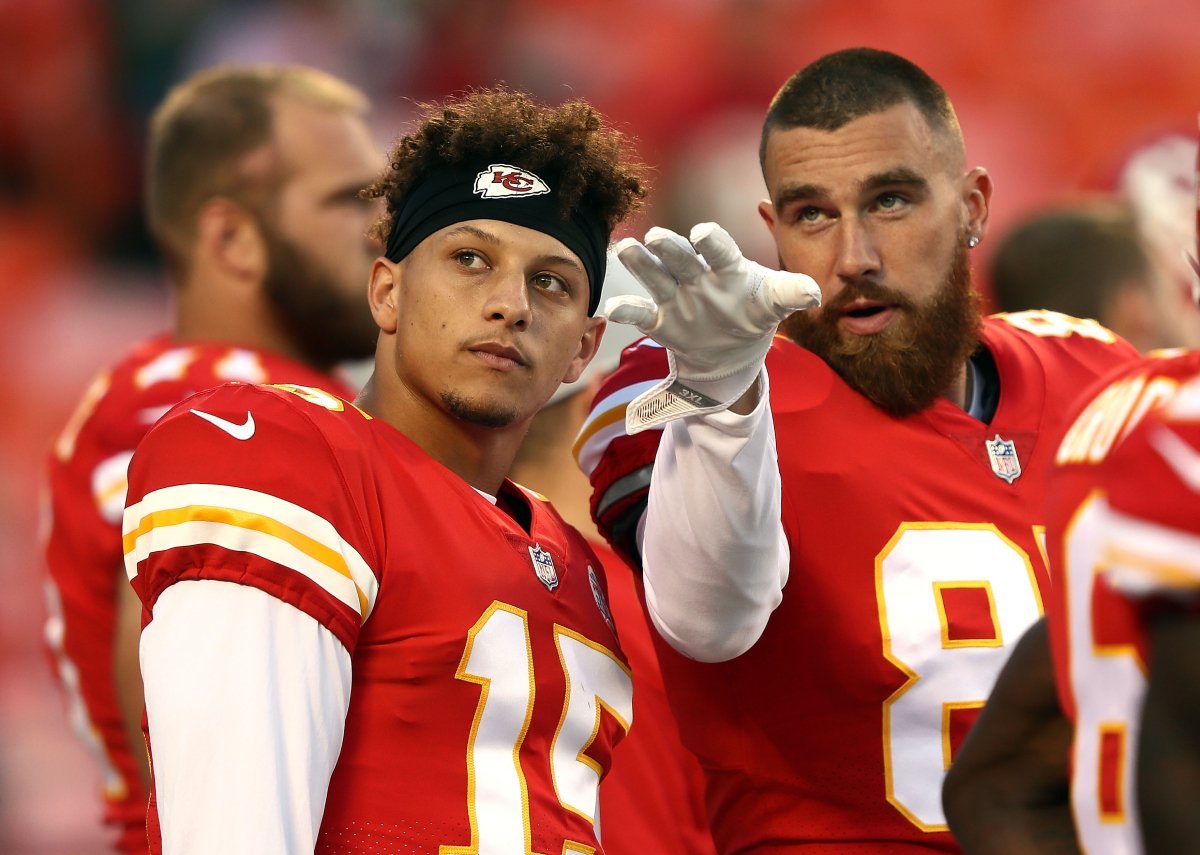 Patrick Mahomes and Brittany Matthews announced their engagement & pregnancy in September
At the beginning of September, Mahomes was at Kansas City's Arrowhead Stadium with his teammates for their Super Bowl ring ceremony. After getting his ring, he gave one to Brittany Matthews. Mahomes popped the question that same evening in a luxury stadium suite filled with roses and a lighted sign that read, "Will you marry me?"
Just four weeks later, the couple revealed that they were taking a "detour" to the altar. In late September, Mahomes and Matthews announced that they were expecting their first child. At their gender reveal party the following month, the couple found out they were having a baby girl.
Both Mahomes and Matthews posted pics and videos of their gender reveal on social media that featured their two dogs, Steel and Silver. The dogs walked across white paper laid out on a runway and covered it in pink paw prints while Mahomes and Matthews celebrated the exciting news.
The Kansas City Chiefs quarterback and tight end 'have karma between them'
Over the past three seasons, Mahomes and Kelce have become a scoring powerhouse on the field. They've connected on more than two dozen touchdown passes. And those numbers put them on the level of this past decade's other greats – Tom Brady and Rob Gronkowski and Drew Brees and Jimmy Graham.
"They definitely have karma between them," Denver coach Vic Fangio told ESPN. "They can ad-lib the routes, and both of them are on the same page when they're doing that."
What Fangio calls karma, others call chemistry. This on-field connection is strengthened by their friendship away from football. Mahomes and Kelce have attended big sporting events together, like the Final Four.
They've also played celebrity golf tournaments together. And they showed up at a Post Malone concert together after the Super Bowl LIV victory parade.
It was also Kelce who gave Mahomes his Madden NFL 2020 "99 chain" to signify his perfect rating in the video game. Mahomes then returned the favor when it was Kelce's turn. The two are obviously good friends, But is Kelce on Mahomes' list of potential babysitters when his daughter arrives?
Patrick Mahomes says he can't let Travis Kelce babysit his daughter
After Mahomes and Matthews announced their pregnancy, ESPN's Adam Teicher asked the quarterback about his "potential babysitter candidate list." According to The Bleacher Report, Kelce didn't make the cut.
"I'd say [Chiefs practice squad quarterback] Matt Moore or someone like that who's responsible," Mahomes said. "I can't let [Kelce] or anybody [babysit]. You never know what would happen."
Even though he won't get the honor of babysitting, Kelce says he will get plenty of love and attention from Mahomes and Matthews' daughter.
"Who cares if we both need supervision… I think I'll get plenty of hugs from baby Mahomes, I'm not upset at that," Kelce told CBS Sports.
It isn't just Mahomes and Kelce who are good friends. Kelce's girlfriend, Kayla Nicole, attended Matthews' recent baby shower. The event took place in Mahomes and Matthews' home state of Texas.
The mom-to-be celebrated with family and friends in a pink-balloon-covered venue. Mahomes – who was in Denver to play the Broncos – recorded a video that they played for his bride.
"I hope you're having an amazing time at your baby shower and that it's everything you could dream of," Mahomes said. "You're going to be the best mom ever and I hope that I can be just as good a dad."