Patrick Mahomes' Mom Randi Opens Up About Raising the Kansas City Chiefs' Superstar QB
Patrick Mahomes mom, Randi, recently revealed her secrets to raising the Kansas City Chiefs' superstar and NFL MVP.
Patrick Mahomes might be the NFL's next superstar quarterback, but he still holds a special place in his mom, Randi Martin's, heart. Mahomes is getting ready to lead the Kansas City Chiefs against the San Francisco 49ers in this year's Super Bowl. We are still a week ahead of the big game, and Martin recently opened up about what it was like raising a son as gifted as Patrick.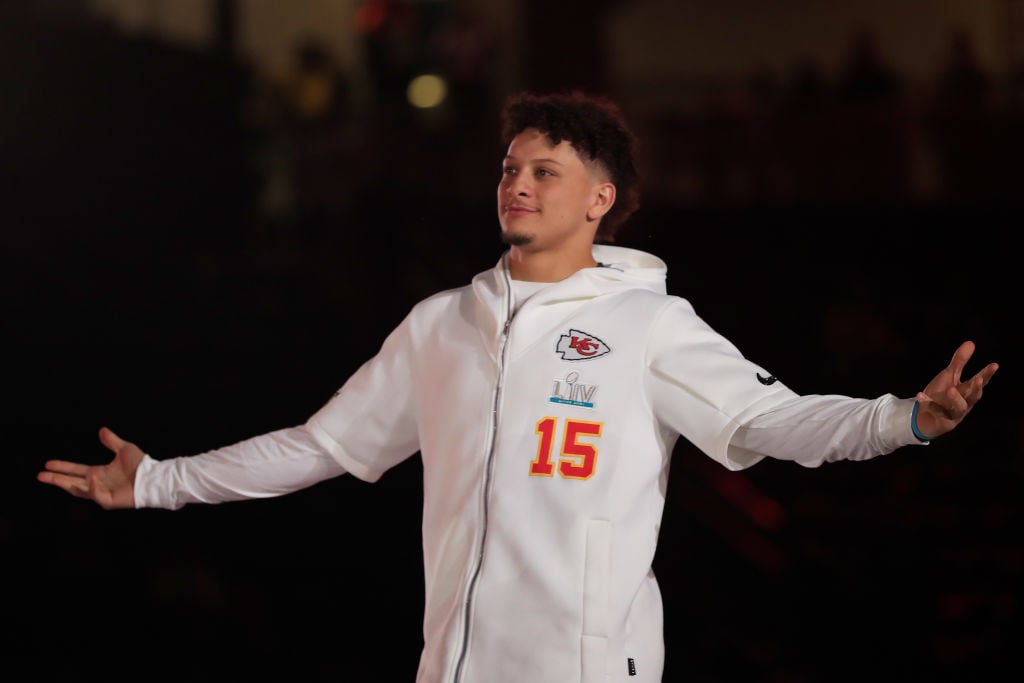 Was football Patrick Mahomes' first sport?
Mahomes was born in Tyler, Texas, and made a name for himself in college as the starting quarterback for Texas Tech. Although Mahomes is obviously very talented at football, fans might be surprised to learn that it was not his first sport.
According to Fox 4KC, Martin revealed that her son's first sport was actually baseball. In fact, Patrick's dad is Pat Mahomes Sr., who was a pitcher for an array of professional baseball teams, including the New York Mets, the Boston Red Sox, the Minnesota Twins, the Chicago Cubs, the Pittsburgh Pirates, and the Texas Rangers.
Following in his father's footsteps, Patrick Mahomes played baseball and football at Texas Tech. But at the end of his college career, he decided to play football in the NFL.
The Chiefs drafted Mahomes in 2017 and announced him as their starting quarterback a year later. Mahomes won the NFL MVP in 2018 and led the Chiefs to their first Super Bowl appearance in 50 years. While Chiefs fans idolize Patrick, they can thank his mom for keeping him in football.
"Before his junior year in high school he came to me that summer wanting to quit football, but I just said you`re going to regret it if you quit," Martin  shared.
Martin opens up about Mahomes' early years
Although Patrick Mahomes has thrived in the spotlight for the past few years, his mom says that he did not like attention growing up.
Martin says that Mahomes was a very private person in his youth, though she assured fans that he was a pretty good kid overall. Whenever he did misbehavior, Martin made sure that he got benched.
But even at an early age, Martin knew that Mahomes was something special. She revealed that she always thought he could make it to an elite level no matter what sport he chose in the end.
"I knew when it came to sports he was going to be able to reach whatever level he wanted," she stated.
Martin added that Patrick Mahomes has always been really good with children. She also said that she was not reprised when he launched a charitable organization called 15 and the Mahomies. As fans will recall, Mahomes helped raise $15,000 to go towards the Children's Mercy Hospital in Kansas City.
Inside Patrick Mahomes' childhood
As the son of a major league baseball player, Mahomes grew up around professional sports. As a child, Mahomes fielded balls for some of baseball's biggest legends, including Derek Jeter and Alex Rodriguez.
There was even a time when Jeter reportedly told Mahomes that he should stay away from football and stick with baseball.
"He grew up in the clubhouse," Patrick Mahomes' father. revealed. "He was in the [2000] World Series shagging balls, catching fly balls. He took batting practice with A-Rod almost every day when I was with the Rangers."
He added that Mahomes always had a strong arm and could have easily pitched at a professional level. Although Mahomes was drafted in the MLB as an outfield, his dad believes he could have taken the mound on any team.
Luckily for Chiefs fans, Mahomes stuck to football and has become one of the NFL's top quarterbacks.
Mahomes and his mom have a special bond
Mahomes' mother clearly had a significant role in his upbringing, and the two are still close to this day. In a previous interview, Mahomes revealed that he promised to take his mom to the ESPYs if he ever got an invite.
His mom, of course, always finds time to watch his football games, and we have no doubt that she offers pointers behind closed doors.
While Patrick Mahomes and his mother are very close, he also has a strong relationship with his long-time girlfriend, Brittany Matthews.
The two are high school sweethearts and currently live together in Kansas City. Matthews is often spotted at Mahomes' games and is one of his biggest supporters. She is also often featured on Mahomes' social media account, along with their two pit bulls, Silver and Steel.
Patrick Mahomes will be taking center stage when the Kansas City Chiefs take on the 49ers in Super Bowl LIV on February 2.