Patrick Mahomes or Tom Brady — Which Super Bowl QB Has a Higher Net Worth?
Patrick Mahomes and Tom Brady will face off in Super Bowl 55 on Sunday, February 7, 2021.
Kansas City Chiefs quarterback Patrick Mahomes and Tampa Bay Buccaneers quarterback Tom Brady are preparing to go head-to-head in Super Bowl LV this Sunday. In a battle for the ages, the GOAT is going up against the best young quarterback the NFL has ever seen.
Brady is at the end of his career and has built up an impressive resume and net worth over the past two decades. But the young Mahomes just signed the biggest contract in NFL history. So, which quarterback has the higher net worth?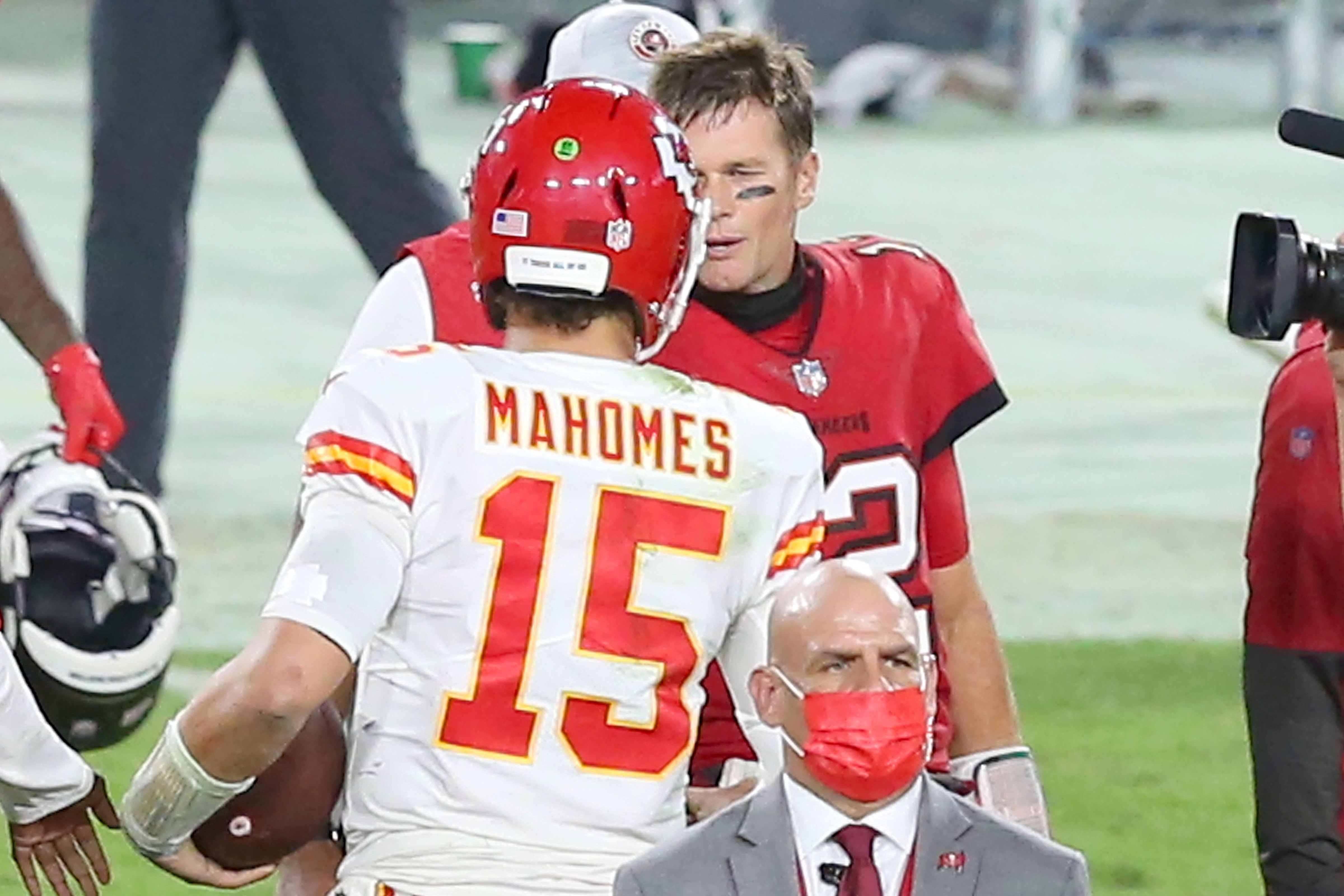 Patrick Mahomes is the youngest Super Bowl MVP of all time
On the other end of the spectrum, Mahomes is in his third NFL season. Like Brady, Mahomes won his first Super Bowl during his second season. And he made even more of a splash than Brady did when he entered the league.
At the age of 24, Mahomes led the Chiefs to their first Super Bowl victory in 50 years. He also became the youngest Super Bowl MVP in NFL history. And, he is the first player ever to capture both the Super Bowl MVP and the regular season MVP honors during his first three seasons.
While Brady continues to perform at peak physical levels and redefines what a quarterback can accomplish with his disciplined routine, Mahomes has a maturity and mastery of the game that is extremely rare for someone in his early to mid-20s.
"He's just getting more and more comfortable," Brady said about Mahomes earlier this year. "So much about playing quarterback is having experience, learning from year to year, improving your routine, and he's just doing a tremendous job."
Mahomes may be the future of the NFL, but Brady has been good for forever. The Chiefs QB knows this and has even joked about it. When asked when he first became aware of Brady, Mahomes said, "It was probably September 17, 1995 when I was born. He's been around for a while."
Tom Brady has shattered NFL records his entire career
There's a good reason that Brady is known as the GOAT. Love him or hate him, the 43-year-old has put up numbers throughout his entire career that most didn't think were possible.
Brady won his first Super Bowl during his second season in the league. He ended up the owner of three rings in his first four years. In his seventh season, Brady won the first of his four MVP awards.
At age 40, Brady became the oldest quarterback ever to reach the Super Bowl. He broke his own record at the age of 41. And, he's doing it once again this year at the age of 43. He also became the oldest player to win an MVP award at the age of 40. At this point, there's no doubt he's the greatest to have ever played the game.
This Sunday will see Brady in his tenth Super Bowl overall, and he's gunning for his seventh ring. He sits comfortably at the top of the list of quarterback Super Bowl appearances. Number two is John Elway with five Super Bowl appearances during his career.
Is Patrick Mahomes already worth more than Tom Brady?
Brady has been in the NFL since 2000, and Mahomes just joined in 2017. But for many, Super Bowl LV could end up being one of the greatest matchups in sports history.
CBS analyst Tony Romo — who will be calling the Super Bowl — told The Boston Globe that this game won't soon be forgotten.
"This is like LeBron James facing Michael Jordan. Jack Nicklaus against Tiger Woods," Romo said. "In 30-40 years from now, I have a funny feeling this might be the greatest matchup [of all time]. This could be one of the great matchups in sports history. This game will be talked about forever."
If the Chiefs win, Mahomes would take over Brady's title as the youngest QB ever to win two Super Bowls. He would also be the first quarterback with back-to-back titles since Brady did it in 2003 and 2004.
While Mahomes continues to chase Brady and his records on the field, he's doing the same thing with his bank account. In the summer of 2020, Mahomes signed a 10-year deal worth $503 million. But, that money hasn't started coming in just yet. Currently, Mahomes net worth is a cool $30 million, according to Yahoo!.
Since Brady has had a lot more time to deposit his paychecks, his net worth is at $200 million. It's continuing to rise after signing a two-year contract with the Bucs for $50 million. And, as Sportscasting.com pointed out, Brady's net worth could have been even higher. But, he took some hometown discounts when he was with the New England Patriots to help keep the team competitive.
Super Bowl LV airs Sunday, February 7 on CBS.