Patrick Mahomes Was Making Outrageous Purchases Long Before He Signed His $503 Million Contract
Kansas City Chiefs quarterback Patrick Mahomes recently signed a ten-year contract extension worth a whopping $503 million — the richest contract in the history of American sports. But, the Super Bowl LIV MVP says he hasn't made any big purchases yet.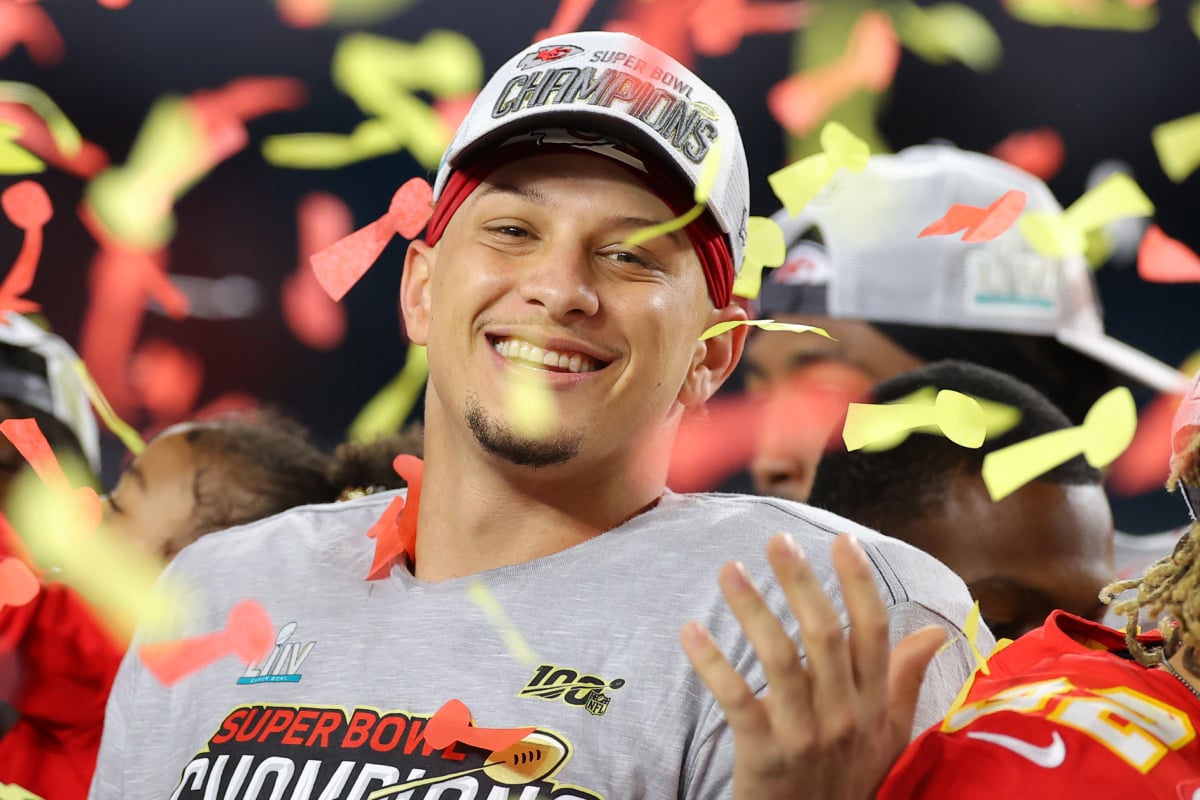 Patrick Mahomes immediately made a significant investment
As the first athlete in history to sign a contract worth a half-billion dollars, Mahomes is going to have a lot of major financial decisions to make. However, the 24-year-old is definitely taking his time.
"I haven't bought anything," Mahomes told CBS Sports. "My dad texted me a couple days after the contract: 'Do you feel any different.' I said I feel exactly the same. I'm going to be the same person I was before I got the contract and before I got to the NFL — to be the best Patrick Mahomes I can be every single day."
Mahomes did make a significant investment after signing his contract. The Texas native became part owner of the Kansas City Royals, and this makes him the youngest owner in sports history.
In the offseason, the football superstar did purchase a home in Texas worth $1.925 million, but that was before he signed his historic contract extension. Mahomes described that purchase as something he had to do when the pandemic hit.
He was spending big money before signing the contract extension
Just because he hasn't been quick to spend any of the cash he received in his new deal, it doesn't mean that Mahomes doesn't know how to make extravagant purchases. He has already spent millions on watches, shoes, and homes.
In July 2017, Mahomes signed his rookie contract with the Kansas City Chiefs that was a four-year deal worth $16.42 million, plus a $10 million signing bonus. He also scored himself a significant Super Bowl bonus earlier this year and has signed endorsement deals with numerous brands that total tens of millions of dollars.
This means that Mahomes has already had plenty of cash to spend in the past three years, and he has definitely enjoyed his money.
At the Chief's victory parade, Mahomes was spotted wearing a Rolex Yacht-Master 40 watch worth $47K. He also bought a $1.9 million home in an upscale Kansas City neighborhood with his girlfriend, Brittany Matthews, that the couple renovated with smart technology and a custom shoe closet for his massive sneaker collection.
Patrick Mahomes owns 180 pairs of shoes
The Chief's quarterback needed a custom shoe closet that featured lighted shelves and a security system because he owns a whopping 180 pairs of sneakers. Mahomes gave Bleacher Report a tour of his Kansas City home in 2019, and he said it was the first house he has ever owned.
Mahomes says that he and Matthews made extensive renovations to the home, and the last thing he did was the "shoe room."
"That has been something that I've wanted for the last six, seven years at least," explained Mahomes. "When you don't have enough room, I feel like you lose the value of some of your shoes. Some of the shoes that you've worn once, you forget about because you don't see them."
Some of Mahomes' favorite sneakers include Yeezy Triple Black 750s and Game of Thrones Ultraboosts. He says that he feels like 180 pairs is the perfect number because it allows him to wear each one approximately twice a year.