Patriots Owner Robert Kraft Showed His Sensitive Side When Erin Andrews Brought Him to Tears
Kraft has dealt with his loss in multiple ways, and he's done a lot to help women who are affected by the same affliction his wife suffered from.
Robert Kraft has had a difficult last few years to say the least. Despite being a billionaire and the owner of a successful football franchise, he's also faced turmoil in his personal life: his beloved wife Myra passed away earlier last decade. It was a huge loss not just to the Krafts, but also the entire New England Patriots family. 
Kraft has dealt with his loss in multiple ways, and he's done a lot to help women who are affected by the same affliction his wife suffered from. One of those women he helped was Fox sports broadcaster Erin Andrews. Let's take a closer look at how those two connected.
How Myra Kraft's passing affected Robert Kraft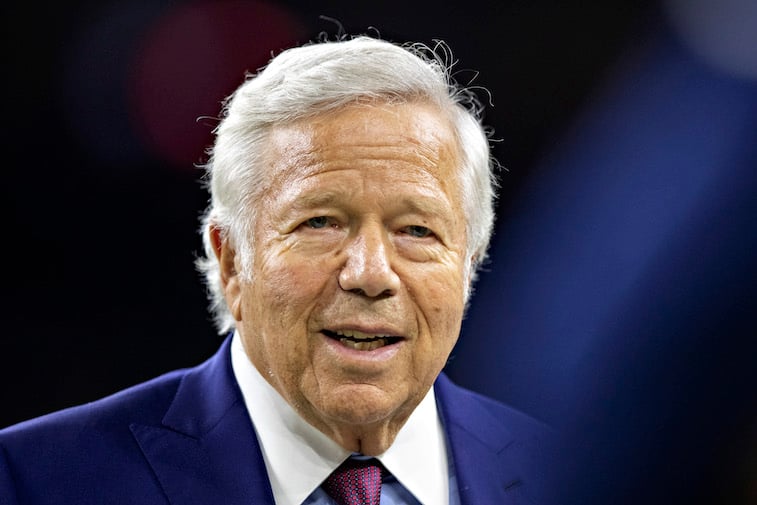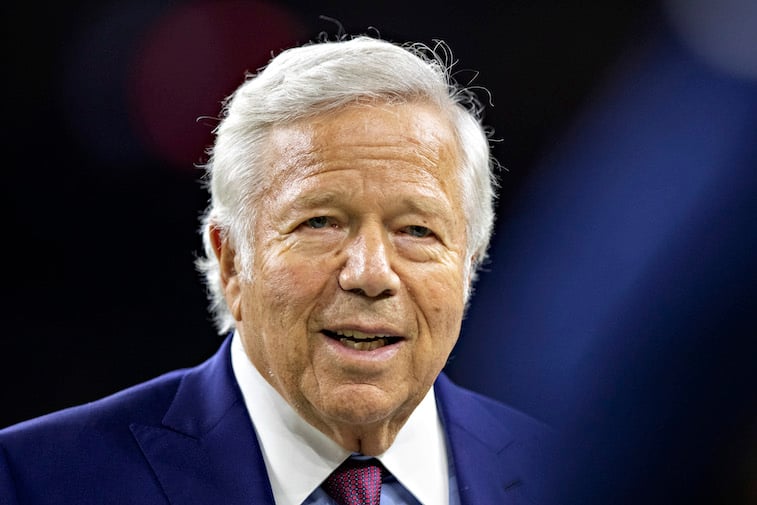 Ever since Robert Kraft bought the Patriots, it's been a family organization. His son Jonathan serves as a high-ranking executive. Myra was also a big part of the team, getting close to many of the players. Myra passed away in 2011 from ovarian cancer. She was 68 years old. At the time of her passing, the Patriots released a statement announcing it: 
"Words cannot express the deep sorrow that we feel in learning of the passing of Myra Hiatt Kraft. Myra passed away early this morning after a courageous battle with cancer. We are all heartbroken. The global philanthropic community and the New England Patriots family have suffered a great loss."
Beloved by Patriots organization members and fans alike, the loss rocked the region. It also rocked Kraft himself – he'd been married to her for 48 years before she passed.
She had managed the Robert and Myra Kraft Foundation as well as the New England Patriots Charitable Foundation, giving so much of her time and resources back to the community. To this day, Kraft continues to honor her legacy by continuing to participate in philanthropy.
Erin Andrews and her cancer diagnosis
Doctors diagnosed Andrews with cervical cancer in 2016. She kept the news quiet, not making a public announcement at the time. Andrews opted to have two procedures done and did not miss any time on the field in her role as a sideline reporter for Fox Sports. 
According to Self, the news understandably hit Andrews hard when she received it. She needed some time upfront to process the information. 
"I feel like you need the first 24-48 hours for a meltdown, because everyone hears the word 'cancer' and they're like 'Oh gosh, what does this mean?' Because I had a great oncologist, we went through everything step-by-step and went from there. Every story is different, so what's important is that I caught it early and I was able to be treated."
There's obviously never a good time to receive this kind of news, but Andrews got it at a particularly inopportune time for her: during the middle of football season. Andrews used her work to cope with the diagnosis, keeping busy and focused on her job that she loved to do so much. 
How Erin Andrews brought Robert Kraft to tears
Andrews finally did make a public announcement about it right before the Super Bowl. She said she received an outpouring of support, particularly from many of the players and other men she dealt with in her professional role.
They thanked her for her courage after the women in their lives had dealt with the same issue. One of those men was Kraft himself, who got emotional when he talked with Andrews: 
"[H]e came up to me with tears in his eyes because his wife had passed away from ovarian cancer. He just was saying he wished she had gotten it looked at sooner, and that I needed to really take it upon myself to get this out there."
It's obviously a topic that's near and dear to Kraft's heart. According to Massachusetts General Hospital, he's made significant charitable contributions to help fight cancer since his wife's passing. It makes sense that he'd reassure Andrews of her decision to go public with her diagnosis.