Patsy Cline Stopped a Plan to Keep Loretta Lynn off the Grand Ole Opry by Crashing a Meeting
When Patsy Cline heard someone was plotting to keep her friend, Loretta Lynn, off the Grand Ole Opry, she called Lynn up and told her they were crashing the meeting.
As a country up-and-comer, Loretta Lynn met Patsy Cline while the singer was injured and recovering in the hospital. And in no time, but for an unfortunately short time, Cline became Lynn's loving friend and mentor. She even stood up for her in a big way when other artists were plotting to keep her off the Grand Ole Opry.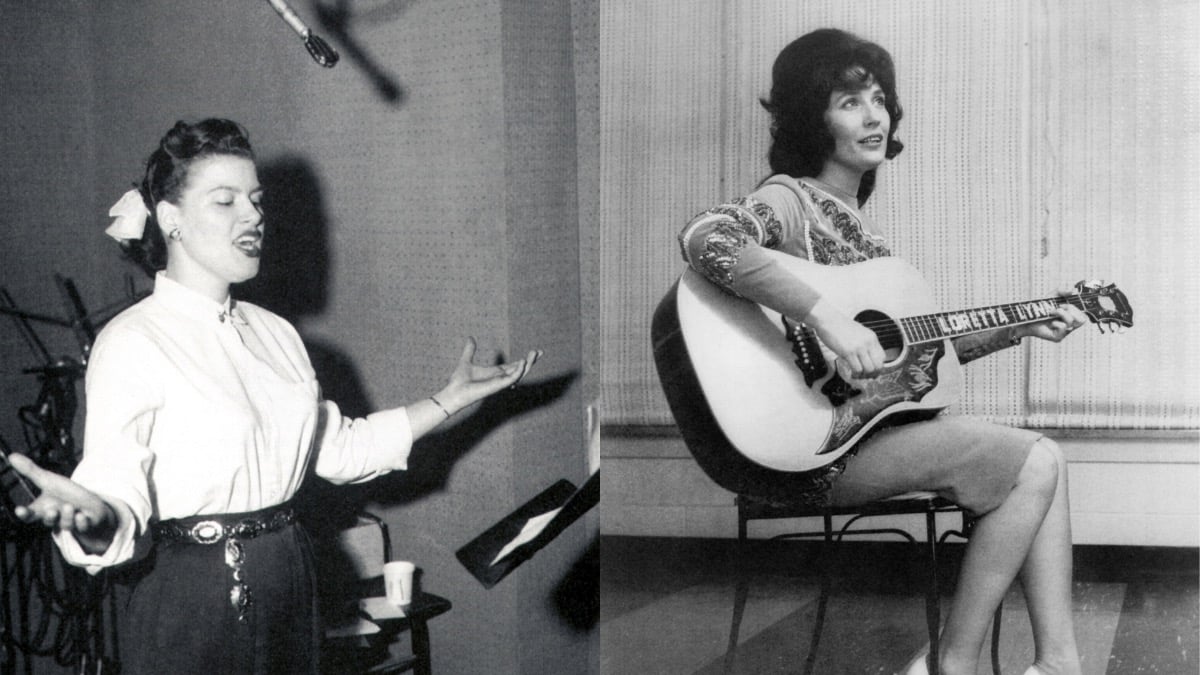 Country peers told Loretta Lynn to go back home after making it to the Grand Ole Opry
As Lynn mentioned in her autobiography, Loretta Lynn: Coal Miner's Daughter, some country stars were not happy for her initial success in the early '60s. She said "a lot of girl singers … were trying to get to the top at the same time" when she first arrived in Nashville and the competition caused friction at times.
Something to note about Lynn is her talents are natural and self-taught. She didn't perform until she was in her twenties, having only sang to her children before then. At the insistence of her husband, Oliver, she learned to play a guitar and began writing songs.
Through her own hard work, she won talent shows and eventually ended up on the Grand Ole Opry. But other artists were envious because she was invited back so often. So, they began calling her up and telling her to go home. After being asked who she had sex with to "get on the Opry so fast," she said she cried "day and night."
Patsy Cline bought Loretta Lynn a new outfit to crash a secret meeting about the Grand Ole Opry
If Lynn's circumstances remained the same, she might have gone home. But she said that was around the time she met Cline, who was "all banged up" and in the hospital following a car accident. Charlie Dick, Cline's husband, took Lynn to meet her there.
They immediately recognized something disarming in each other and an everlasting bond formed. "We both felt we wouldn't try to hurt each other," Lynn shared after mentioning they were "struggling" in different ways.
According to Lynn, Cline taught her how to dress by buying and giving her clothes. She also worked with her on her singing and performing, cooked for her, and gave her advice on a more satisfying love life.
As it would turn out, Lynn's friendship with Cline would help her career in more than the obvious ways. Some other artists were planning a meeting to talk about how to keep Lynn off the Opry. And they invited Cline. So, she called Lynn to tell her to get her hair done and bought her a new dress for the meeting.
"Inviting Patsy was their mistake," Lynn noted in her autobiography. Though Lynn didn't name any names for the other artists, she did specify Kitty Wells was not one of the people involved in the plot.
Whoever they were, Lynn said they didn't say a word when she walked into the meeting with Cline. "Patsy put the stamp of approval on me, and I never had any problems with them again," she concluded. "In fact, they are all my friends now."
Patsy Cline's kindness toward Loretta Lynn paid off for other country stars
Some combination of being accepted by Cline and rejected by others allowed Lynn to develop cordial habits. Though she was able to form friendships with the original offenders, she knew how she wouldn't treat others moving forward.
Lynn wrote in her autobiography "when new girls come along" she makes it a priority to give them a chance. "I wouldn't treat nobody the way they treated me," she shared of her own experience as a new artist in Nashville.
Unfortunately, Cline died in a plane crash in 1963. But Lynn still credits her as one of the best friends she ever had throughout a long career in a sometimes harsh industry.