Patton Oswalt Demands an Emmy for Rhea Seehorn in 'Better Call Saul'
Rhea Seehorn plays Kim Wexler, Jimmy McGill's better half in the Breaking Bad prequel series Better Call Saul. Despite being beloved by fans, Seehorn has been snubbed for an Emmy nomination in the past.
Now that Game of Thrones is over, Better Call Saul fans like Patton Oswalt are hoping that Seehorn can get the recognition she deserves for her role. The stand-up comedian took to Twitter to perfectly articulate why Seehorn is so deserving of an Emmy win.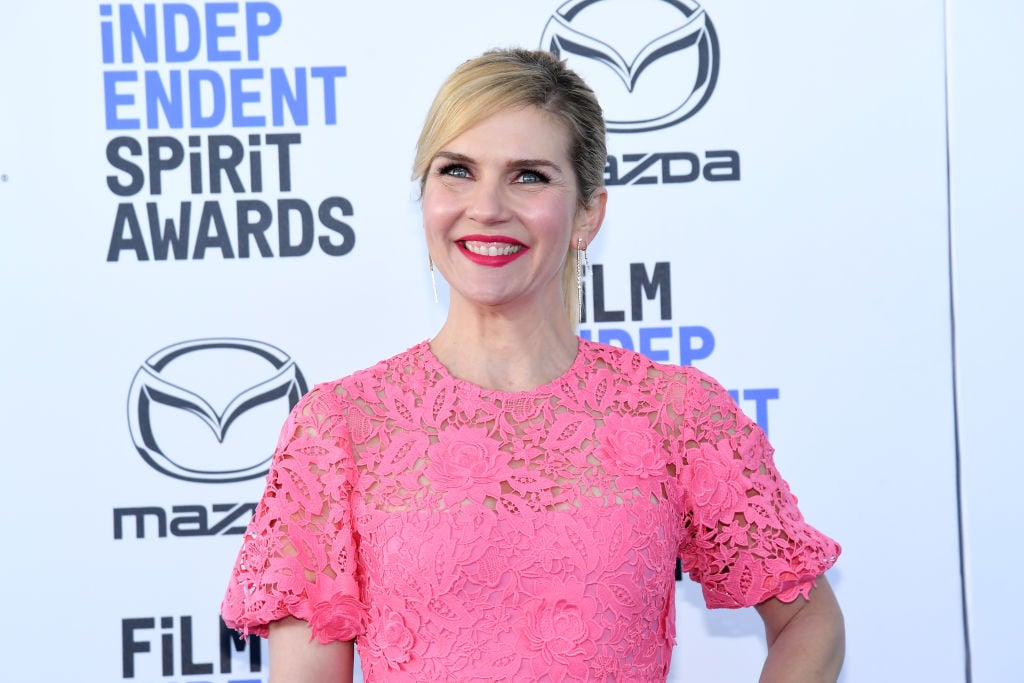 Rhea Seehorn's rise to stardom
Seehorn graduated in 1994 from George Mason University with a bachelor's degree in Studio Art. She studied painting, drawing, and architecture, but always had a passion for acting.
After college, Seehoorn moved to Washington D.C. to perform with the Woolly Mammoth Theater Company. Seehorn made her way to Broadway, starring in Neil Simon's 45 Seconds from Broadway and later landed roles in several short films until she found her way into the world of television. 
Seehorn's portfolio includes work on shows like American Dad and Burn Notice. Before Better Call Saul, one of Seehorn's most notable roles was Roxanne, the outspoken divorcee on the sitcom Whitney. Without a doubt, Seehorn's Kim Wexler is a standout role worthy of recognition.
Rhea Seehorn's previous Emmy snubs for 'Better Call Saul'
It should come as no surprise that Better Call Saul has been nominated for several Emmy awards. In 2019, the series was nominated for nine Emmys, including Best Outstanding Drama, Lead Actor in a Drama, and Supporting Actor in a Drama.
Bob Odenkirk, Jonathan Banks, Giancarlo Esposito, and Michael McKean have yet to win any Emmy awards for the show, but Rhea Seehorn has yet to even be nominated for her ability to play Jimmy McGill's moral compass on Better Call Saul. Many think Seehorn's character will have to die for her to earn an Emmy nomination, but Oswalt is fighting the good fight and trying to prevent that from happening by speaking out on Twitter.
Patton Oswalt campaigns for Rhea Seehorn's Emmy nomination
A fan of the Better Call Saul series and, more specifically, one of the greatest representations of working women on television, Oswalt expressed his desire to see Seehorn win the Emmy she so clearly deserves. 
Flattered, Seehorn replied, "PATTONNNNNNN!!!! (The N's should have a little sing-song quality when spoken in my voice.) Thanks for this. Really. Really." The King of Queens and Disney/Pixar's Ratatouille actor continued to gush about Seehorn's performance in the Breaking Bad spinoff:
I love that Kim's dialogue is so terse and bland because in her head she's making a million decisions a second. You can SEE all of that turmoil in her eyes and it's thrilling and tragic. She's an intelligent person whose thoughts are killing her. And I don't mean ALL of her dialogue. Just in that opening scene. She can't quite believe what she's doing so she's all, 'S'okay.' 'Fine.' But the stuff @rheaseehorn lets sleep through the cracks — something BAD is coming for Kim. Yikes.

Patton Oswalt, Twitter
The Emmy nominees won't be announced until July, but here's hoping Oswalt's Twitter plea pulled some strings!