Paul McCartney and Billy Connolly Have a Long-Standing Inside Joke Together That Involves Christmas Cards
Paul McCartney and comedian, Billy Connolly, have an interesting inside joke with each other, and it involves Christmas cards.
Paul McCartney and Billy Connolly have a long-standing inside joke with one another. One that you'd expect the ex-Beatle and the comedian to have. It involves forgotten Christmas cards.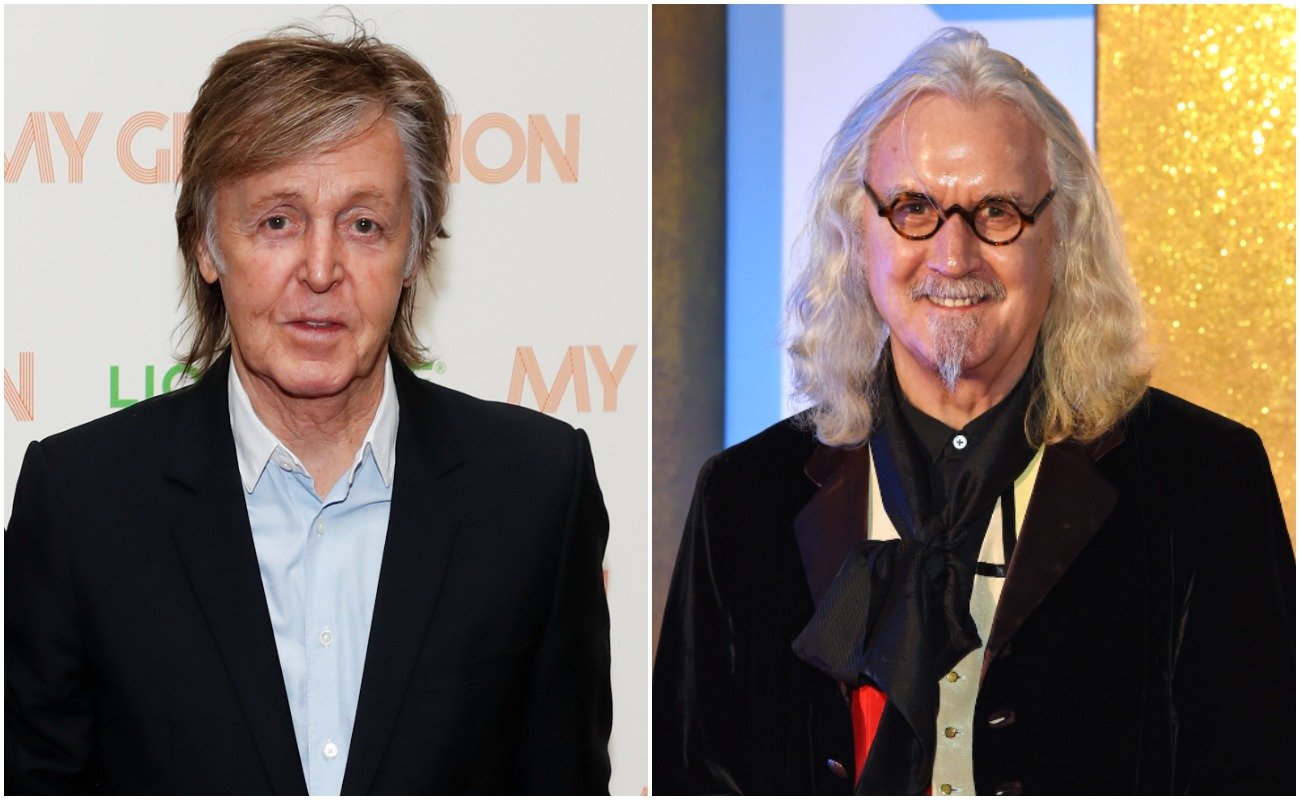 Paul McCartney and Billy Connolly have an inside joke together
According to Connolly, he and Paul first met after the ex-Beatle came to see one of Connolly's shows. Paul had heard that Connolly was being followed around by a priest.
"Aye, he was a Scottish minister called Pastor Jack Glass," Connolly said (per Express). "He took objection to me doing a routine about the Last Supper, so he used to picket my shows and accuse me of blasphemy."
If Connolly's material made a priest follow him, it must be funny. However, Paul had no idea that he'd be locked in a long-standing joke with the comedian years later.
According to the Scotsman, Paul and Connolly have a long-standing inside joke involving Christmas cards.
"I have got a funny thing going just now with Paul McCartney," Connolly said. "My daughter was in charge of sending all the Christmas cards away and she hid them in a cupboard and did something else and forgot about them.
"Then my wife came back in February and discovered them and sent them all. I got a lovely letter from Paul McCartney saying 'Thanks for the Christmas card, it's made March such a nice month.' And so I got one from him this year in March. So I sent his three days ago."
Paul isn't the only Beatle that Connolly hung out with
The Wings frontman wasn't the only Beatle that Connolly was friends with; he also liked hanging out with George Harrison. George loved making friends with comedians because he had a similar sense of humor. So, he and Connolly got up to some shenanigans.
In 2019, Connolly told a hilarious story about when they tricked their waiter at dinner one night on The Adam Buxton Podcast (per Express).
"I like George Harrison," Connolly said. "He's not my favourite, none of them is my favourite. I treasure my friendship with them. George was a lovely man. I spent a lot of time with him. A lot more than the other ones.
"I remember we went for Chinese food in the East End of London and a waiter came out and served us. And then he came back all shuffly footed, and he said, 'I believe there's somebody here I should know.' One of the guys who was with us pointed to George and said, 'He used to play for Manchester United.'
"[The waiter] said, 'Great can I have your autograph?' George signed it. He went away quite happy. And the waiter came back and he asked me something. And I said, 'That's okay man.' And I turned to George and I said, 'I love man, you don't have to learn anybody's name. Just call them man.'"
Connolly continued, "George said, 'It's good to be a man.' And I said, 'I suppose it is, it's very nice.' He said, 'We were the boys for so long.' It was funny to see his side of it. He wasn't allowed to be a man."
Later, George and Connolly worked on the comedy Water together.
Connolly regrets being afraid to meet John Lennon
There is one Beatle Connolly never got to meet. Connolly's biggest regret is not having met John Lennon.
According to the Sun, Paul's brother Mike McGear gave Connolly a letter of introduction to give to John, but he was mortified to introduce himself that way to John and his wife, Yoko, at their New York City home.
Connolly said, "I had a letter of introduction from Mike McGear, Paul McCartney's brother. I was going to New York and he said, 'You've got to meet John' and he gave me it. I said 'I can't go to the door with a letter of introduction.' I said, 'F*** off.' I didn't go."
Connolly continued, "I was doing Carnegie Hall and I was having a rest in the dressing room because I was really tired. My producer, Phil Coulter, went out for a walk and he saw John and Yoko. I was jealous that I never saw him or met him.
"I played Norwich the night John Lennon was killed. It was terrible for about 20 minutes. Then I said 'God, John Lennon…' and the place erupted in applause and then it was good. It wasn't about being depressed it was about the act and about the world's depression. All you do is mention it. Share it, leave it and get on with it."
Let's hope Paul and Connolly can keep up their Christmas card joke with each other for many more years.