How Did Paul McCartney & John Lennon Meet & What Were Their First Impressions?
The Beatles would be nothing without Paul McCartney and John Lennon's irreplaceable bond and songwriting partnership. Without Lennon-McCartney, there would be no "I Want to Hold Your Hand" or "Hey Jude." So it's only fair that the day they met has become a sort of Beatles holiday and one of modern music's most important moments. But how did fate allow the duo to cross paths, and what were John and Paul's initial impressions of one another?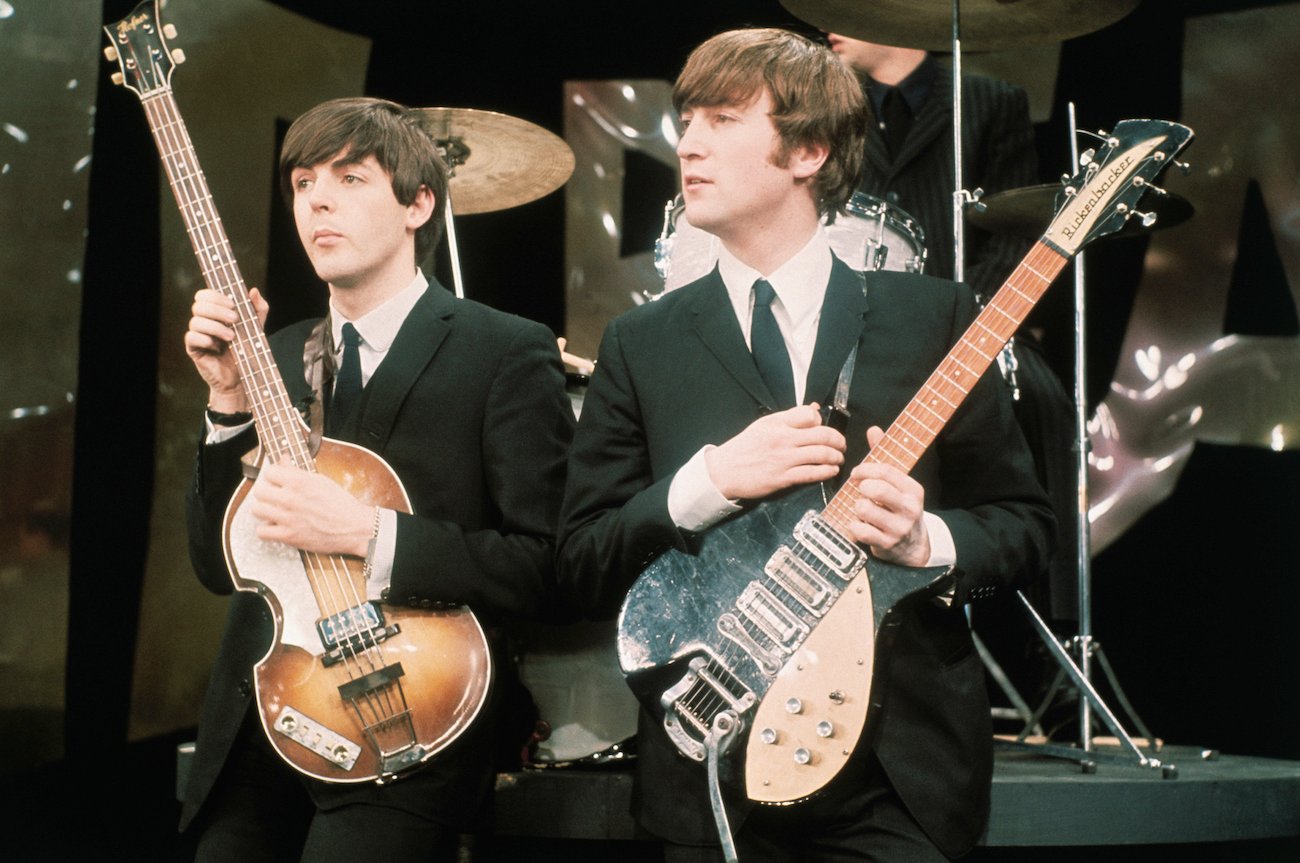 Paul McCartney and John Lennon met at a village fete
John and Paul met through a mutual friend called Ivan Vaughan on a hot summer's day in 1957, at a village fete (garden party) at St. Peter's, Woolton's Parish Church in Liverpool. Vaughan asked Paul if he wanted to come to see John's skiffle group, The Quarrymen. Paul, who was a musician by that point too, said yes. John was 16 years old, and Paul was 15.
During an interview for Beatles Anthology, Paul remembered that he landed eyes on John immediately as he came to the church's field. He seemed "cool," wearing his checkered shirt and playing a guitar "guaranteed not to crack."
Eric Griffiths played the guitar, while Colin Hanton played the drums, Rod Davies a banjo, Pete Shotton a washboard, and Len Garry a tea-chest bass. The Quarrymen were playing The Del-Vikings' "Come Go With Me," and Paul was amazed.
John and Paul impressed each other
Paul's initial reaction to seeing John on stage was amazement. Even though John was playing a cheap guitar, Paul was still impressed by his performance.
"I remember John singing a song called 'Come Go With Me.' He'd heard it on the radio," Paul said (per Udiscover Music). "He didn't really know the verses, but he knew the chorus. The rest he just made up himself. I just thought, 'Well, he looks good, he's singing well and he seems like a great lead singer to me.' Of course, he had his glasses off, so he really looked suave. I remember John was good."
After the skiffle group's set was over, John to Paul got to talking. Paul taught John a tuning technique and played a medley of Little Richard songs, Eddie Cochran's "Twenty Flight Rock" and Gene Vincent's "Be-Bop-A-Lula." Davis says the moment Paul met John didn't have "angels hiding behind clouds blowing trumpets," he told Billboard. The moment wasn't special, at least not yet.
In 1967, John said he was impressed by Paul's performance of "Twenty Flight Rock." "He could obviously play guitar, I half thought to myself, 'He's as good as me'… He also looked like Elvis (Presley). I dug him," John said (per My Radio Link). Soon after meeting, John asked Paul to play in The Quarrymen. Looking back on their first encounter, Paul says he's lucky fate seemed to intervene. Very lucky indeed.