These 32 Paul McCartney Photos Show He's Always Been Fine in Front of the Camera
Unless you've been willfully ignoring all pop culture since 1962, then you probably know who Paul McCartney is. One of the creative forces that made The Beatles one of the biggest musical groups ever has lived almost his whole life in front of a camera. McCartney could have called it a day after The Beatles broke up, but he's continued making music and is one of the most celebrated talents we've ever seen.
Let's take a photographic journey through Paul McCartney's amazing life (including the one big reason he gave the thumbs-up on page 16).
1. Early life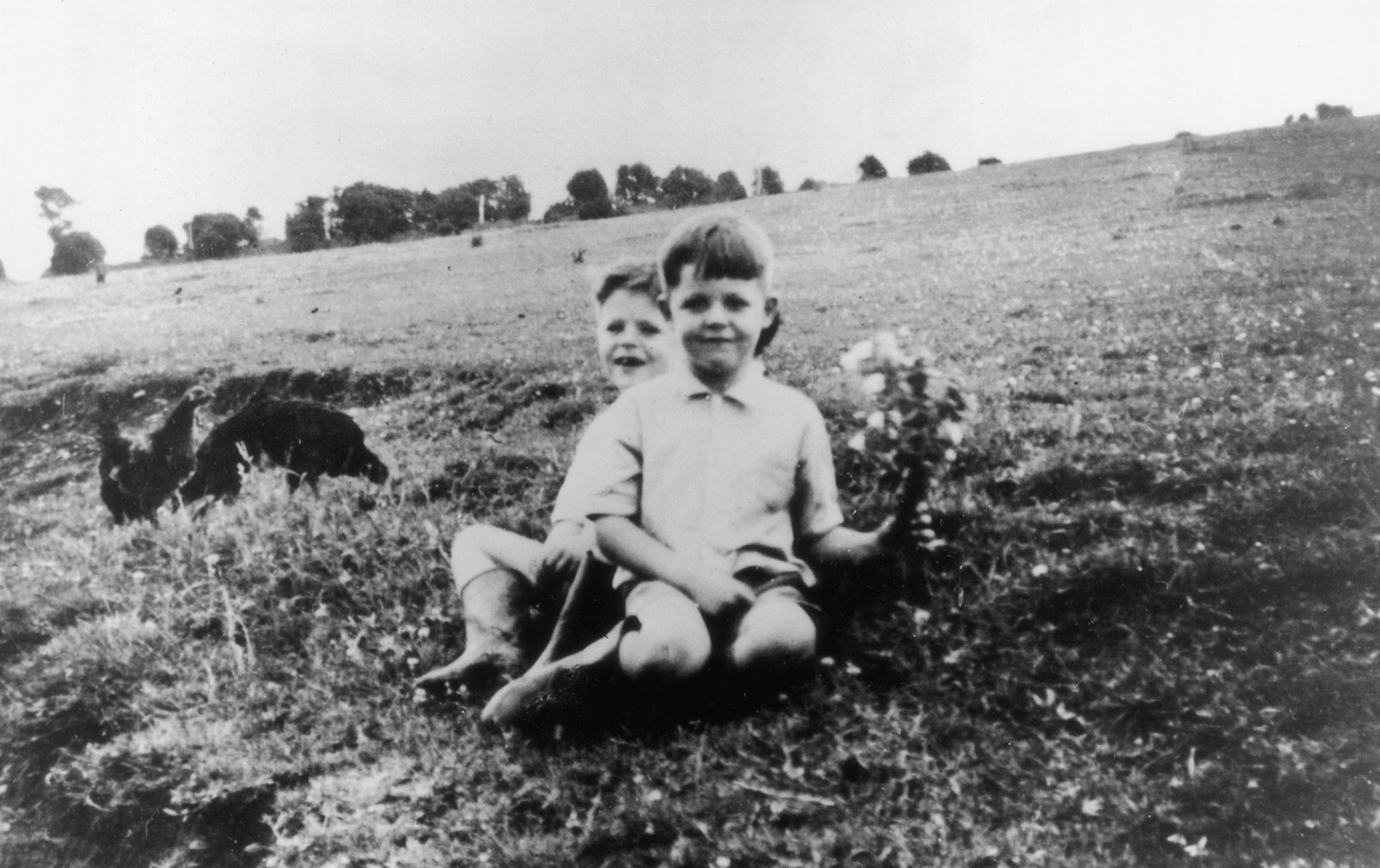 Photo date: Circa 1948
Paul McCartney was born at the height of World War II on June 18, 1942. He has a younger brother, Peter Michael McCartney, who also grew up to be a musician.
Next: All the McCartney boys.
2. Just before fame hits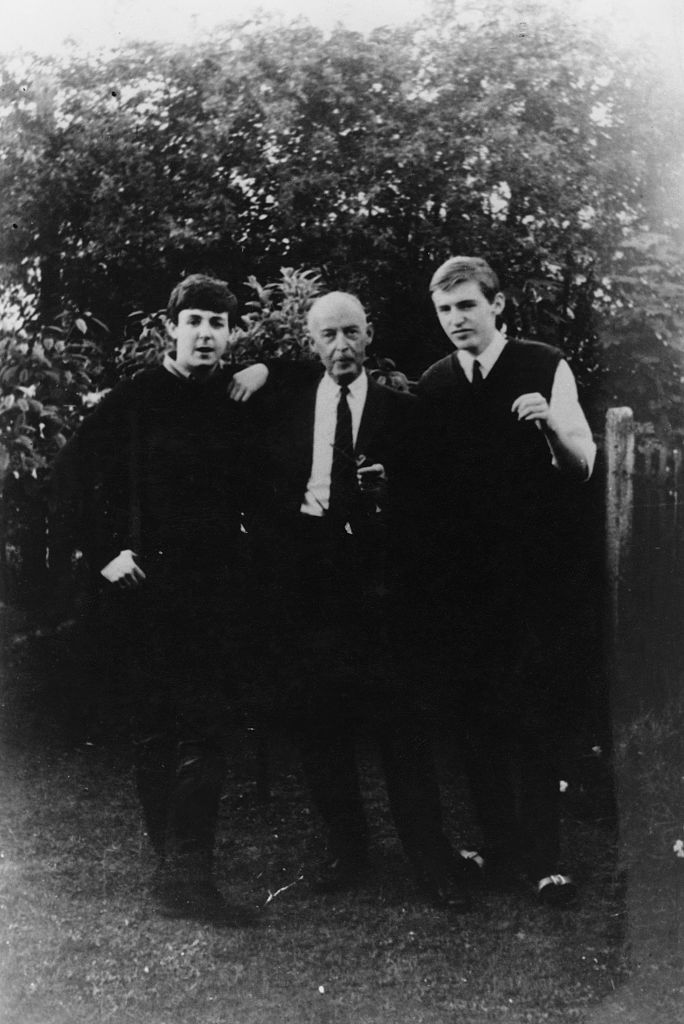 Photo date: Circa 1960
Not long after he turned 18 years old, Paul McCartney and The Beatles headed to Hamburg, Germany. The extended stay saw the band perform on an almost nightly basis. McCartney made time to take this photo with his father and younger brother in the midst of that busy schedule.
Next: Camera-ready.
3. Ready for the bright lights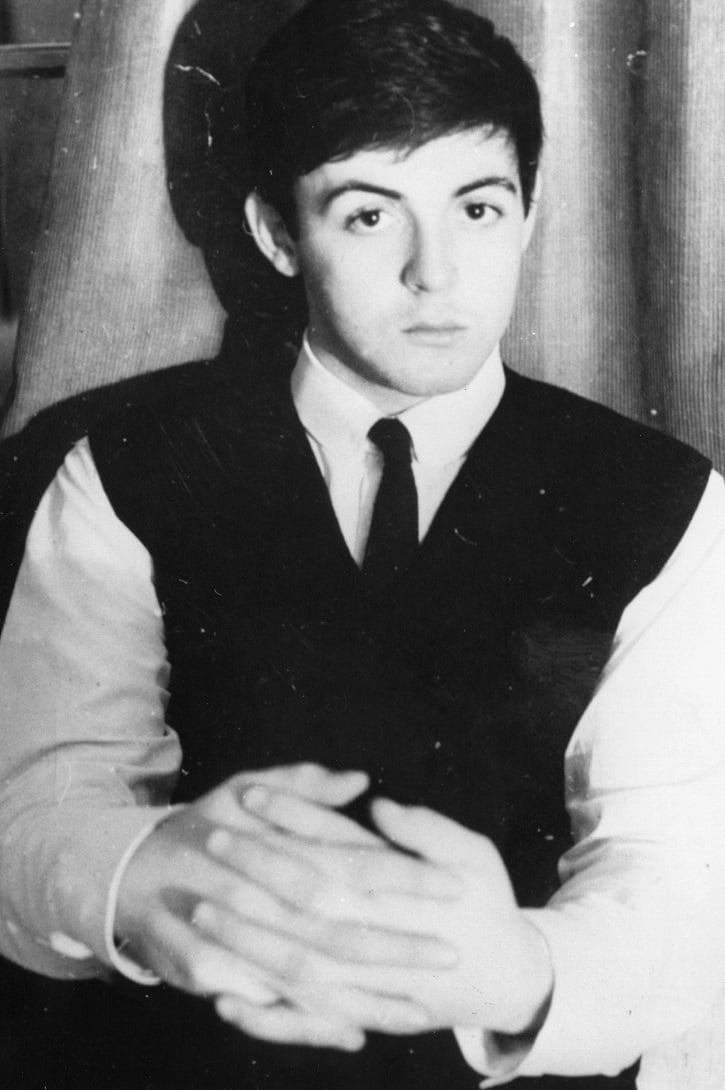 Photo date: Circa 1962
Look at the above photo and Paul McCartney's boyish looks, and it's easy to see why he was known as the cute Beatle. By the end of 1962, the band was ready to hit the big time and become a worldwide sensation.
Next: That didn't take long.
4. The first of many awards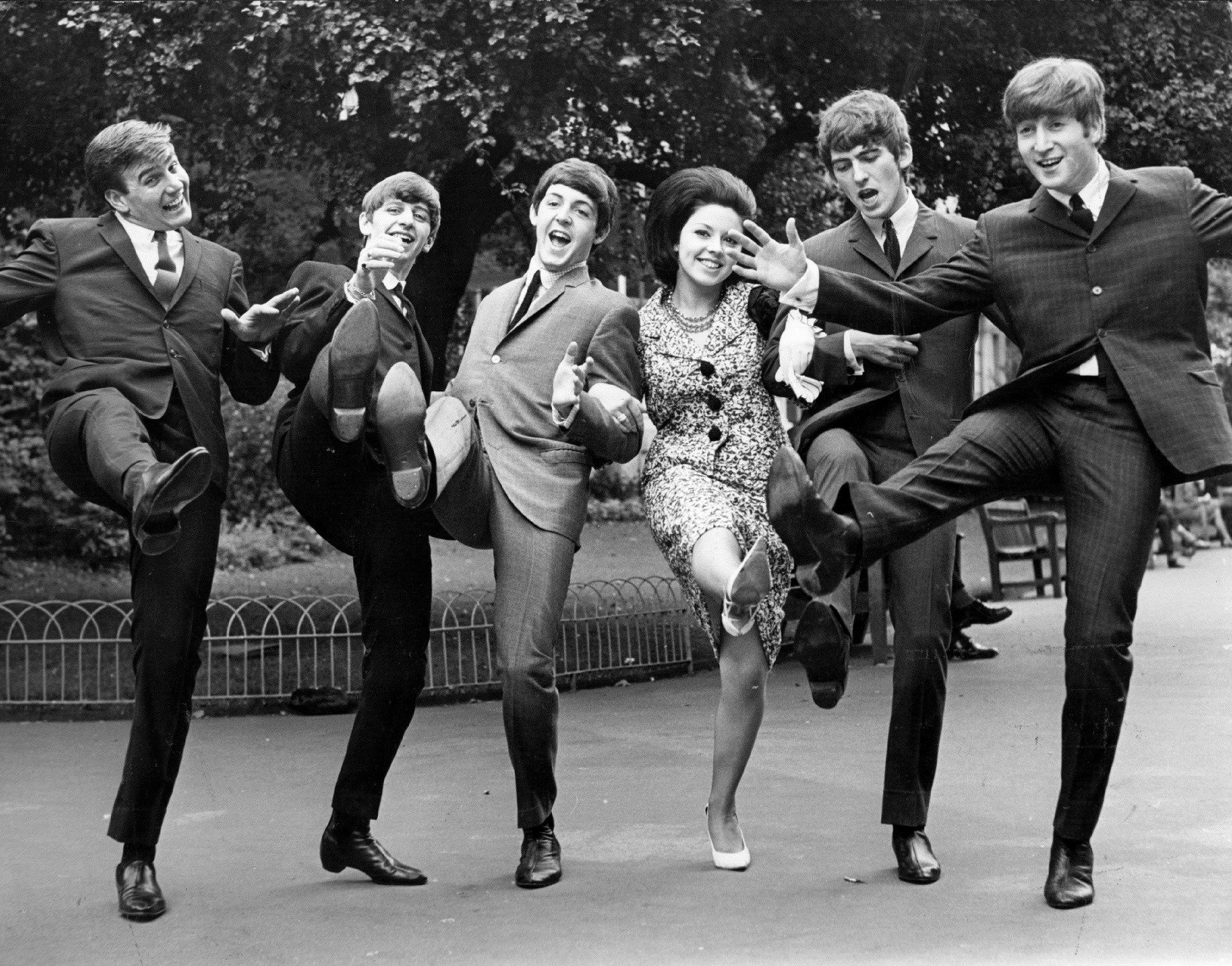 Photo date: Sept. 11, 1963
In between releasing debut album Please Please Me in early 1963 and follow-up With the Beatles later that year, The Beatles won at the Melody Maker Poll Awards in September. They won for best single with "She Loves You" as well as for best vocal group.
Next: Airtime.
5. Paul has hops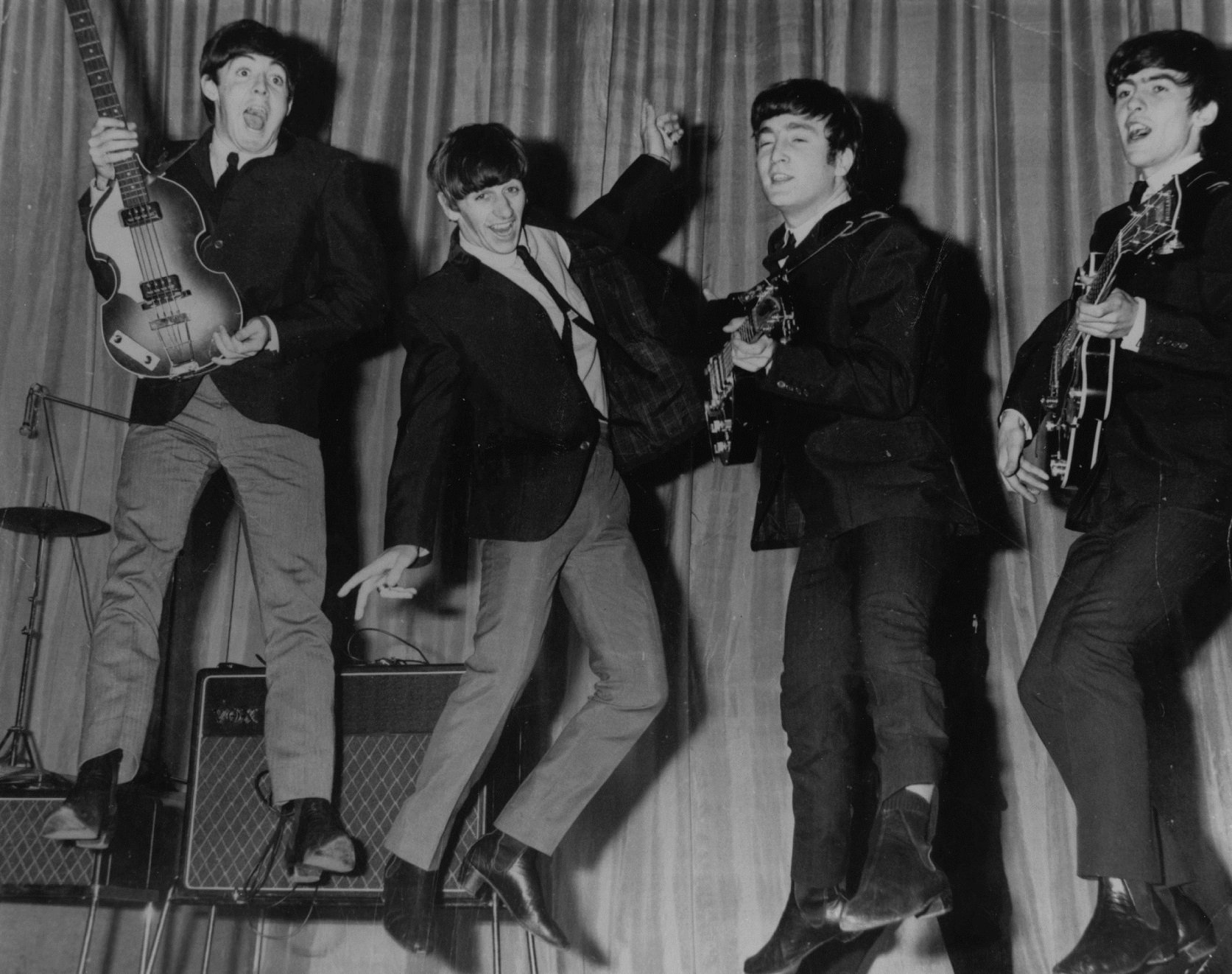 Photo date: Nov. 4, 1963
We know Paul McCartney is a multi-talented musician, composer, and all-around artist (he's an accomplished painter), but he probably could have been a good athlete if he chose to go that route. Just look at the airtime he achieves in this photo. He's also the one Beatle who had more than a passing interest in English soccer. He favors Everton, but he doesn't mind Liverpool, either.
Next: Behind the scenes.
6. Nice work if you can get it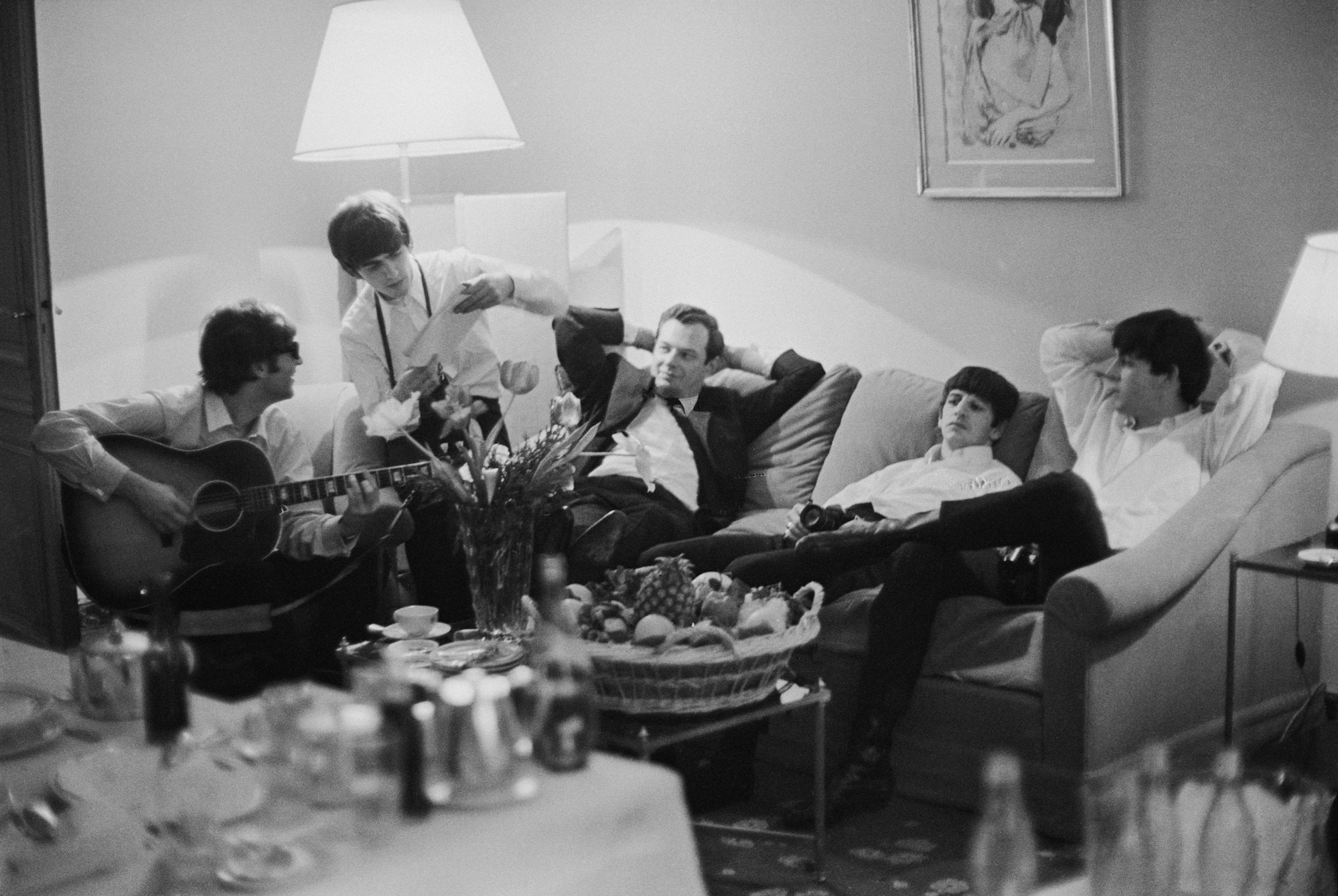 Photo date: Jan. 16, 1964
The Beatles played all over Europe during the peak Beatlemania days in the early- to mid-1960s, which included a stop in Paris in January 1964. The group spent a lot of its downtime together, as this behind-the-scenes photo shows.
Next: The first and last time.
7. Playing Las Vegas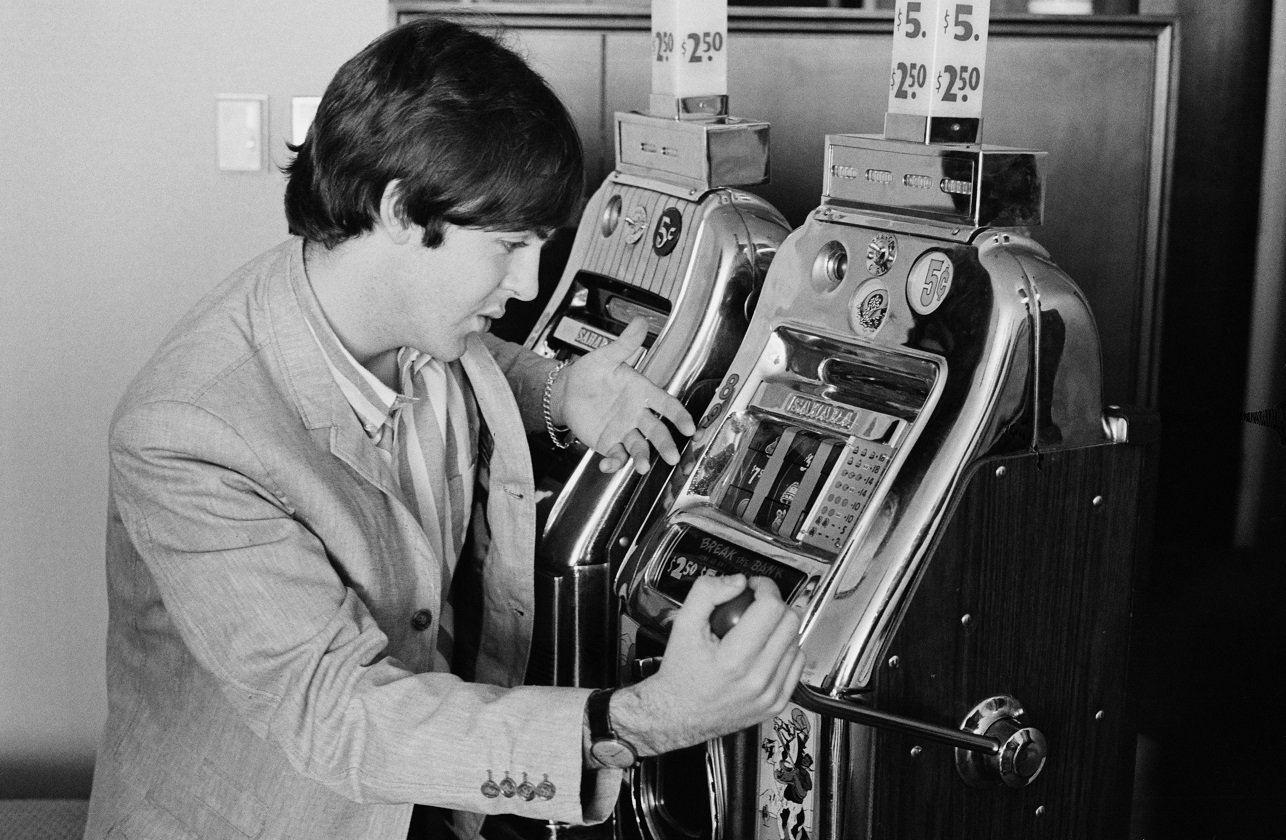 Photo date: Aug. 20, 1964
Beatlemania was in full effect in the United States in 1964, and the group made two stops in the U.S. that year. It toured 23 cities in August and September of that year, including the group's first and only performance in Las Vegas.
Next: Ticket to ride.
8. Nice wheels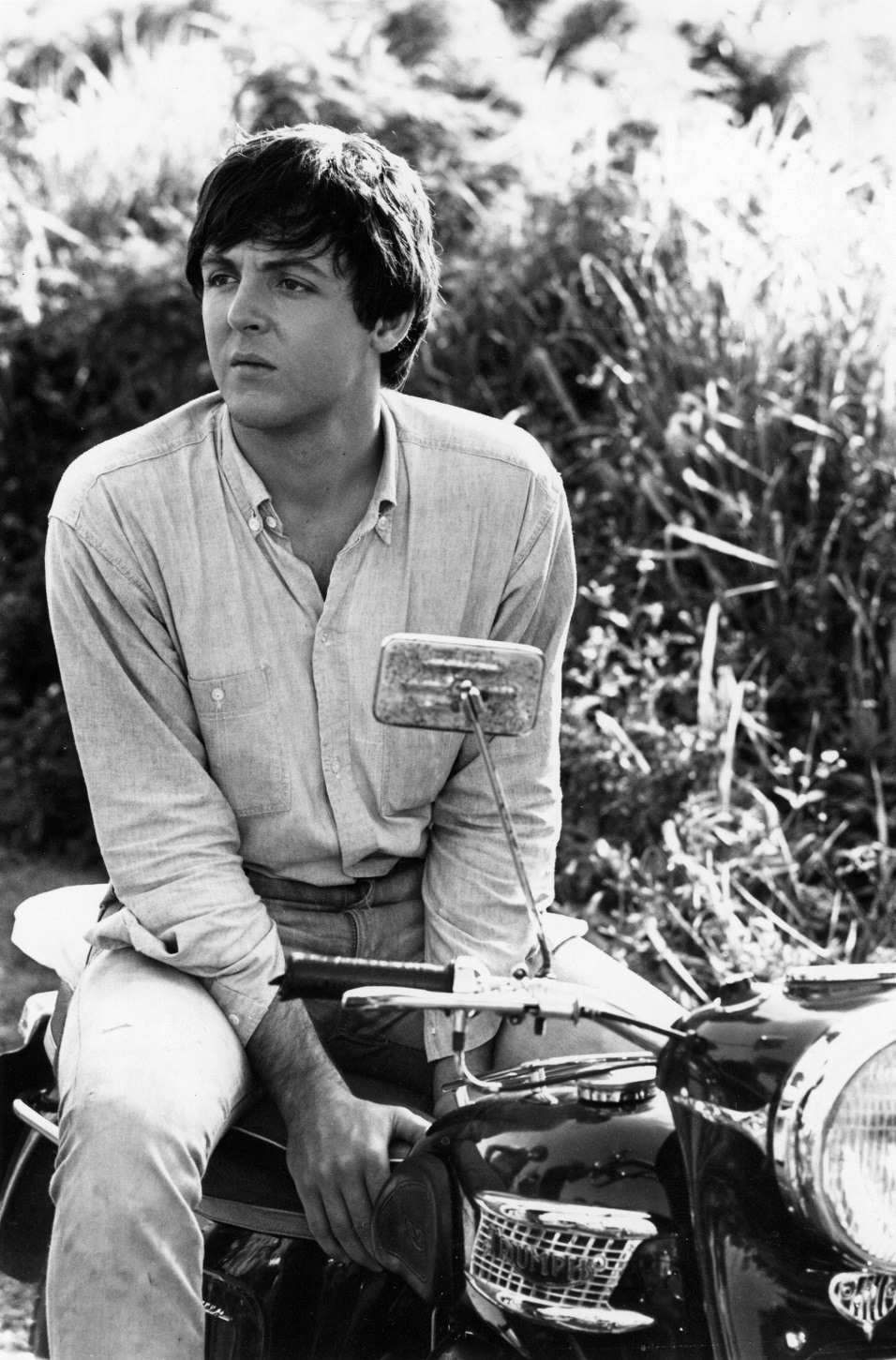 Photo date: Circa 1965
The hit songs, and the fame and the money that came along with them, allowed Paul McCartney to splurge a little bit. He bought a motorcycle and also ponied up for an Aston Martin DB5, which might be one of the most famous rock star cars of all time.
Next: Time to fly.
9. The jet set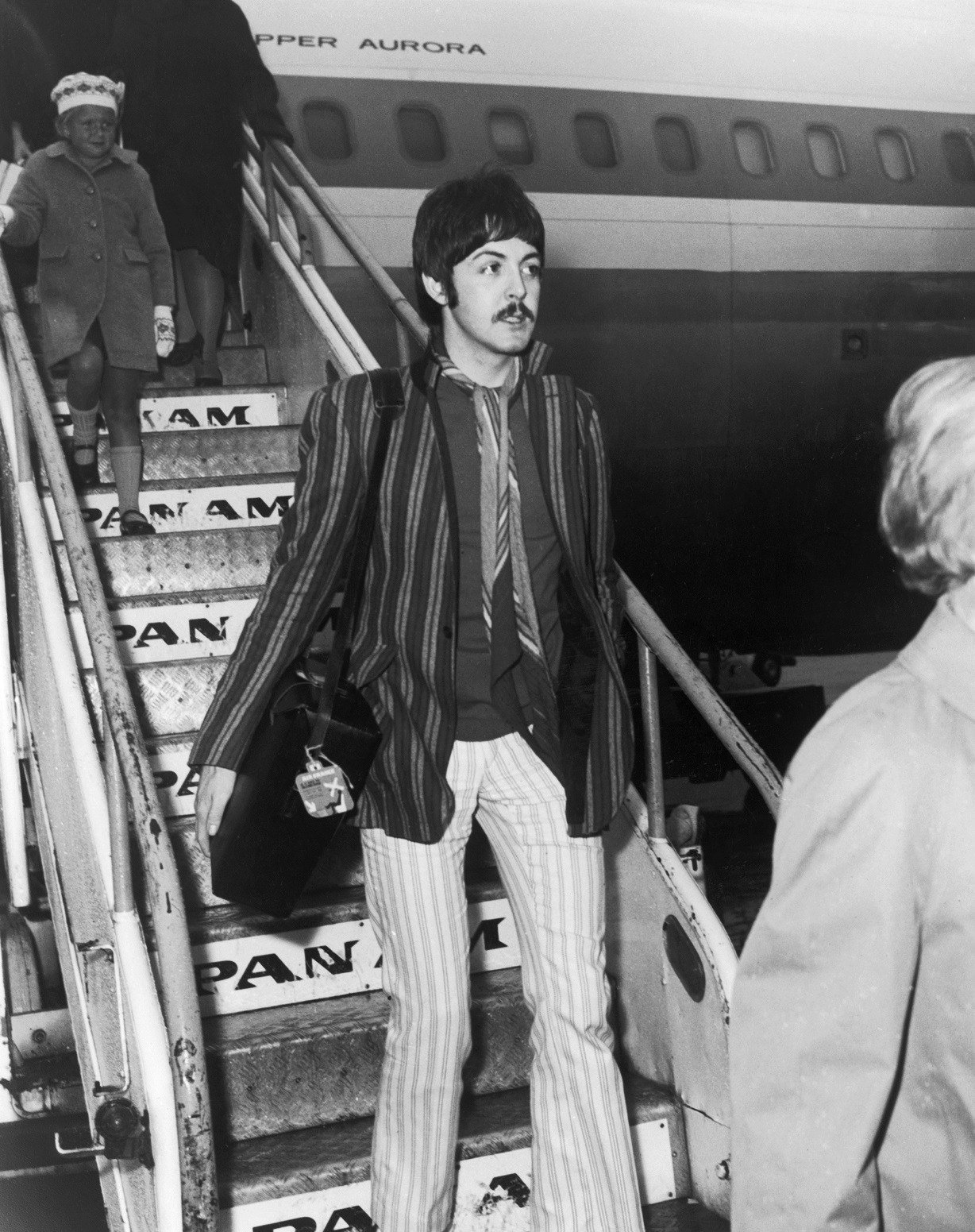 Photo date: April 12, 1967
The Beatles stopped touring well before 1967, but Paul McCartney was still jetting all around the world. He was back and forth between England and the United States visiting then-girlfriend Jane Asher in 1967. The group headed to India in 1968 to meet with a guru, which produced some prolific creativity heard on The White Album.
Next: Life at home.
10. Pet sounds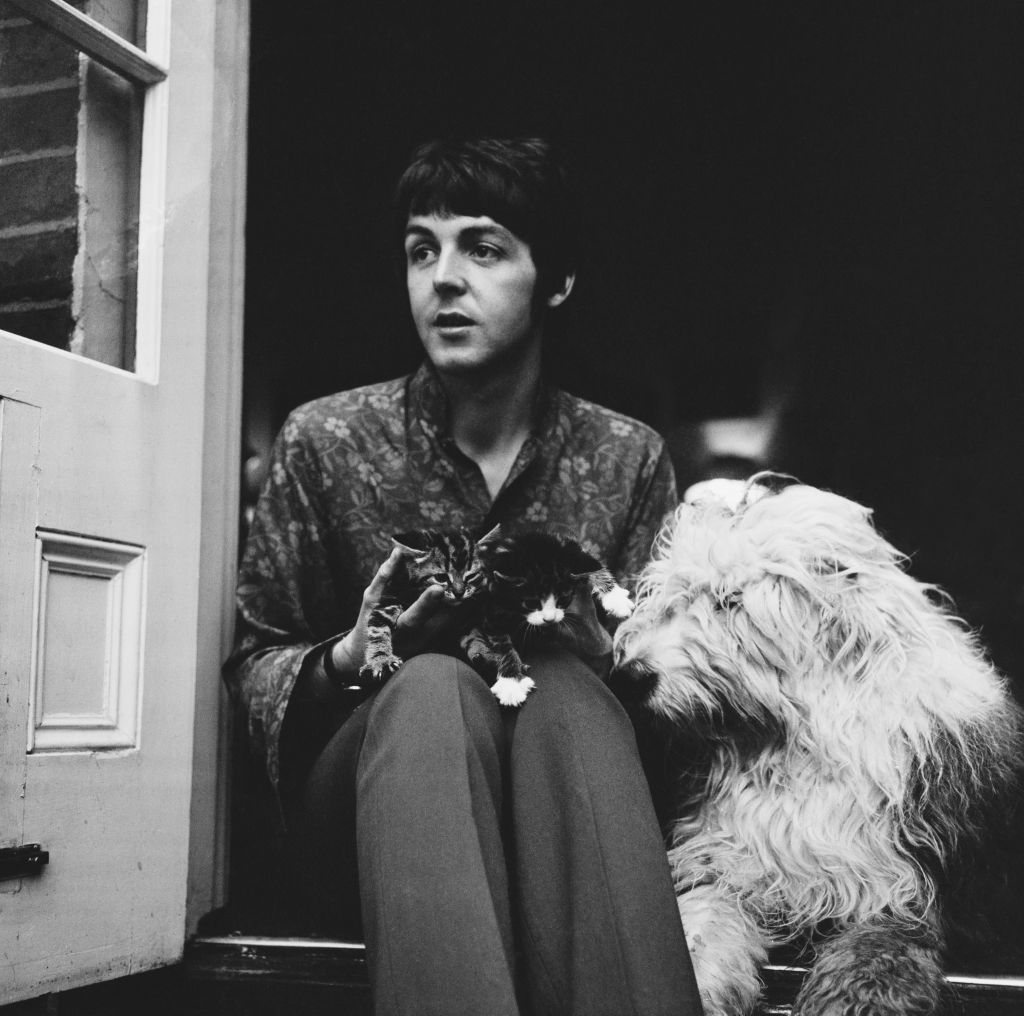 Photo date: June 20, 1967
We know bandmate John Lennon was a famous cat-lover, but Paul McCartney was, too. He had two cats and a dog at home in London. His pet-friendly attitude predated his vegetarian diet, which he started in 1975.
Next: Turning the tables.
11. Say cheese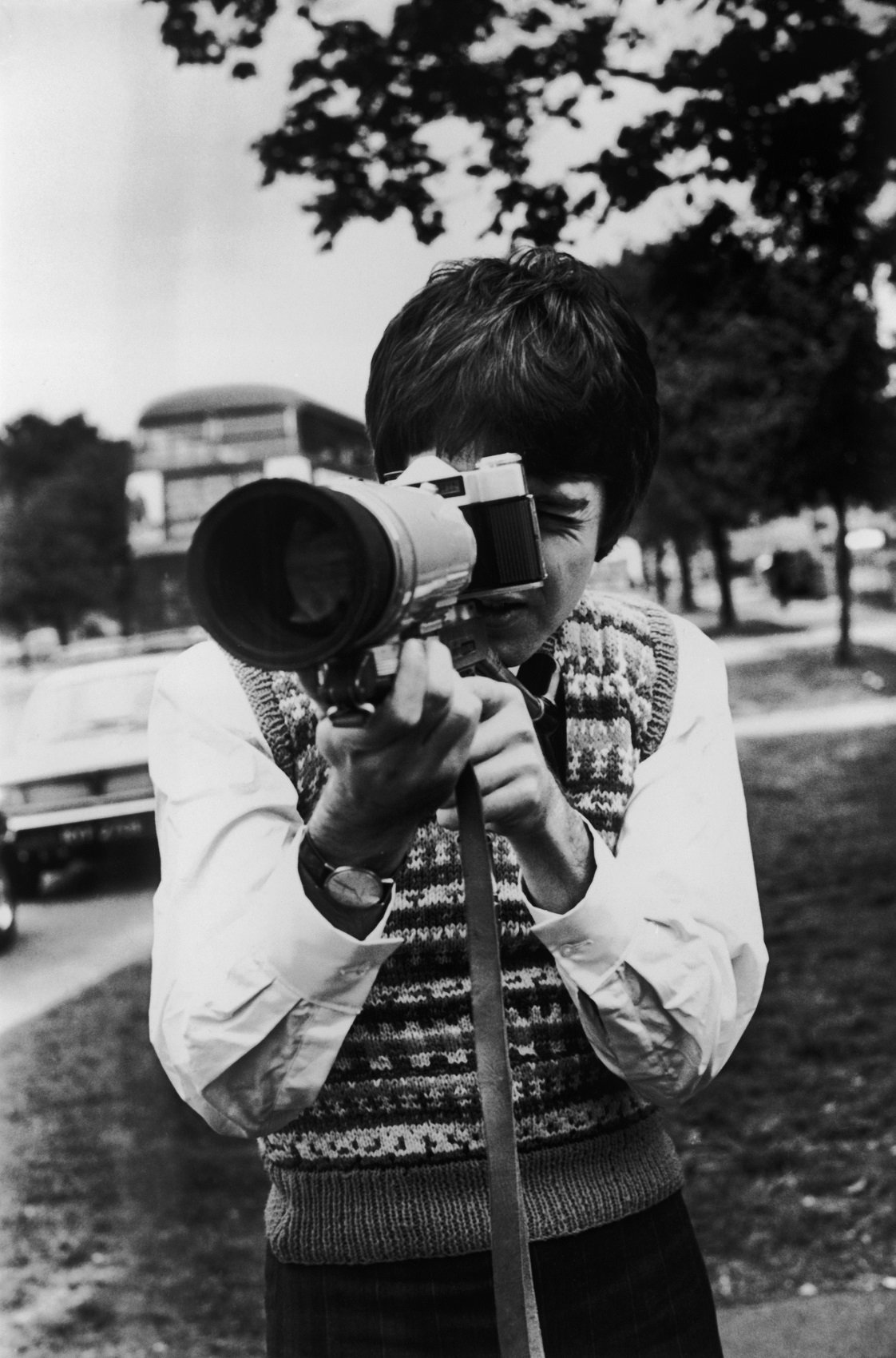 Photo date: Sept. 1967
It's safe to say there are thousands of Paul McCartney photos in the world, if not more. That tends to happen when you play in one of the most influential bands ever and follow it up with a successful solo career. In 1967, McCartney turned the tables, grabbed a camera, and took some photos of the press during the Magical Mystery Tour period.
Next: Happy days.
12. Tying the knot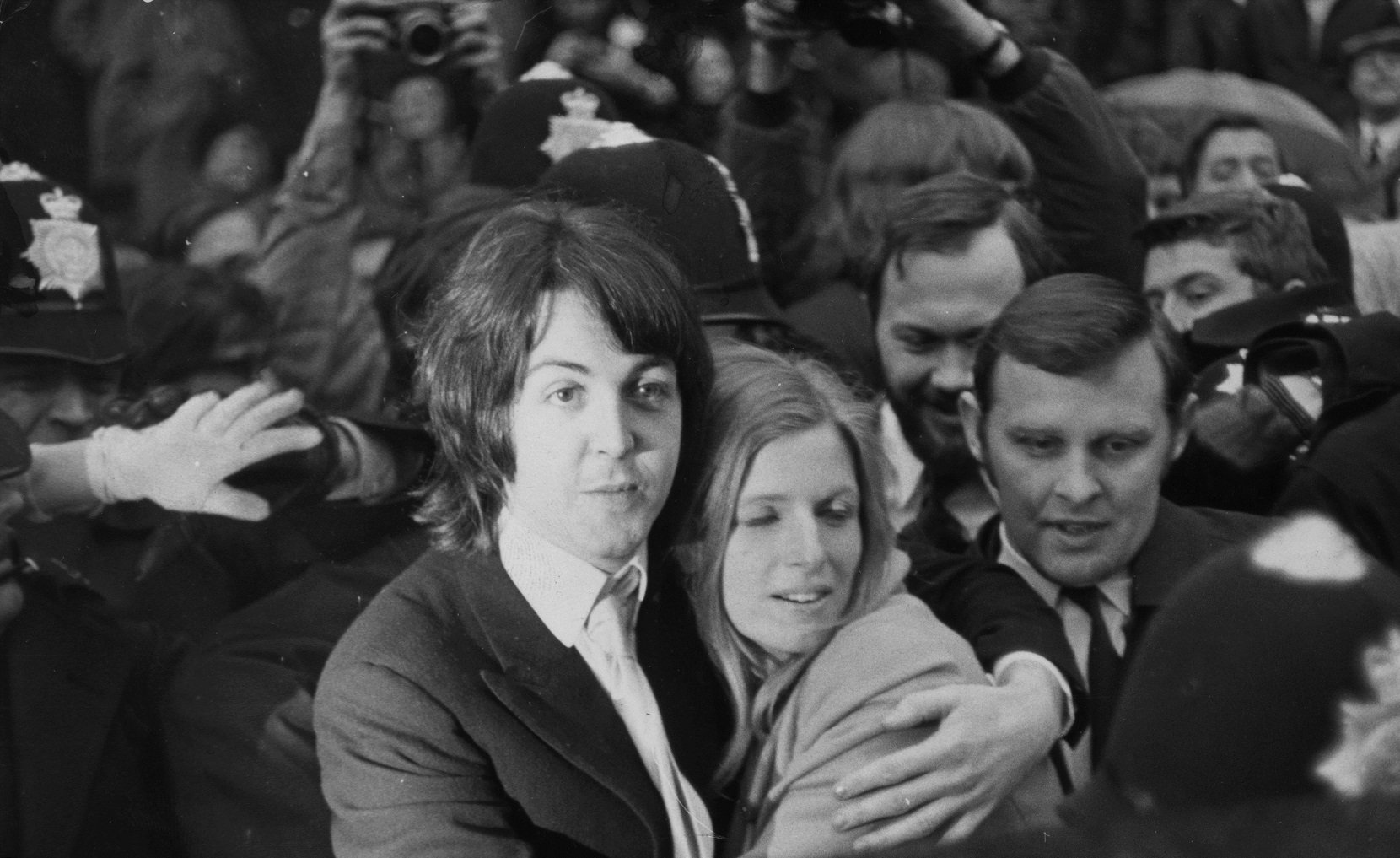 Photo date: March 12, 1969
When Paul McCartney married Linda Eastman, it wasn't a big, fancy wedding ceremony but instead a subdued service at a register's office in London. The ceremony happened March 12, 1969, and the couple remained together until her death in 1998.
Next: Things get ugly.
13. Bad Beatles breakup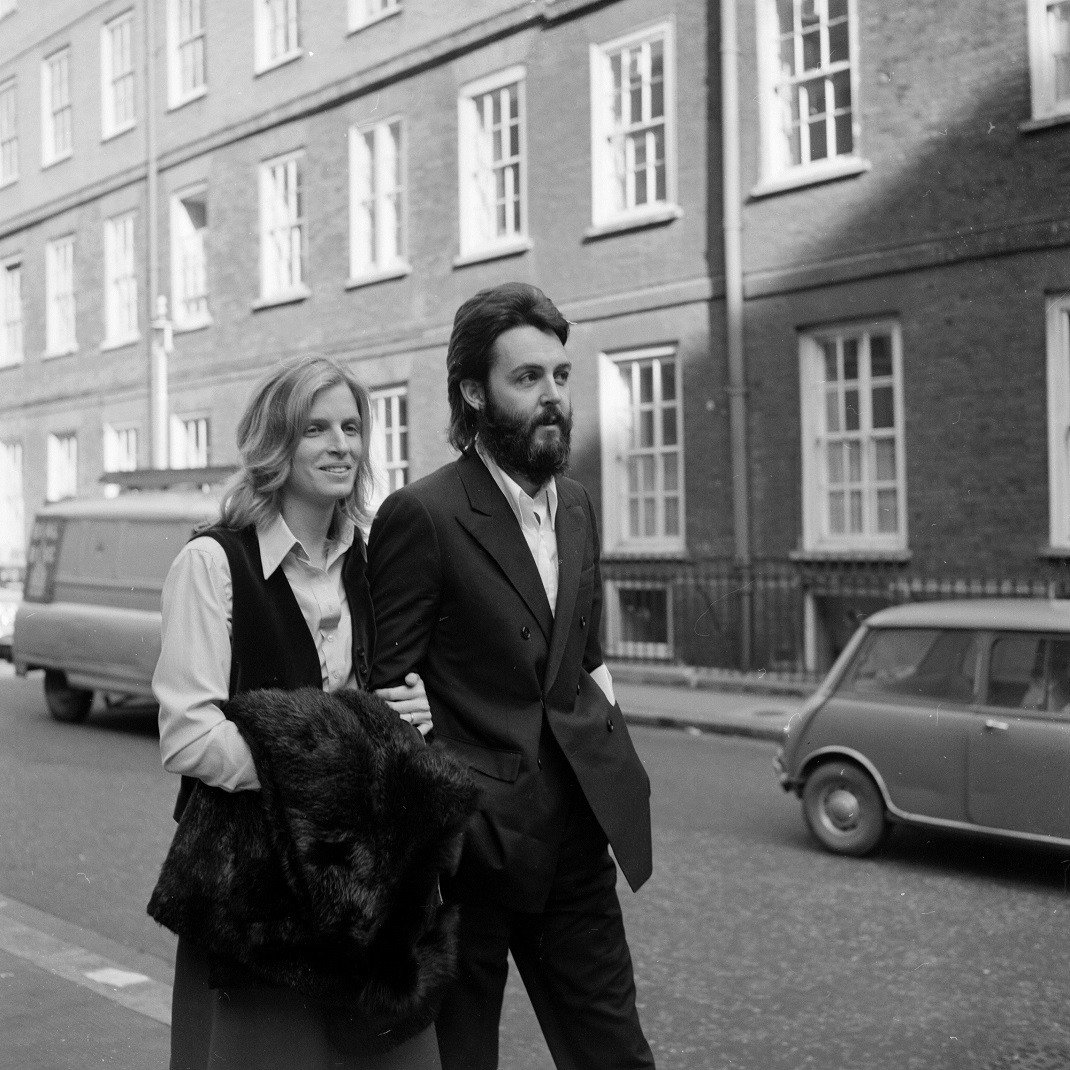 Photo date: Feb. 19, 1971
By 1970, The Beatles were done as a group. To seal the deal, Paul McCartney filed a lawsuit to officially break up the band. It was an acrimonious split that required years of legal wrangling, but by 1975 it was official — The Beatles were no more.
Next: Back at work
14. Band on the Run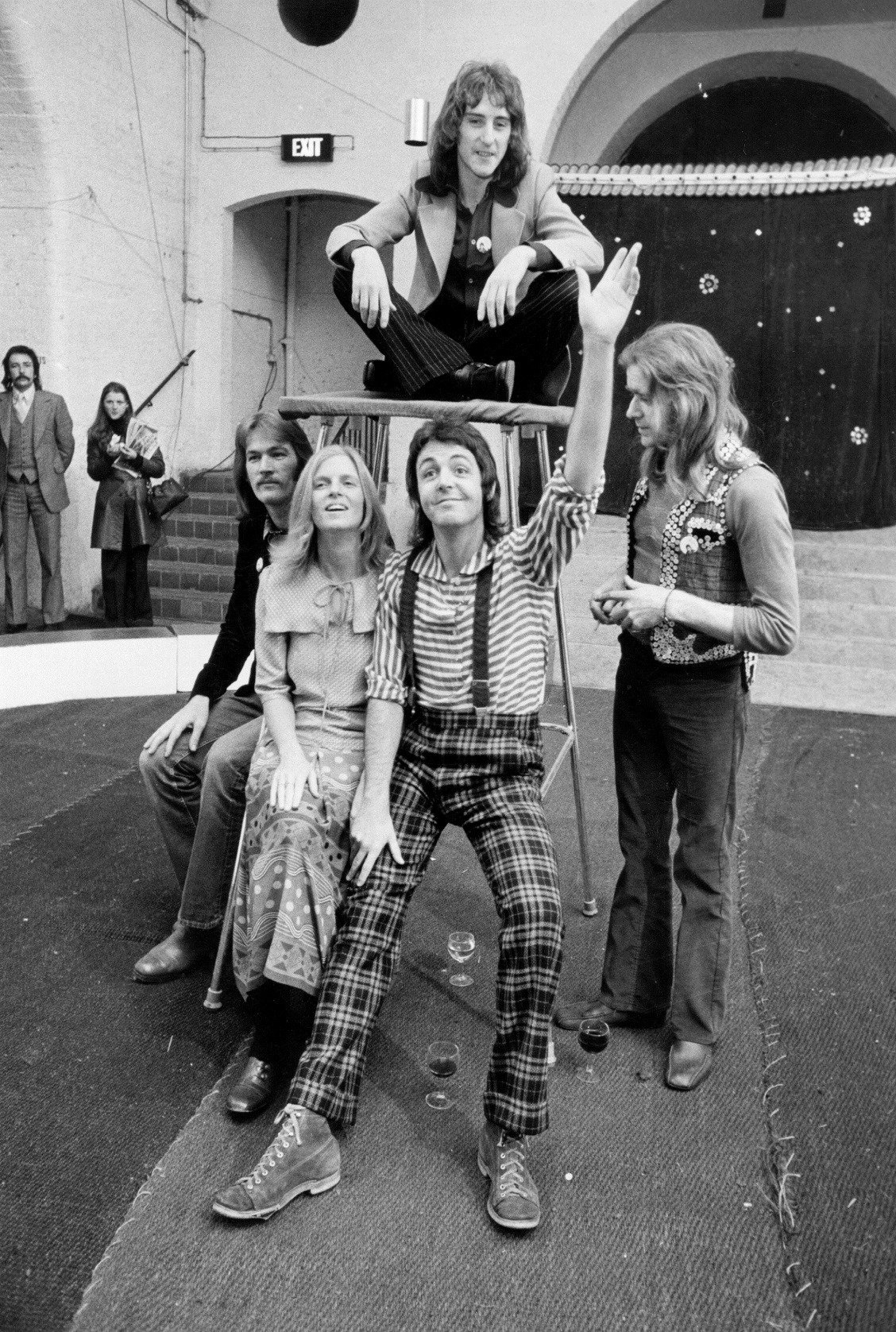 Photo date: Dec. 1, 1972
A creative talent like Paul McCartney can't be stifled, so after The Beatles called it a day, it didn't take long for him to get back to work. He released solo records in 1970 and 1971, and by the end of 1971, he formed his new group, Wings. The group started touring in 1972 and eventually produced some of McCartney's best songs after The Beatles.
Next: Look at that hair.
15. Glorious mullet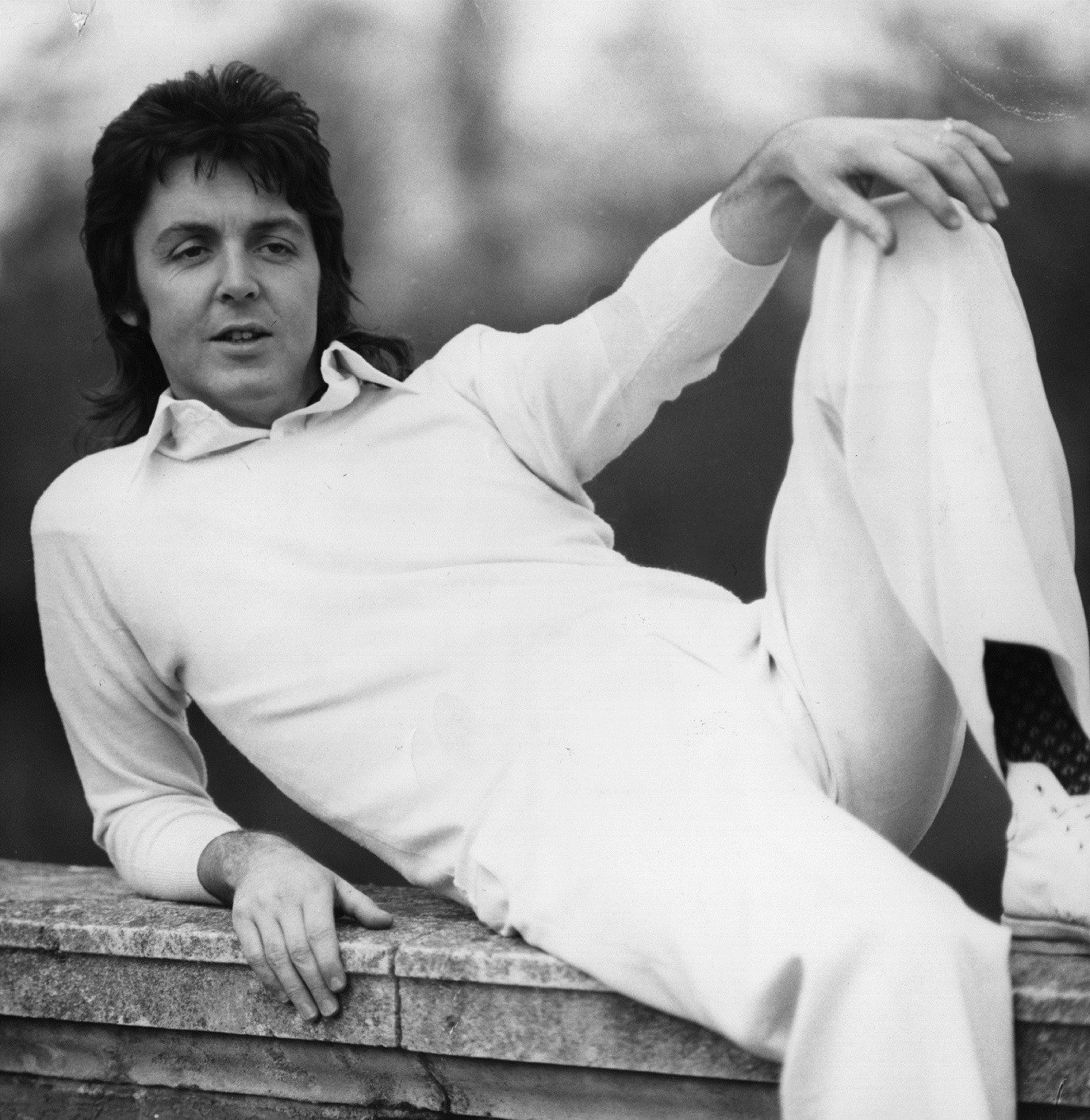 Photo date: Circa 1973
We've seen the bowl cut, the mop top, and Paul McCartney's long hair around the time of his 1969 wedding, but this hairstyle might be his most memorable. We'd usually say someone sporting this kind of mullet desperately needs a haircut, but Paul pulls it off just fine.
Next: Thumbs up.
16. A sigh of relief after a low moment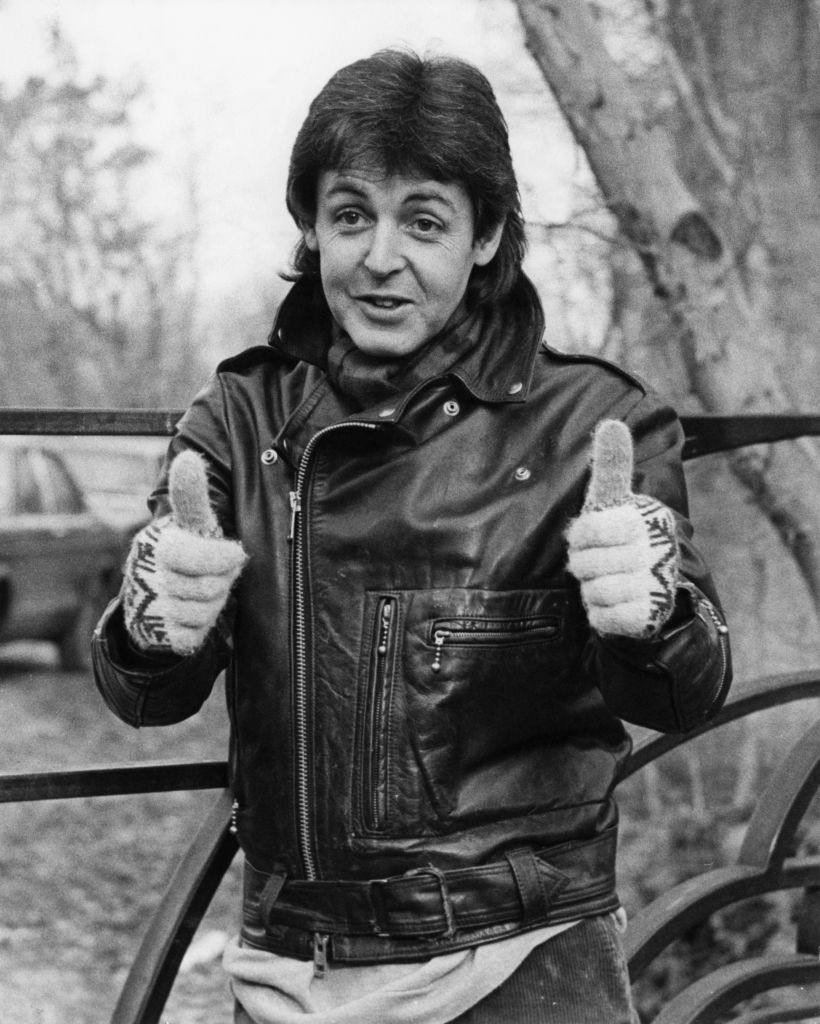 Photo date: Jan 28, 1980
Nine days doesn't sound like a long time. Nine days in a Japanese prison, however, probably feels like an eternity. Authorities caught Paul McCartney with marijuana in his suitcase as Wings entered the country for a tour. The police threw him in jail, the band canceled the tour, and he was deported back to England. It was one of the biggest celebrity scandals of the day.
Next: Two legends side by side.
17. The hits keep on coming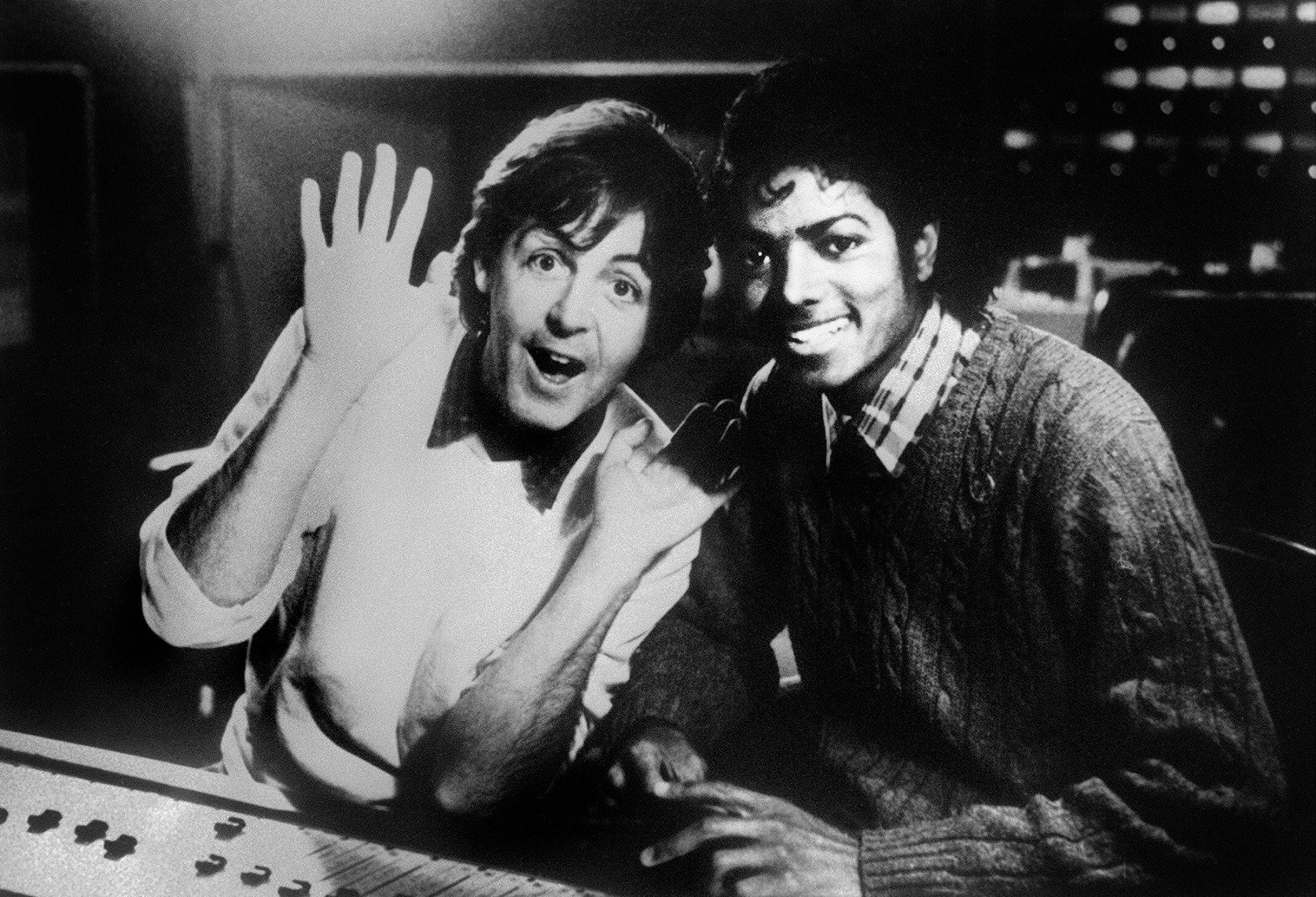 Photo date: Dec. 19, 1983
Paul McCartney and Michael Jackson are two of the most beloved musicians of all time (and two of the richest), and their paths crossed in the early 1980s. Paul played on "The Girl Is Mine" from Thriller, and Jackson appeared on "Say, Say, Say" and "The Man" on McCartney's Pipes of Peace album.
Next: On the road again.
18. Back on tour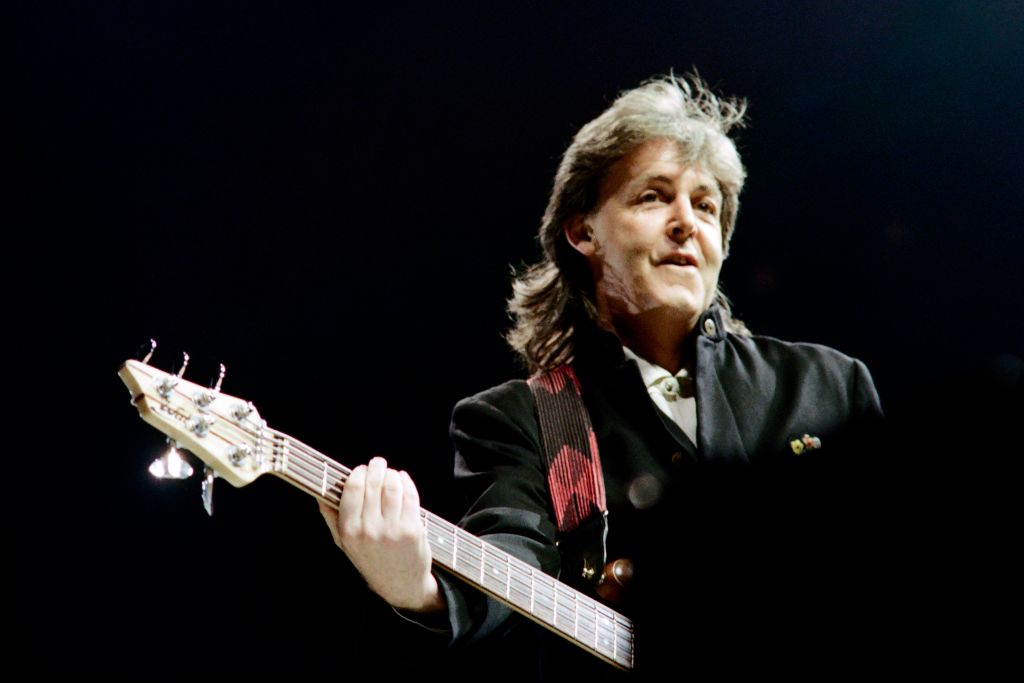 Photo date: Nov. 6, 1989
Paul McCartney was busy recording throughout the 1980s, but it took him the better part of the decade to hit the road for a tour. After the Wings tour fiasco in 1980, McCartney didn't play live again until 1989's Paul McCartney World Tour in support of his album Flowers in the Dirt with Elvis Costello.
Next: What took so long?
19. About time for a big honor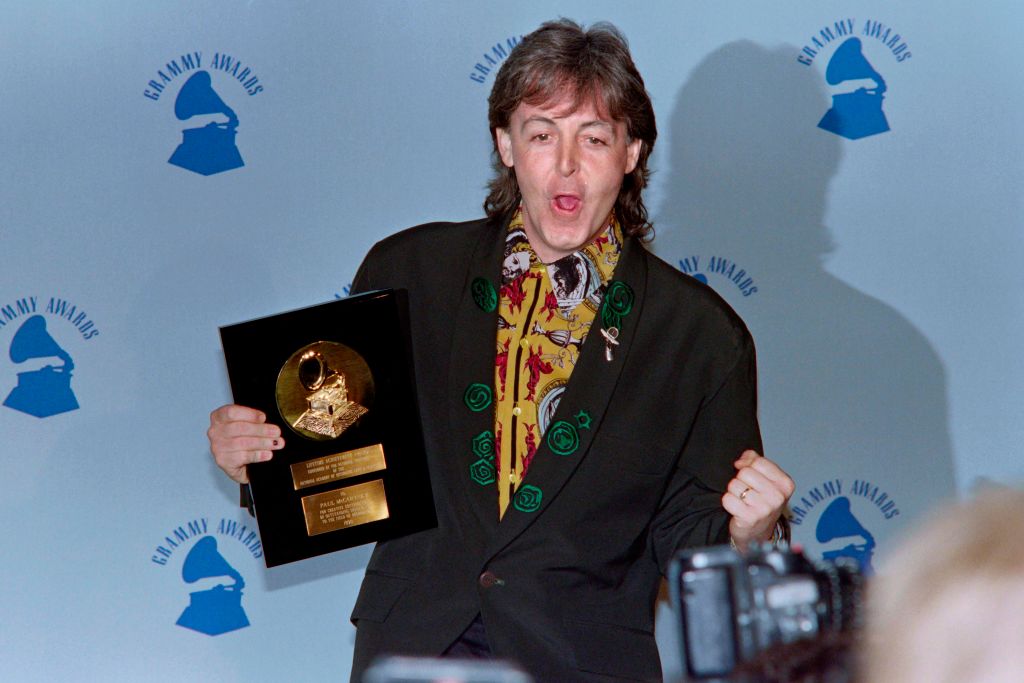 Photo date: Feb. 21, 1990
Most music fans would tell you Paul McCartney was due for a lifetime achievement award by 1970 thanks to his output with The Beatles. The folks behind the Grammy Awards thought differently. It took a little longer than expected, but Maca received the Lifetime Achievement Award at the 32nd edition of the Grammys in 1990. As we'll see in a few minutes, that's a rabbit's pace compared to another lifetime honor.
Next: Going Down Under.
20. Life on the road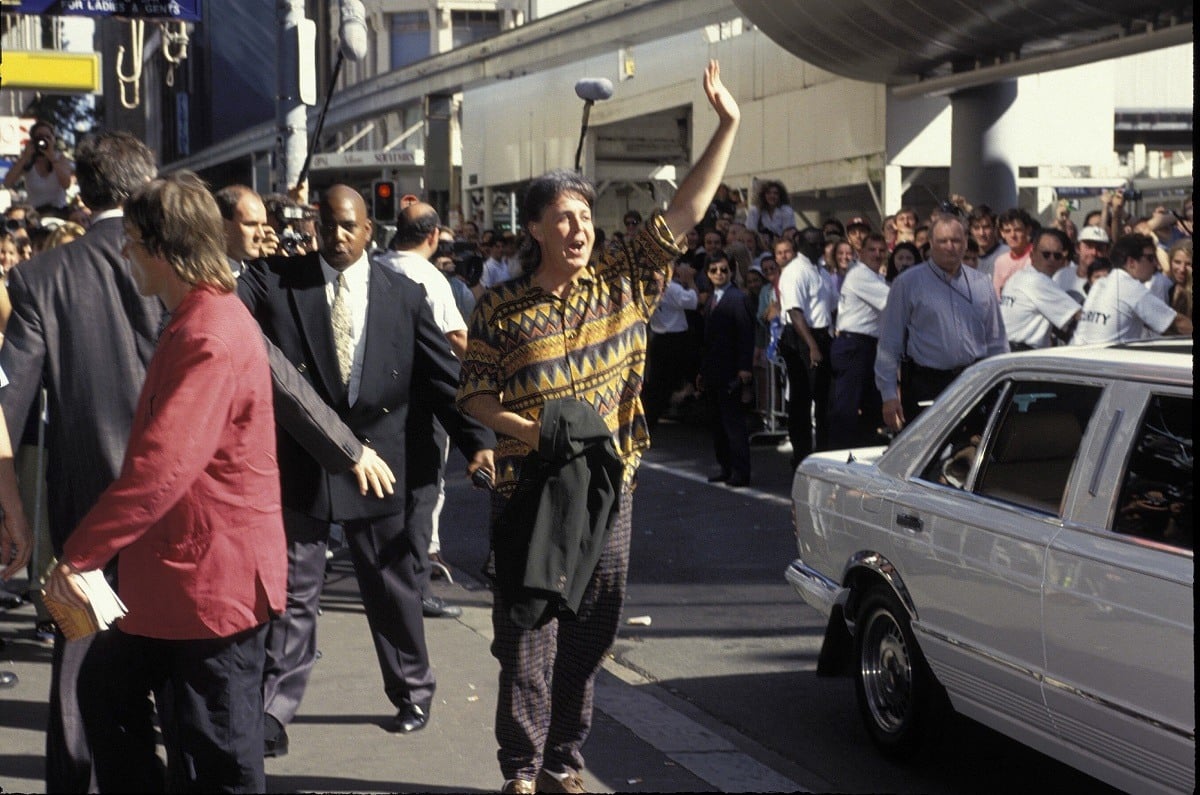 Paul McCartney at Brashs Music Store in Sydney, Australia. | Patrick Riviere/Getty Images.Photo date: March 1, 1993
Remember how we just mentioned the 1989 world tour was Paul McCartney's first in almost a decade? Well, fans didn't have to wait too long to see him again. The New World Tour lasted nearly all of 1993. McCartney, wife Linda, and an assembled band played 77 shows around the world.
Next: A fitting tribute to Linda McCartney.
21. A cause close to the heart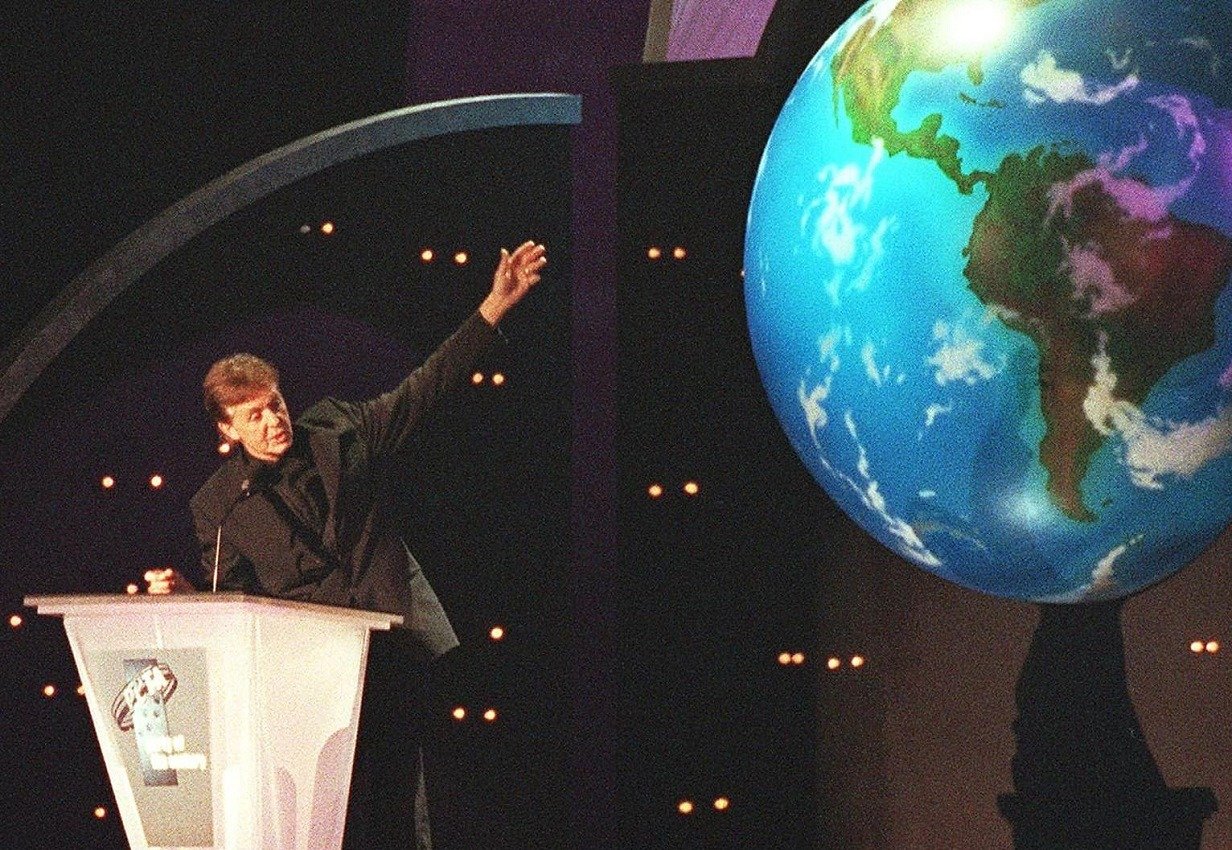 Photo date: Sept. 18, 1999
Paul McCartney was able to give a fitting tribute to Linda McCartney a little more than one year after her death. At the 1999 PETA Awards, he gave the first Linda McCartney Memorial Award to Pamela Anderson. The couple were vegetarians and passionate animal rights advocates.
Next: A bit of Maca trivia.
22. Paul McCartney knows all about receiving the Hall call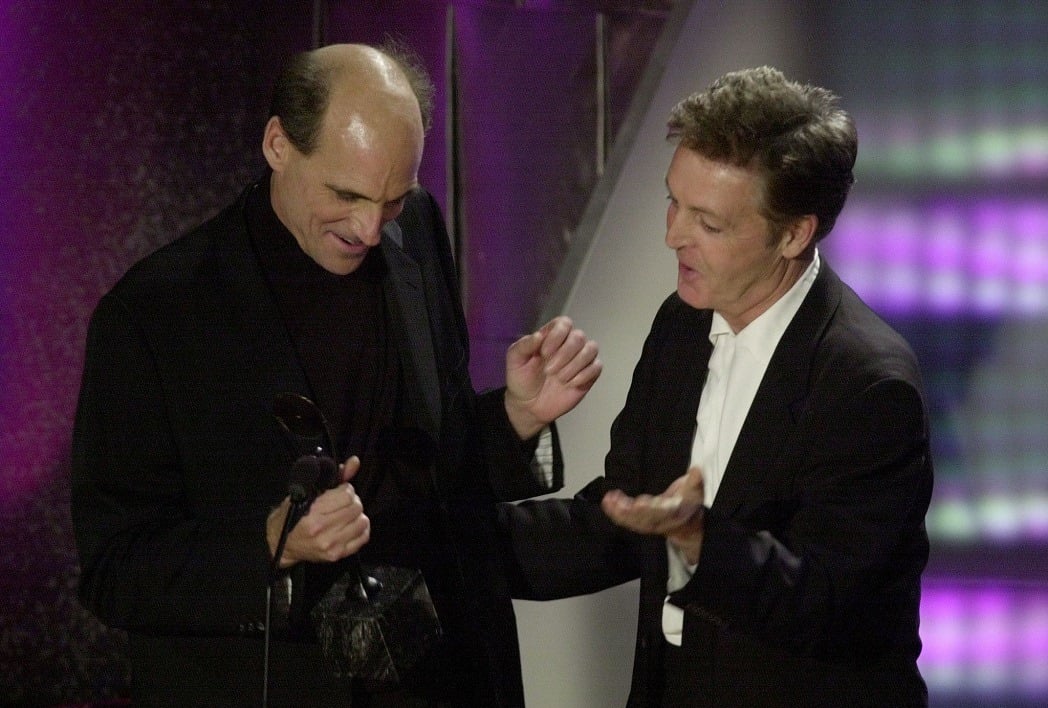 Photo date: March 6, 2000
It makes sense when you think about it, but it's still worth noting: Paul McCartney is in the Rock and Roll Hall of Fame twice. He entered with The Beatles in 1988, and in 1999 he earned the Hall call as a solo artist. A few more fun facts:
He has 21 Grammy Awards with The Beatles and solo.
As of 2014, he'd sold more than 15.5 million records in the United States.
He's written or co-written no fewer than 32 No. 1 Billboard songs during his career.
Next: Helping out in a time of need.
23. The Concert for New York City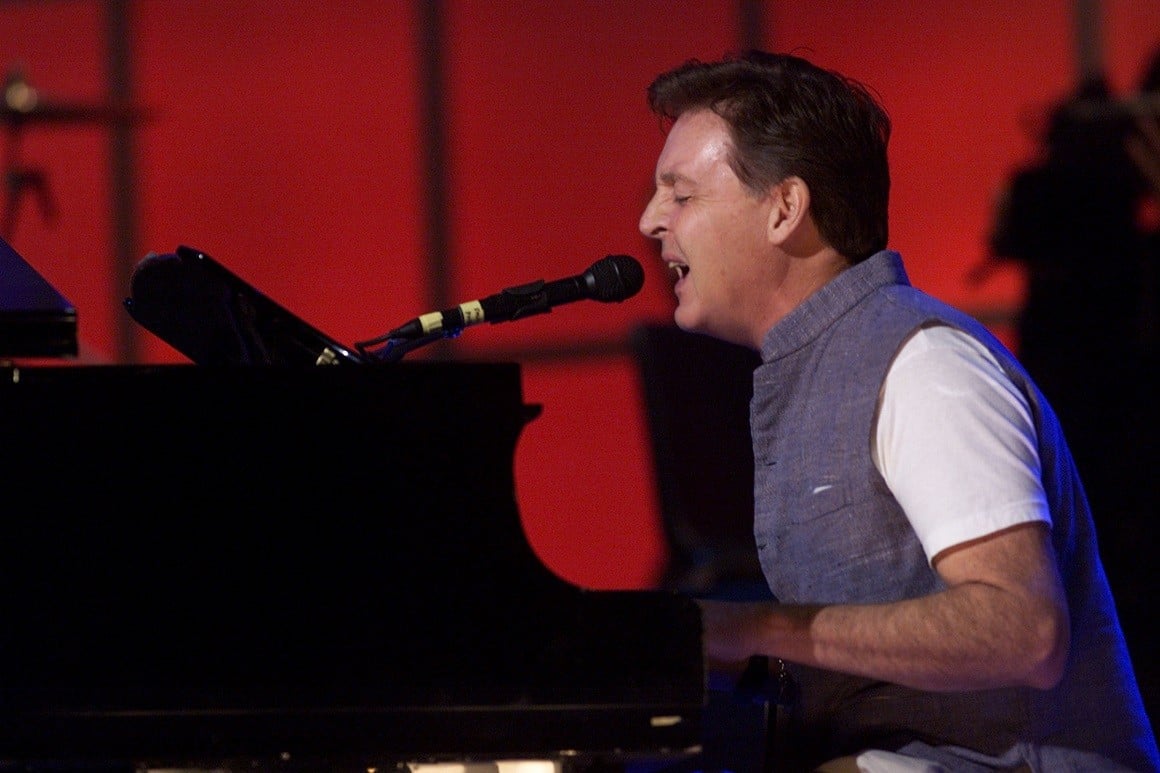 Photo date: Oct. 20, 2001
You can say this for Paul McCartney — he loves playing music. He's also a great humanitarian. After witnessing the Sept. 11 attacks from JFK Airport, he organized The Concert for New York City. Among the artists who performed were The Who, David Bowie, Elton John, Keith Richards, and Mick Jagger.
Next: Happier times.
24. The second Mrs. McCartney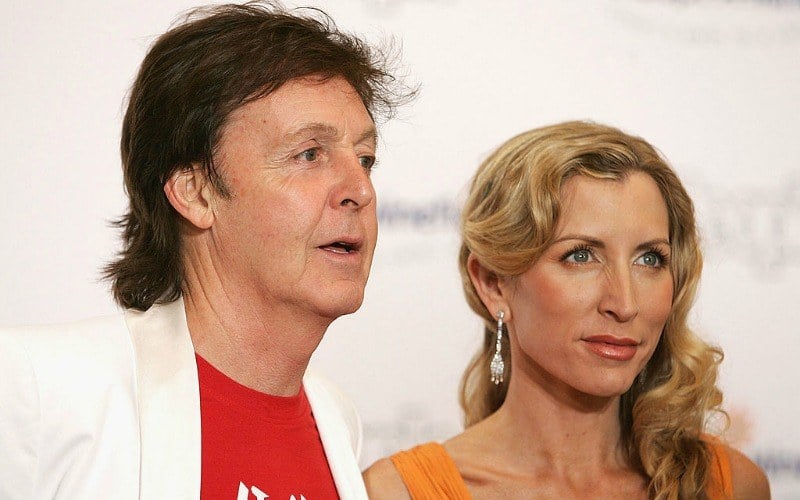 Photo date: Nov. 5, 2005
Paul McCartney married for the second time in 2002, to Heather Mills. They were still a happy couple in 2005 when they attended a landmine benefit together, but by 2006, the relationship deteriorated, and they separated. Their divorce, a contender for one of the worst celebrity divorces ever, finally happened in 2008.
Next: What can't he do?
25. Paul McCartney flexes his creative muscles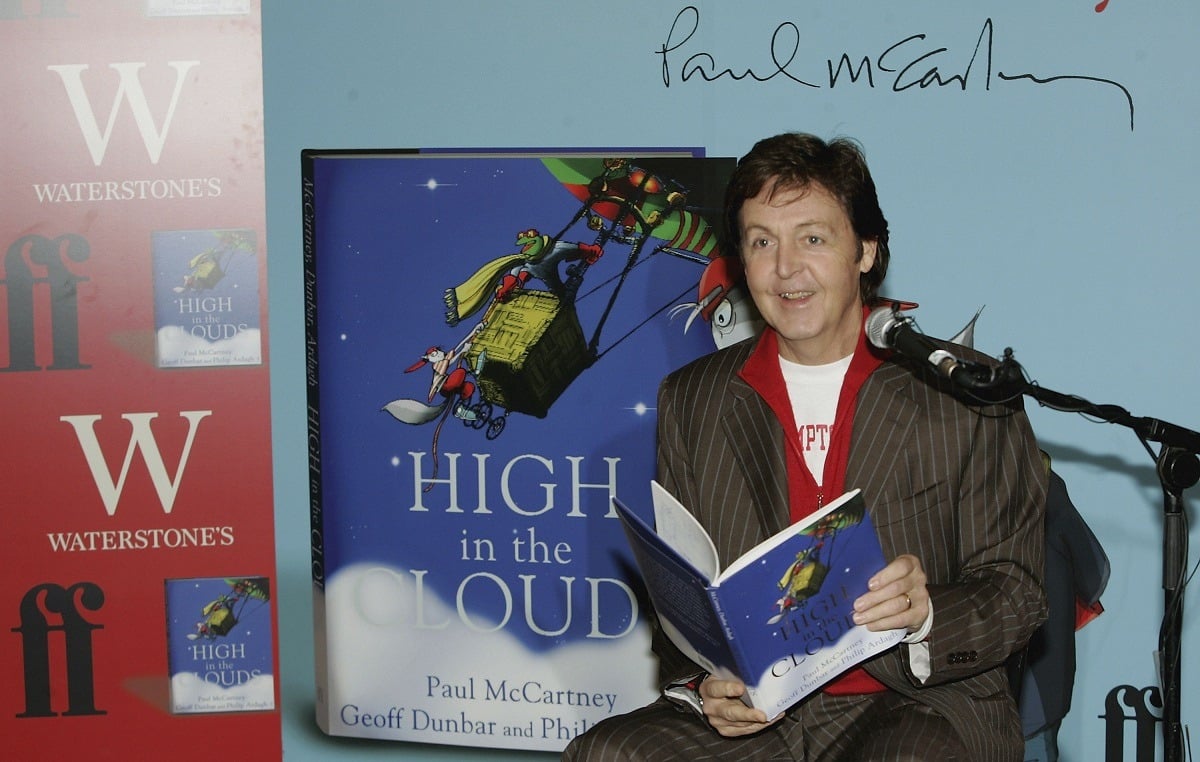 Photo date: Dec. 14, 2005
Between playing music on almost any instrument — bass, guitar, piano, trumpet — singing, composing, and painting, Paul McCartney has a lot of creative bases covered. Well, he added another in 2005. He wrote and published a children's book, High in the Clouds, which eventually became an animated film.
Next: Let us venture a guess.
26. Guitar for charity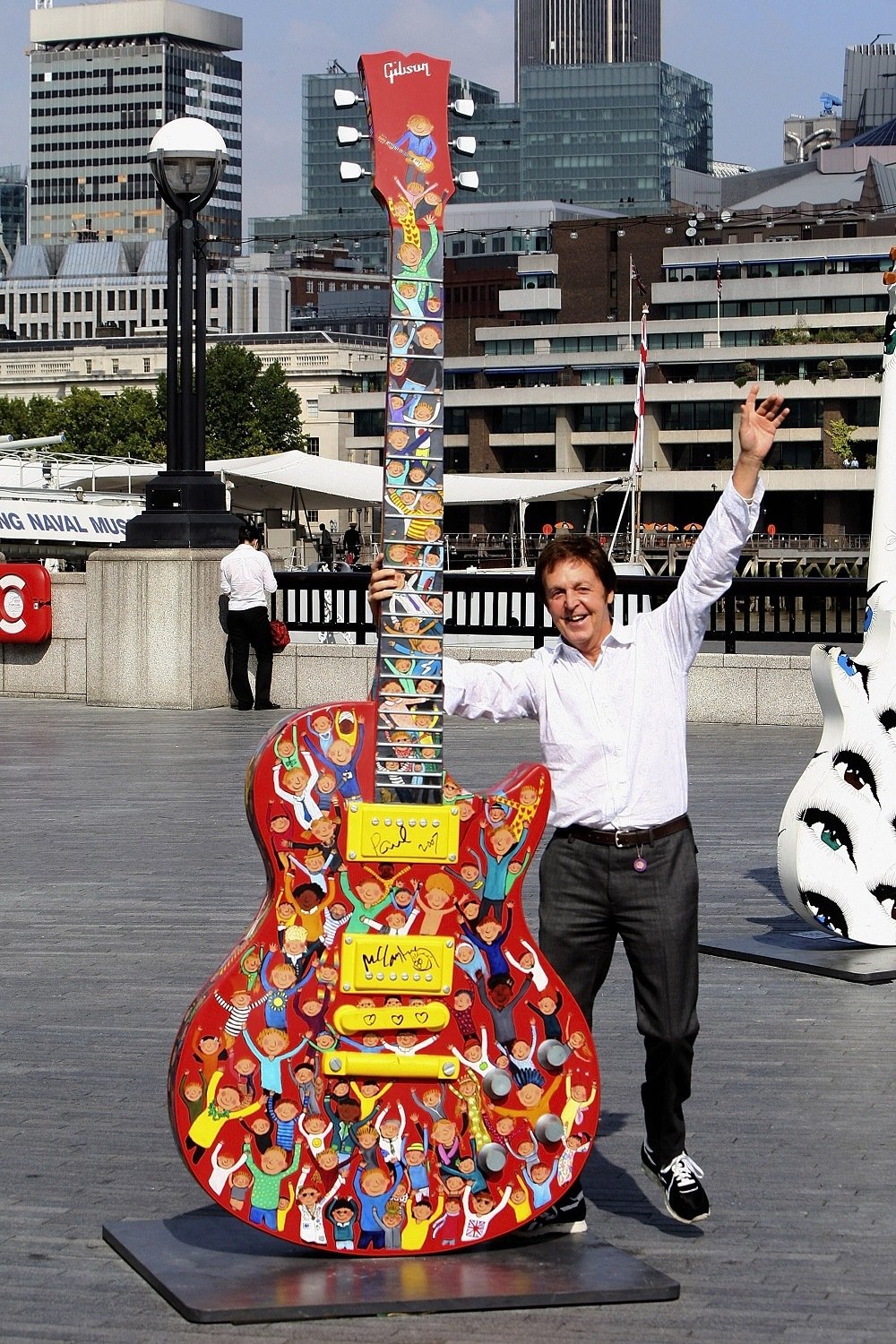 Photo date: Sept. 12, 2007
An oversized sculpture of a Gibson Les Paul guitar Paul McCartney signed helped raise money for the Prince's Trust, Nordoff-Robbins Music and Teenage Cancer Trust in 2007. We're pretty sure that if anyone is capable of playing a 10-foot tall right-handed guitar with no strings and making it sound good, it's the left-handed McCartney.
Next: Another noteworthy award.
27. Rarefied air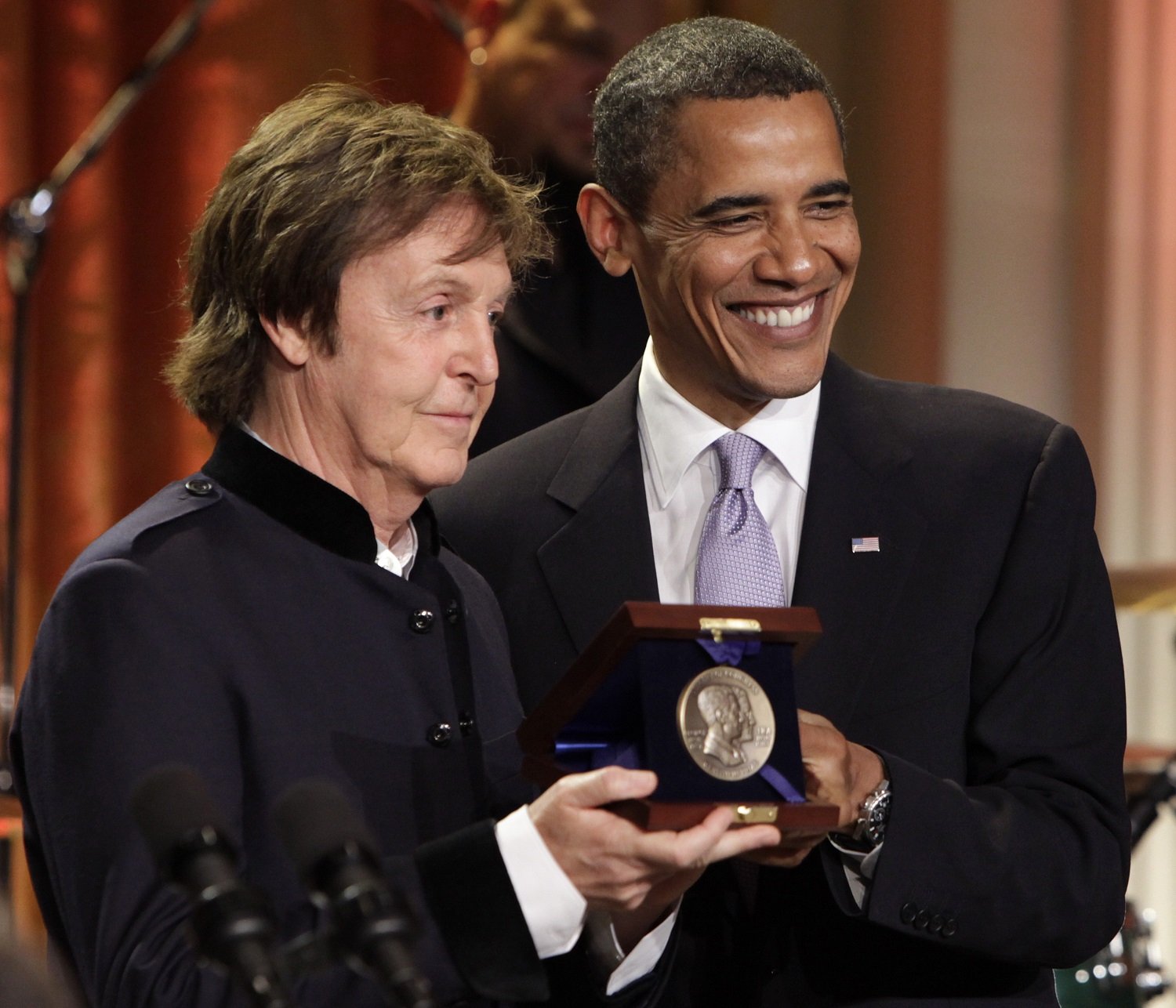 Photo date: June 2, 2010
The Gershwin Prize awarded by the Library of Congress started in 2007, so it came along after the Grammys and the Rock and Roll Hall of Fame. Paul McCartney is one of the select few to receive the award through 2017, and he's the only non-American to take the prize.
Next: What took so long?
28. It's about time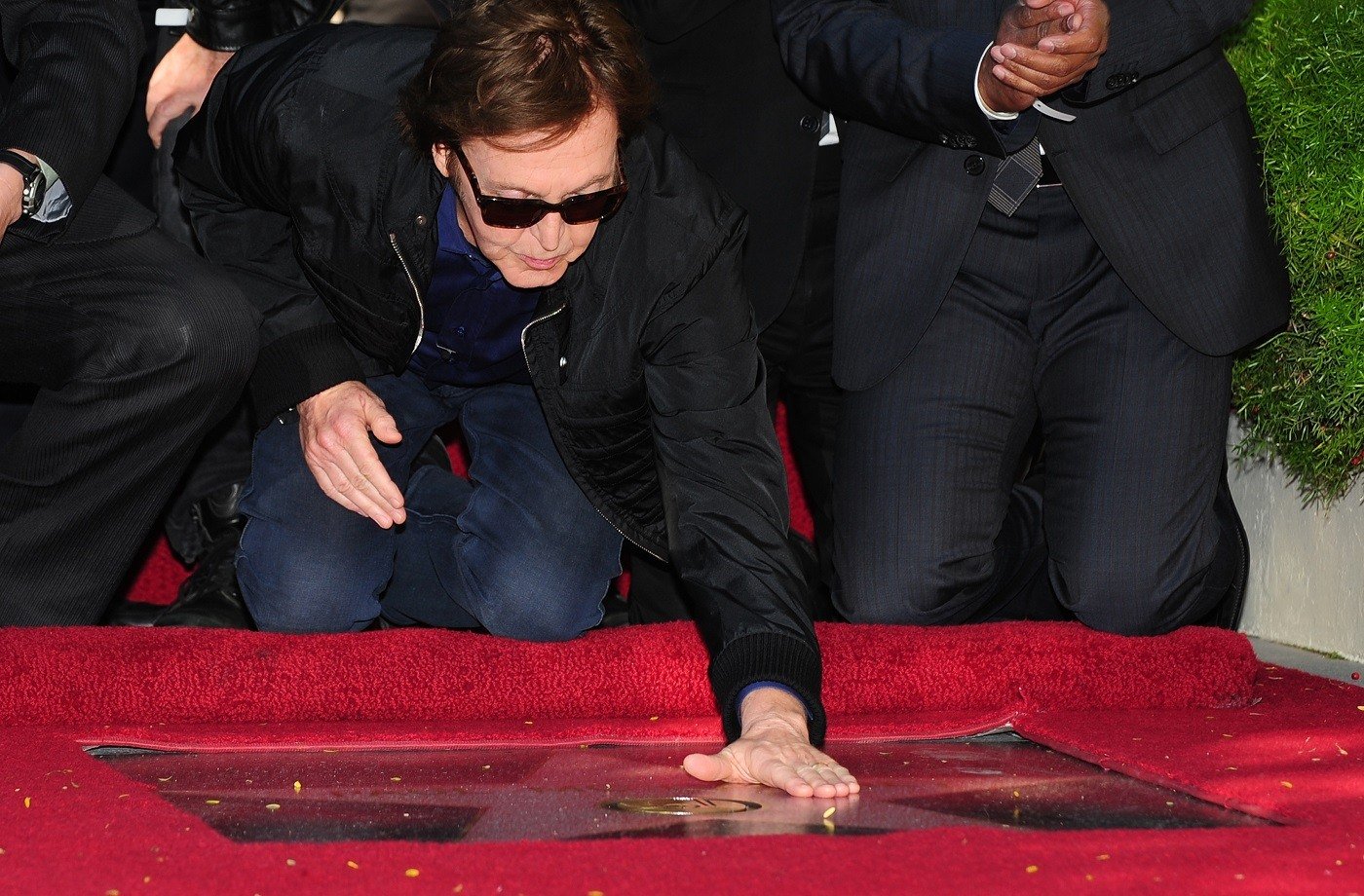 Photo date: Feb. 9, 2012
Remember how we said the Grammys waited a long time to give McCartney a Lifetime Achievement Award? Well, the people in charge of the Hollywood Walk of Fame really made him wait. He received the 2,460th star on the walk in 2012, just a few months before his 70th birthday.
Next: A salute to the band that changed the world.
29. Fifty years later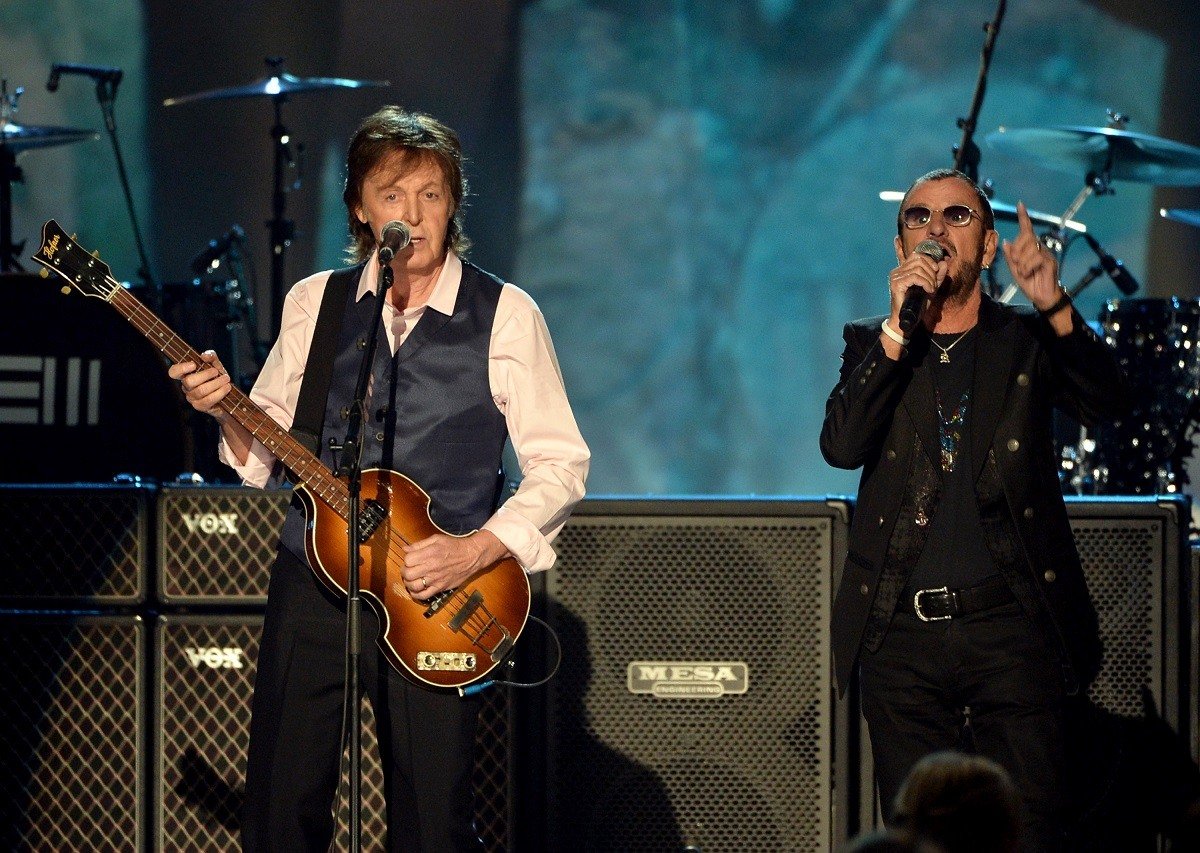 Photo date: Jan. 27, 2014
The surviving members of The Beatles — Ringo Starr and Paul McCartney — took the stage together in 2014 for The Night That Changed America: A Grammy Salute to The Beatles. Fifty years to the day after the band's appearance on The Ed Sullivan Show, a musical all-star lineup covered a slew of Beatles songs, then Ringo and Paul capped the event by playing two songs together.
Next: Still going strong.
30. A Desert Trip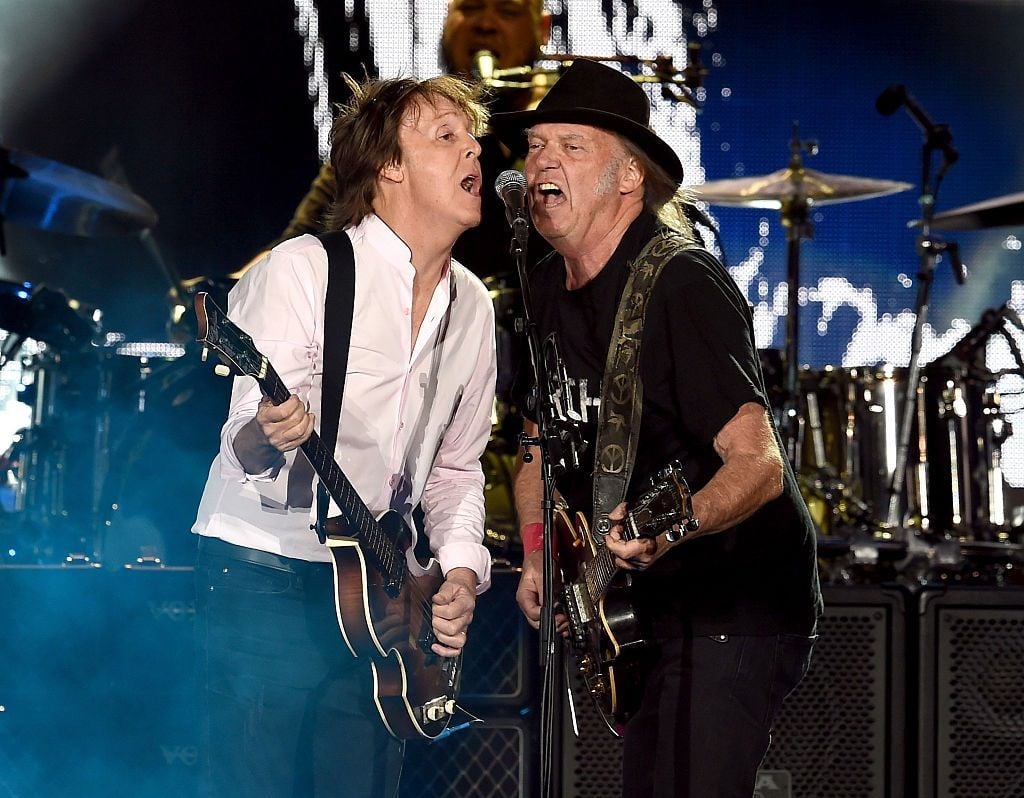 Photo date: Oct. 8, 2016
What would entice you to head out into the California desert between Los Angeles and Phoenix? In 2016, the answer was probably the Desert Trip. The pair of three-day concert festivals brought together a who's-who of classic rock artists, including Paul McCartney and Neil Young. The Rolling Stones, Bob Dylan, Roger Waters, and The Who were on the bill, too.
Next: This is nothing new.
31. More social activism from Paul McCartney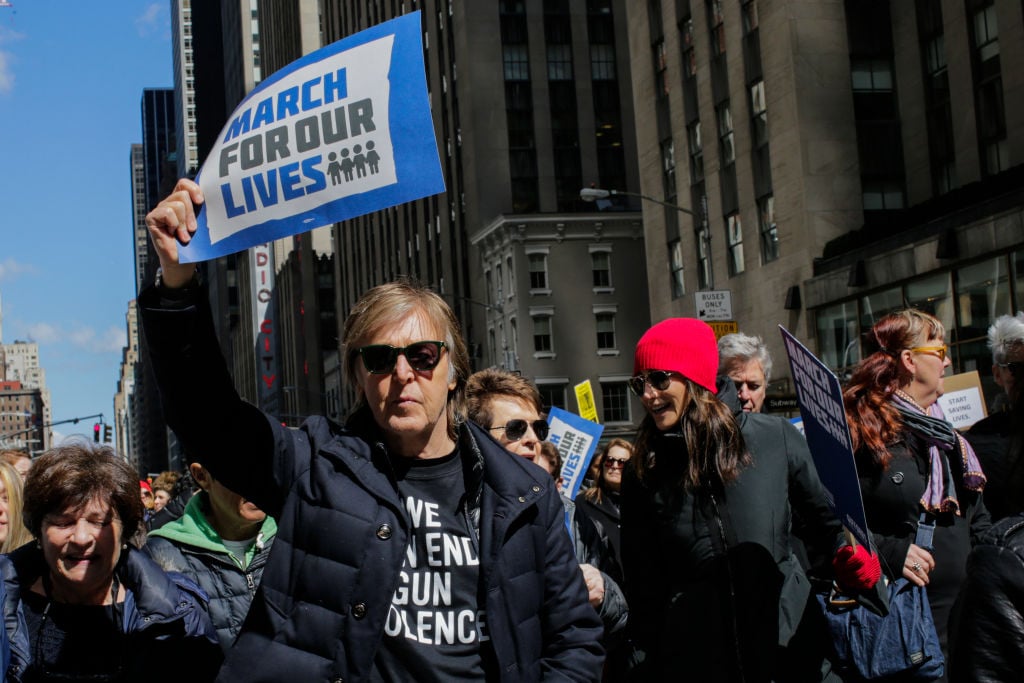 Photo date: March 24, 2018
Paul McCartney has never been shy about supporting the causes he believes in, and that was as true as ever in early 2018. He joined the New York edition of the March for Our Lives Rally for gun control.
Next: A nice companion.
32. Maca meets Queen Elizabeth, again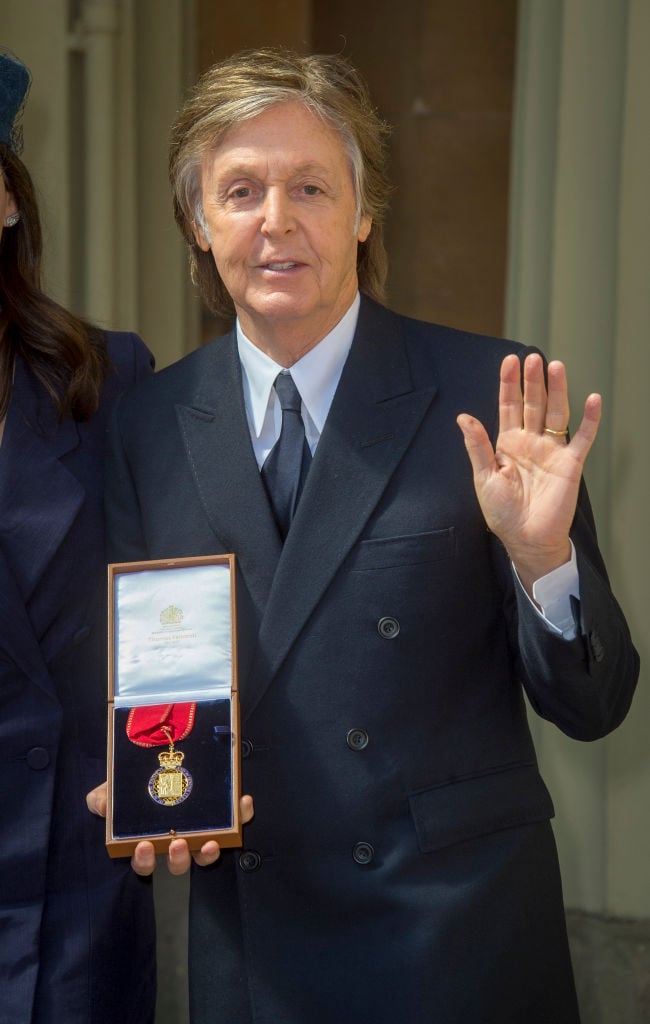 Photo date: May 4, 2018
Is there a British civilian honor Paul McCartney hasn't received? If there is, we don't know about it. He and The Beatles were made Members of the Order of the British Empire in 1965. He was knighted in 1997. Then, in 2018, Queen Elizabeth made him a Companion of Honour.
Check out The Cheat Sheet on Facebook!
Read more: How Much Money Did Jerry Seinfeld and the Other Stars Earn From 'Seinfeld'?