Paul McCartney Said the Sound Effects Library at Abbey Road Studios Liberated The Beatles During Their Experimental Phase
Paul McCartney said the sound effects library at EMI Studios (Abbey Road Studios) was crucial to The Beatles during their experimental phase. Without it, the group might not have recorded songs like "Tomorrow Never Knows" and "Blackbird."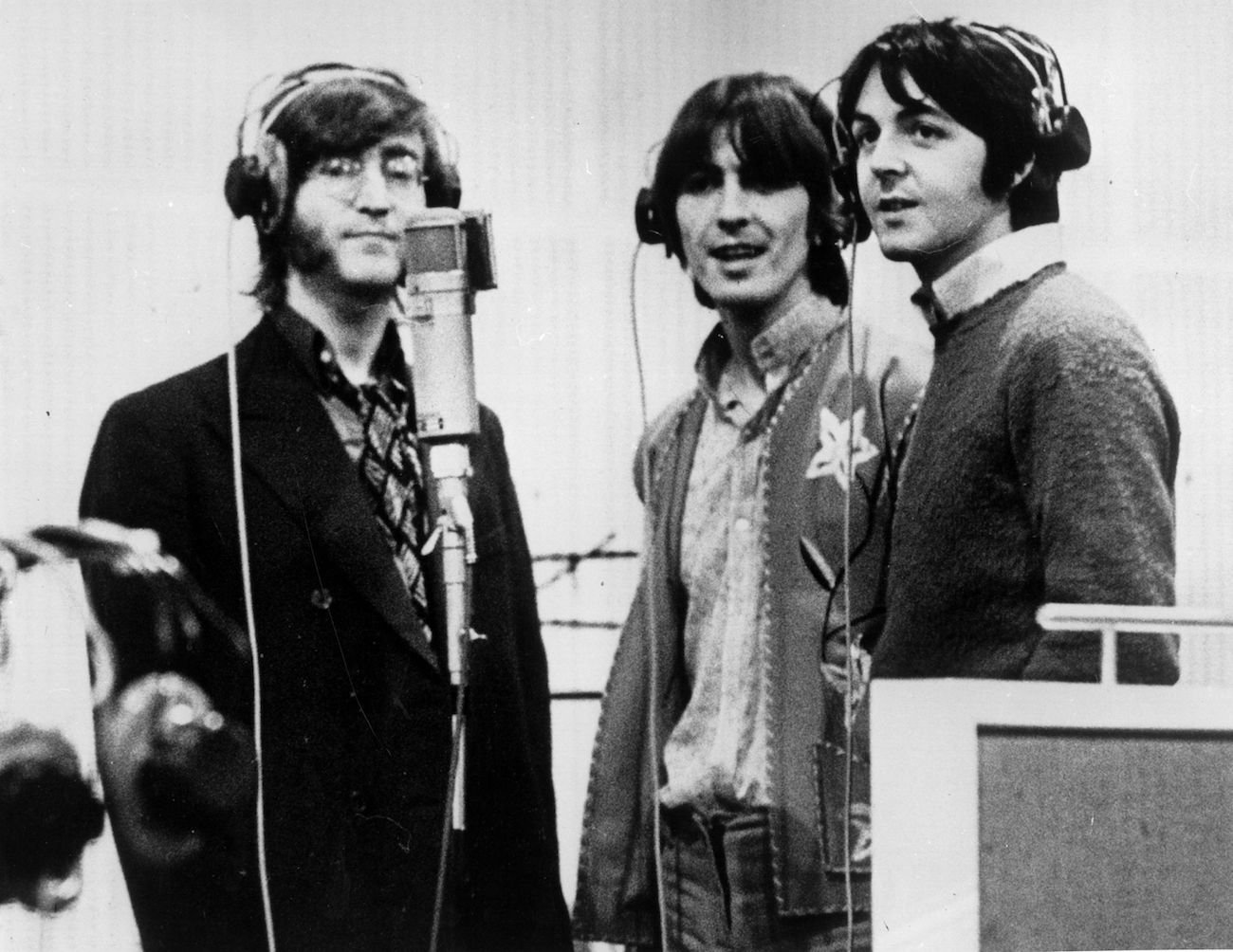 Radio and other artists heavily influenced the group's sound
Despite how innovative The Beatles were on their own, they relied heavily on their influences.
During a 1987 interview with Guitar Player, George Harrison said he thought The Beatles' early sound was "puny." They weren't trying to be innovative, but other artists were amazed at their sound.
"I mean, listening to James Burton playing them solos on the Rick Nelson records, and then we'd come up with this stuff–it was so feeble," George said.
While many of their influences wanted to emulate them, The Beatles started mirroring their idols more on The White Album. Although, those artists had American recording studios, which were more advanced than the ones The Beatles were using.
"We started out like this little group in mono; we just played a couple of takes, and that was it," George said. "And the engineers who worked in Abbey Road had been doing Peter Sellers records or skiffle. Nobody had had any experience like in America. America was always ahead, and we always looked to America for the sounds and the groovy players."
The Beatles were fine with their antiquated equipment. "We felt just like a lucky little group–we knew we had something good to offer, but we were quite modest," George said. "The situation we were in was this old equipment, but we were happy with it in those days; we were just happy to be in the studio."
In The Lyrics: 1956 to the Present, Paul wrote, "The influence of radio on the Beatles simply can't be overstated. You might, indeed, think of 'Sgt. Pepper' as a big radio programme."
George told Guitar World that when they recorded Rubber Soul and Revolver, they "became more conscious of so many things. We even listened deeper, somehow. That's when I really enjoyed getting creative with the music-not just with my guitar playing and songwriting but with everything we did as a band, including the songs that the others wrote. It all deepened and became more meaningful."
Paul McCartney said the sound effects library at Abbey Road Studios liberated The Beatles
The sound effects library at Abbey Road Studios liberated The Beatles during their experimental phase. Despite their old equipment, the group remained innovative and cutting-edge. They used sound effects in a way that no American recording studio could replicate.
"Take something like our use of sound effects as a way of extending our repertoire and range," Paul wrote. "EMI was such an all-encompassing record company of the old variety that they had a sound library in the same building as the studio.
"If I wanted to include the sound of blackbirds singing on the song 'Blackbird', I could just find it in the catalogue and order it, and someone would go up and get it from the library and bring it down to the studio. So we started messing around with this library, and it was very liberating."
Sound effects weren't the only things The Beatles experimented with
Sound effects weren't the only thing The Beatles experimented with in the recording studio. They also worked a lot with backward music. In Joshua M. Greene's Here Comes The Sun: The Spiritual And Musical Journey Of George Harrison, The Beatles' recording engineer, Richard Lush, said George started that trend.
"He would play the solos normal," recalled Lush, "then we'd flip the tapes and he'd listen to them backward, just to see how they sounded. This would go on for maybe seventy takes, turning the tape over, listening, turning it back again—it would take literally hours to accomplish."
Greene added, "Once John and Paul realized that George had found new ways of maximizing sound, they started coming to him with rough sketches of their songs and asked that he embellish them in the studio as he saw fit. The results were often revelatory."
The Beatles used reverse effects on some songs like "Tomorrow Never Knows," "Strawberry Fields Forever," and "Rain." However, some have disputed who stumbled on the technique first.
Whoever came up with innovative ideas in the band, all of them accumulated into The Beatles' revolutionary sound.