Paul McCartney's First Love Was the Inspiration for These Beatles Songs
In his decades-long career, Paul McCartney has always written songs inspired by something in his life. When The Beatles broke up, he wrote "Man We Was Lonely" for his 1970 album, McCartney. When he fell in love, he wrote some of the most iconic love songs ever. But only one woman inspired Paul to write love songs and heartbreak songs; Jane Asher, Paul's first love.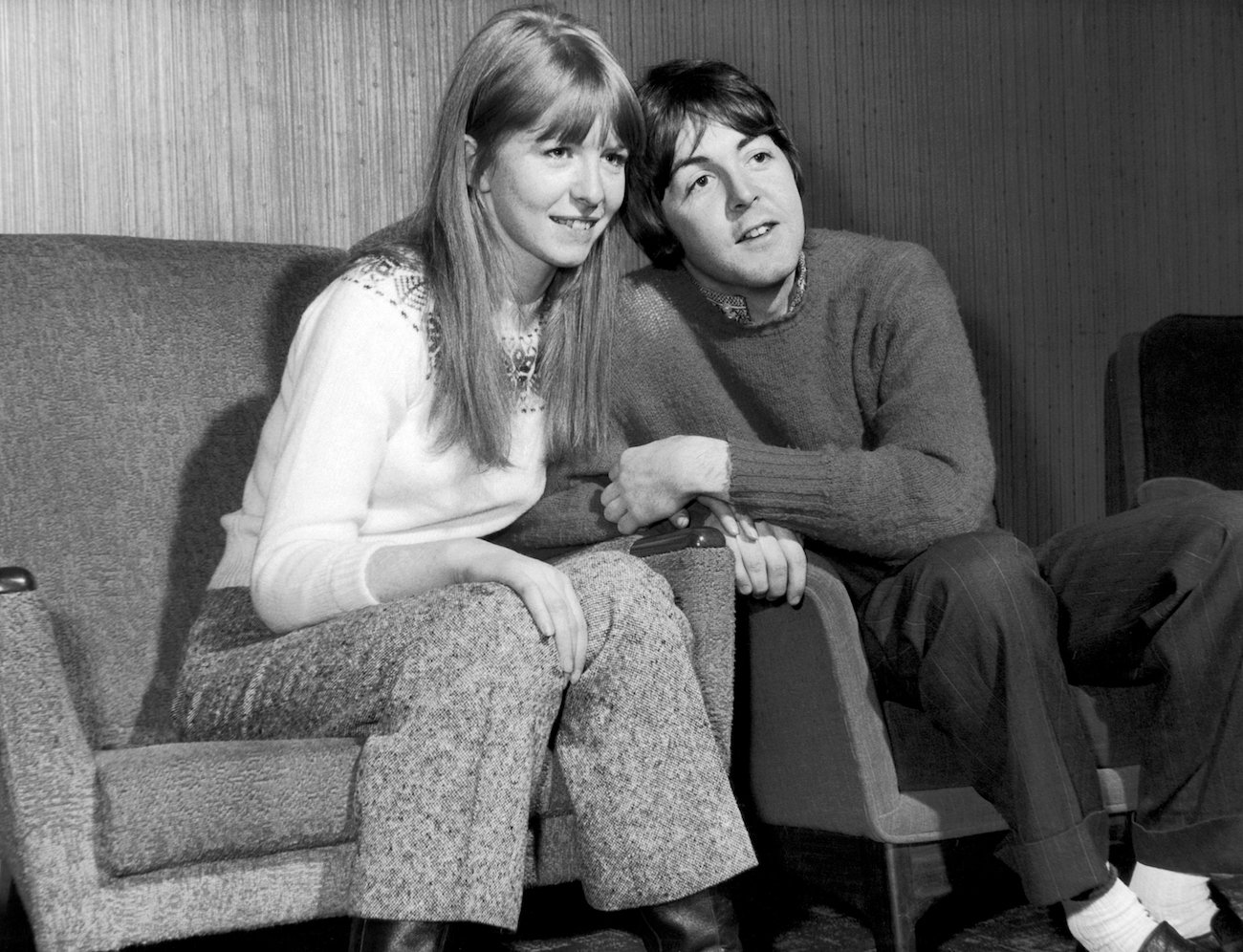 How did Paul McCartney meet Jane Asher?
After The Beatles released their single "Please Please Me" in 1963, Jane Asher met the band at the Royal Albert Hall. Asher was only 17, but she'd already started a successful acting career. According to Express, she was also a panelist on the BBC's "hugely popular and influential" Juke Box Jury, which rated new music.
In an interview, later on, Paul said, "I met Jane Asher when she was sent by the Radio Times to cover a concert we were in at the Royal Albert Hall – we had a photo taken with her for the magazine and we all fancied her. We'd thought she was blonde, because we had only ever seen her on black-and-white telly doing Juke Box Jury, but she turned out to be a redhead. So it was: 'Wow, you're a redhead!' I tried pulling her, succeeded, and we were boyfriend and girlfriend for quite a long time."
According to John Lennon's first wife, Cynthia Lennon, Paul fell like "a ton of bricks" for Asher and was "obviously as proud as a peacock with his new lady. For Paul, Jane Asher was a great prize." Once The Beatles became increasingly more famous, Asher's parents invited Paul to stay in the attic of their West End home. This was where Paul wrote many of the earliest Beatles songs, some written about Asher.
Early Beatles songs were about Paul McCartney's love for Jane Asher
Living in the Asher's attic exposed Paul to many of the Asher's interests. Asher's father was a consultant at Central Middlesex Hospital, and her mother was a professor of the oboe at the Guildhall School of Music and Drama. They had many books that inspired Paul during this time.
However, once they were an item, Asher became Paul's biggest muse. She influenced many of The Beatles' earliest hit songs, including "All My Loving" and "And I Love Her." Paul came up with the former while shaving one day. According to Steve Turner's The Beatles A Hard Day's Night, it was the first song that Paul had written the lyrics before the music. John, who hardly gave Paul praise, called "All My Loving" a "damn good piece of work."
A month before recording "And I Love Her," Asher told the American writer Michael Braun that Paul was "selfish" for not seeing that Asher's feelings for him were real while the fan's love for him was "fantasy." Paul has said he had no one in mind while writing the song, but that's sort of hard to believe, knowing Asher was around.
"I Want to Hold Your Hand" was written on the Asher's piano in their basement, and later on, "Every Little Thing" was also written with Asher in mind. Ironically, the meaning of the song (the man is pleased that his woman would do anything for him) was what made Asher want to leave Paul later on. She didn't just want to be the girlfriend of one of the biggest pop stars of the time.
The Beatles songs inspired by Paul and Asher's relationship troubles
In "Another Girl," Paul talks about having to commit to his long-time girlfriend, but, in the end, he doesn't because he's found another girl. Turner claims that the song could have been talking about Paul's infidelities to Asher at the time.
In 1965, Paul's world in "Every Little Thing" started to crumble when Asher decided to join Bristol Old Vic Company. She had to move away from London just as The Beatles started to record Rubber Soul. The decision split the couple, and Paul's ideals of women (finding satisfaction just from being around him), differed from Asher's. She wanted to establish her own career, and Paul didn't like that. So in the way of pleading with Asher to see it his way, Paul wrote "We Can Work It Out."
"You Won't See Me" was another song off the album that reflects on what Paul was going through with Asher, who was avoiding him, as was "I'm Looking Through You." Paul later said it was "shattering" being without Asher, so he wrote the bitter song. It helped him get rid of some "emotional baggage," even though the song talked about accusing the woman of taking her love back overnight.
RELATED: The Object of Paul McCartney's Affection in the Beatles' 'Martha My Dear'
Paul and Asher broke up in 1968
During Revolver, things between the couple started to look up again. Paul began writing love songs for Asher again, including "Here, There, and Everywhere," although another song on the album, "For No One," was about another argument with Asher.
In 1968, the couple announced they were getting married, but Paul started dating other women while Asher was away working. She called off the engagement, and by the time Paul wrote "Martha My Dear," he was already dating Linda Eastman. However, it's interesting that these classic Beatles songs were written about one woman, who often put Paul in his place. She shaped him and his music. Without her, we might not have gotten some of the best love songs ever.