Paul Rudd Says He Feels 'Pressure' on Every Marvel Movie: 'You Don't Want to Be the Weak Link'
Paul Rudd plays Scott Lang, aka Ant-Man, in the Marvel Cinematic Universe. A seasoned actor upon joining the MCU, Rudd had already made millions in the entertainment industry when he first suited up as Ant-Man. Even though he's fully immersed in the MCU today, he still gets nervous filming a new installment in the franchise.
Keep reading to learn more about the actor's first day on the set of Captain America: Civil War and how he deals with the pressure of playing a superhero.  
Paul Rudd makes his debut as Ant-Man in 2015
Born in New Jersey, Marvel fans get their first taste of Rudd as the famous comic book character in 2015's Ant-Man. Lang is a reluctant criminal who can, as his alias suggests, shrink down to the size of an ant. He can also keep his superhero strength when he transforms.  
Ant-Man opens in theaters shortly after the premiere of Avengers: Age of Ultron, taking the Avengers movies one step further in the epic franchise. In 2018, Rudd stars in Ant-Man and the Wasp, another stand-alone movie about his MCU character. 
He says he feels 'pressure', doesn't 'want to be the weak link'
In a June 2020 video chat for Variety, Rudd and his MCU co-star Chris Evans, aka Steve Rodgers or Captain America, talked about their careers. Discussing both Ant-Man and Cap, Rudd shared he feels "pressure" in MCU movies playing a lesser-known character. 
"There's pressure at every single movie you're making in the Marvel world," he told Evans. "You don't want to be the weak link."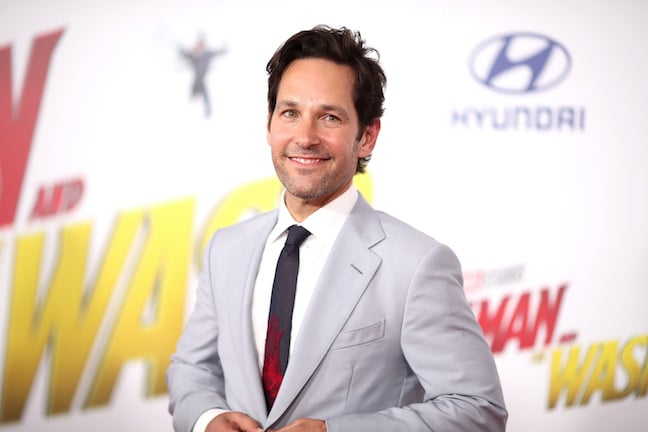 He continued, recalling how people react when he tells them about Ant-Man.
"A character like Ant-Man, yeah, very few people knew," he said. "They'd say, 'Well, what does Ant-Man do?' And I'd say, 'He can shrink to the size of an ant, but he also retains strength, and he can control ants and talk to ants.' And people would just laugh."
Thanks to Rudd's portrayal of Ant-Man, the character is more widely known today than in 2015 when Ant-Man first hit theaters. 
Paul Rudd recalls feeling nervous about meeting his 'Captain America: Civil War' co-stars
After suiting up to play Ant-Man for the first time, Rudd reprised the role in 2016's Captain America: Civil War. During his conversation with Evans, he admitted to feeling nervous around his fellow MCU actors, whom he'd just met for the first time. He explained how he channeled his own feelings into his character. 
"And there was a real kind of nervousness about Scott Lang, and I just really kind of played into that because that was part of what I was feeling anyway," Rudd said. "I'd look around and think, 'Whoa, there's Chris Evans and there's Sebastian Stan, and wow — and there's the suits.'" 
He also recalled a moment in a "makeshift locker room" where he looked around in awe at the costumes. 
"We're all kind of changing into things, and I saw the suits on the racks," he said. "It felt like being in a locker room of a Super Bowl-winning football team."
What's next for Paul Rudd and Ant-Man? 
Rudd currently stars in the Netflix original series Living With Yourself. He plays two characters, a man and his clone. As for the future of Ant-Man, Rudd isn't divulging any details. When asked by Evans about the possibility of Ant-Man3, Rudd didn't offer up any hints.
We'll have to wait and see what the future holds for Rudd and Ant-Man.