Paul Rudd Has Never Been Shy About His Love for the Kansas City Chiefs
Paul Rudd is known for being one of the most likable actors in Hollywood. Whether he's starring in one of Judd Apatow's comedies or as the Marvel Cinematic Universe's hero Ant-Man, he always gives you the feeling that he'd be a great guy to hang out with. 
While people may think they know Rudd from his movies, they may not know that in his personal life, he's actually a rabid Kansas City sports fan. That's something he's never been particularly quiet about, and it paid off for him in a big way this past January.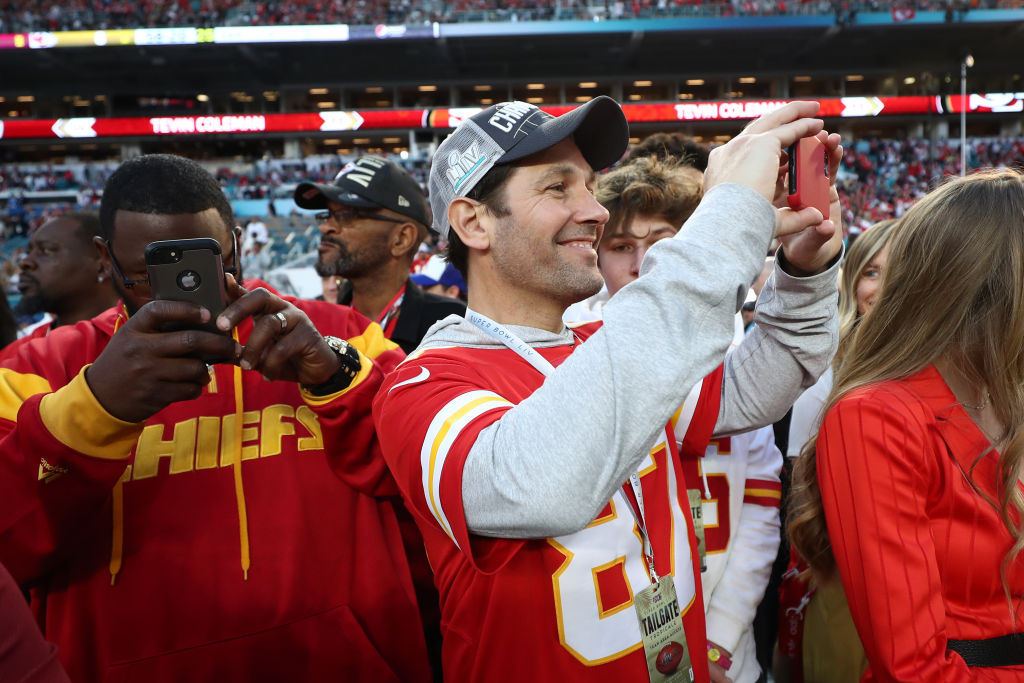 Paul Rudd grew up in Kansas City
Rudd may be a big time movie star now in LA, but he came from humble beginnings. KansasCity.com reported that Rudd told Late Show host Stephen Colbert that he spent his formative years in Kansas City from the ages of 10-20.
Rudd's connection to the city remains as he still supports their sports teams. He also helps organize an annual event known as the Big Slick fundraiser meant to promote Kansas City's Children's Mercy Hospital. The event regularly features Rudd and other performers such as Rob Riggle, Jason Sudeikis, David Koechner, and Eric Stonestreet.
According to Rudd's interview on the show, it's only grown in the near-decade he's been involved: 
"This is an amazing hospital and we've done it now for nine years and every year it's gotten bigger and bigger."
Rudd also attended the University of Kansas. His love for the Kansas City area has become apparent as he's gotten more famous as evidenced by his support of their sports teams. 
Love of the Kansas City sports teams
As someone who grew up near Kansas City, Paul Rudd learned to support the local teams while he was there. That support has extended throughout his adult life.
He's a passionate Royals and Chiefs fan. He's so much of a Chiefs fan, SB Nation reported that he wore a blazer with Patrick Mahomes' last name and number to an NFL Honors event. 
Rudd's first taste of championship success came in 2015. Vanity Fair reported that he celebrated on-field with the Royals after they won the 2015 World Series over the New York Mets.
After one World Series game, Rudd even invited fans over to his mom's house for a kegger — an invitation which many took him up on. 
The ultimate moment for Chiefs fan Paul Rudd
One of the greatest moments of Rudd's life as a sports fan had to come this last season. Rudd was on hand to witness the Chiefs come from behind victory to defeat the San Francisco 49ers in the Super Bowl.
According to Sports Illustrated, Rudd was even able to celebrate on the field with the team following the game much like he did with the Royals. Rudd got to greet many of the players, including Patrick Mahomes. He also got to have a turn holding the Lombardi Trophy, albeit briefly. During the celebration, Rudd wore a Travis Kelce jersey. 
It had to be an amazing moment for Rudd. He may not have had much to do with the Chiefs' on-field success, but he was certainly vocal about his love of the team off of it. Rudd isn't known for being flashy — he doesn't seem to flaunt his wealth excessively or appear at all the hottest parties.
But he did flex here, using his celebrity to get on the field after the Chiefs had won. And who could blame him? Any true sports fans in his position would have done the exact same thing.