'Peacemaker': When Do New Episodes Drop on HBO Max? Episode 4 Release Date and Time
Peacemaker has officially landed on HBO Max, and the DC show is already stirring up excitement online. On the heels of James Gunn's The Suicide Squad, viewers are eager to know what happens to John Cena's character next. The first three episodes set the stage for another high-stakes mission, but what's the release date for Peacemaker Episode 4?
[Warning: This article contains minor spoilers for Peacemaker Episode 3.]
The first 3 episodes of 'Peacemaker' set up a new mission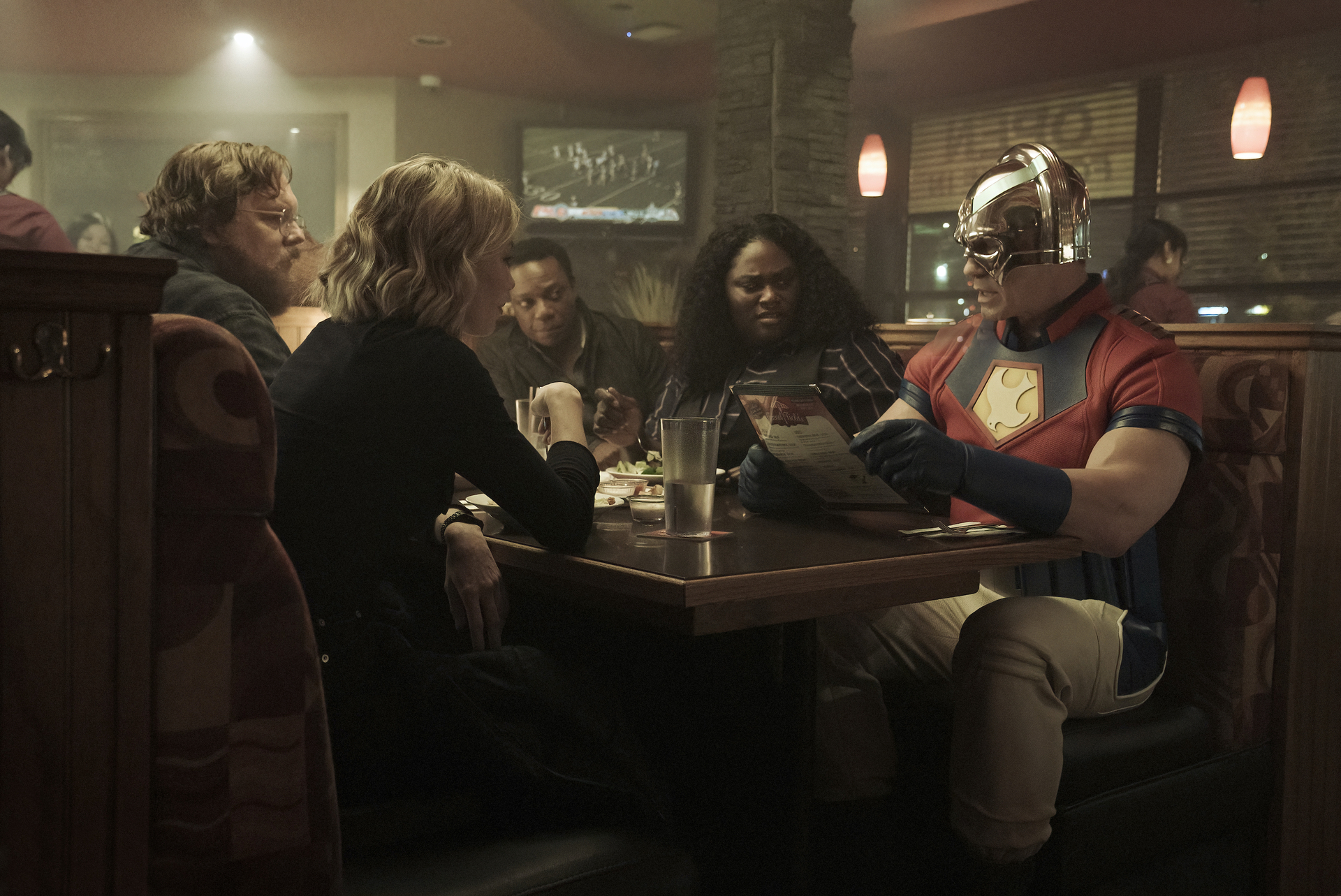 RELATED: 'The Suicide Squad': James Gunn Shares BTS Video of the Time He Made John Cena Eat 36 Empanadas
The first three installments of Peacemaker premiered on HBO Max on Jan. 13, and they set up a new mission for several of the DC characters introduced in The Suicide Squad. Not only is John Cena's Christopher Smith back, but Emilia Harcourt (Jennifer Holland) and John Economos (Steve Agee) are part of the show's new task force. Under the guidance of Clemson Murn (Chukwudi Iwuji), they've put together a team — one Peacemaker needs to join to stay out of prison.
The group is searching for Butterflies. And although these beings are at the center of Peacemaker's latest mission, viewers only learn so much about them in the early episodes. Things become clearer in Peacemaker Episode 3, so episode 4 might elaborate on what they are and where they come from.
What we do know is that Butterflies inhabit human bodies. Of course, the insects in their heads and their atypical behavior suggest they aren't quite human at all.
Now that Peacemaker and Vigilante (Freddie Stroma) have had a close call with the Butterflies, episode 4 should see them learning more about the creatures. When can fans expect it?
'Peacemaker' Episode 4 release date and time
New episodes of Peacemaker will drop on HBO Max every Thursday, with the count for season 1 totaling eight. Each installment will hit the platform at 12 a.m. PT, or 3 a.m. ET.
Courtesy of Decider, here's the full schedule for DC's Peacemaker, which looks to conclude mid-February:
Episodes 1-3: Jan. 13
Episode 4: Jan. 20
Episode 5: Jan. 27
Episode 6: Feb. 3
Episode 7: Feb. 10
Episode 8: Feb. 17
Whether the DC series will set up another show or film remains to be seen, but James Gunn told Screen Rant he's eager to work with these actors again. He's also hinted at more DC projects on the horizon. But what else can viewers expect from future installments of Peacemaker?
What else fans can expect from the HBO Max show
Episode 4 of Peacemaker is titled "The Choad Less Traveled" — and although that doesn't tell us much about the plot, it's probably safe to assume the show's task force might have to take the road less traveled in the coming installment.
What that means isn't entirely clear. For a group of agents accustomed to killing, it could be as simple as addressing Peacemaker and Leota's (Danielle Brooks) reluctance to pull the trigger.
The trailers for the HBO Max series have also teased a change of heart for Chris Smith, something TV Promos' preview for next week's installment also alludes to. The footage promises that officers Sophie Song (Annie Chang) and Larry Fitzgibbon (Lochlyn Munro) will catch up to the gang as well. That could lead to some awkward questions given the whole alien twist.
Fans will need to tune in next Thursday to see how Peacemaker's task force fares. In the meantime, they can enjoy the first three episodes all over again. All of them are currently streaming on HBO Max.
RELATED: John Cena: How Old Is the 'Peacemaker' and 'The Suicide Squad' Star?