Pearl Jam's Vision of Earth in Pain Comes to Life in 'Retrograde'
Pearl Jam's single "Retrograde" dives deeply into the core foundation of the planet's backlash against humanity's abuse. The band brings to life the continuous warning that if humans refuse to care for the planet, the planet will no longer care for humans.
While climate change has become increasingly important, the pandemic may be the first taste of what could come if humans don't act immediately. Scientists have warned that climate change plays a part in the increase in infectious diseases. This makes the timing of this song so poignant.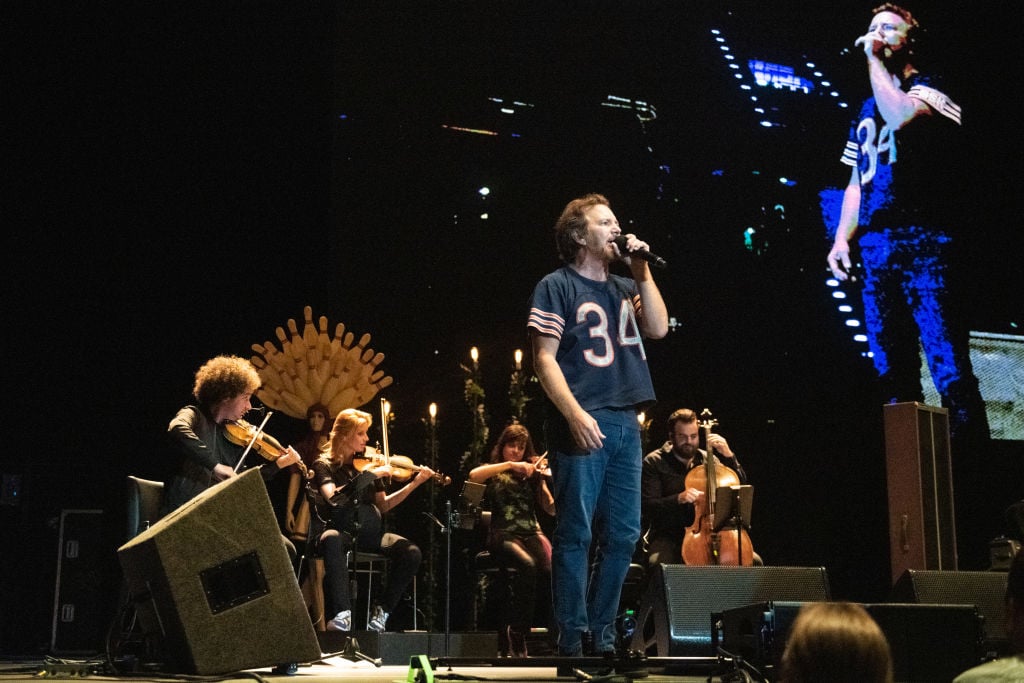 To further tell their story, Pearl Jam tapped Emmy-award winning filmmaker Josh Wakely to create a video that drives home the environmental threat all humans face. Ironically, Wakely was ready to shoot the live-action video when COVID-19 took a stranglehold on the world. Production had to shut down. But Wakely's genius took over as he pivoted to a final video animation art form, which he says ultimately exceeded his original expectations.
Wakely shared his process with Showbiz Cheat Sheet. This included a global effort of orchestrating actors, cinematographers, and artists throughout the world, working in concert to produce the final product. He even managed to feature a special cameo by environmentalist, Greta Thunberg, who plays a pivotal role.
Wakely almost had to abandon the project
Months of scriptwriting and preparation were in progress for the video and the pandemic hit only days into the project. "The guys from Pearl Jam and myself were talking about me doing the video," Wakely recalls. "Then having dialog for six months and then trying to work out a creative idea we were all happy with and worked with our schedule. I was absolutely enamored with the song 'Retrograde'."
Wakely originally planned to create a live-action film. "I took it in on a Tuesday and then it was the whole COVID thing [hit] Thursday. Like the world was shut down."
He wrestled with how to proceed. Wakely thought he'd have to abandon the project, considering it was going to be mainly created using live-action.
But he dove in headfirst out of love
Wakely says he has a 30-year love affair with Pearl Jam. "A band I've admired and it's really an unusual relationship where I was a very genuine and deep fan," he says smiling. "The first date with my wife was to go see a Pearl Jam concert and now they've become friends and colleagues. So the idea of letting the band down saying 'I don't know how to do this' [was unfathomable]."
So headfirst he dove, assuring the band he and his teams of animators and actors would still bring "Retrograde" to life. "In the end, the cinematographer of the live-action shoot is also the actor [in the video]," Wakely shares. Adding that the actor, who is featured as a man seeking to learn his fortune in a rainstorm, had his partner film his segments since they were in quarantine together.
Wakely tapped into talent throughout the world, working with animators from London to Los Angeles. "In the end, we found some ways the music video became better," he says. "Because we had every artist available, it felt like, in the world."
'Retrograde' also featured climate change activist Greta Thunberg
The video follows a man's dark journey to a fortune teller, who shows him the dystopian future of floods, famine, and death. The man gazes horrified into the crystal ball with shock and sadness. The fortune teller's identity is then revealed as being climate activist Greta Thunberg.
"I wrote her from the very beginning as the fortune teller being Greta," Wakley remarks. "I was literally electrified by her speech to the U.N. And I kind of thought it was punk rock in its sensibility where she said, 'How dare you?' And she was asking it in this sort of extraordinarily pure way, like, 'How dare you wage your present against my generation's future?'"
Although his vision was Thunberg as the clairvoyant, he hadn't gotten in touch with her. "But the extraordinary thing is you can't really show someone the animation until it's done," he says. He took a significant gamble because he gave Thunberg the right to veto the project if she didn't like it. But, "She wrote back a lovely message saying she's inspired by it and we had that connection. I feel very proud to have her involved. I think history will judge her very kindly."
"Retrograde" by Pearl Jam can be viewed on YouTube.