Peloton Star Jess Sims Says Being a Dog Parent Could Be the Best Way to Stay Active
Peloton trainer Jess Sims couldn't be more in love with her rescue pups Shiloh and Sienna Grace and shared that just being a dog mom helps her stay in shape. She recalled a conversation she had with a friend who hadn't left the house for days during the pandemic. Sims said when you are a dog owner, you have no choice but to get moving and get outside.
Dog parenthood gets you up and outside exploring nature
"I was just saying to someone else earlier today is over the pandemic, and I would talk to my friends and they would ask what's the weather like, I haven't been outside in four days," Sims said to Showbiz Cheat Sheet. "And I'm like what do you mean? Because to me, I only had Sienna last year. But I'm out with her four times a day. And even more so during the pandemic. And I'm like wait, what?"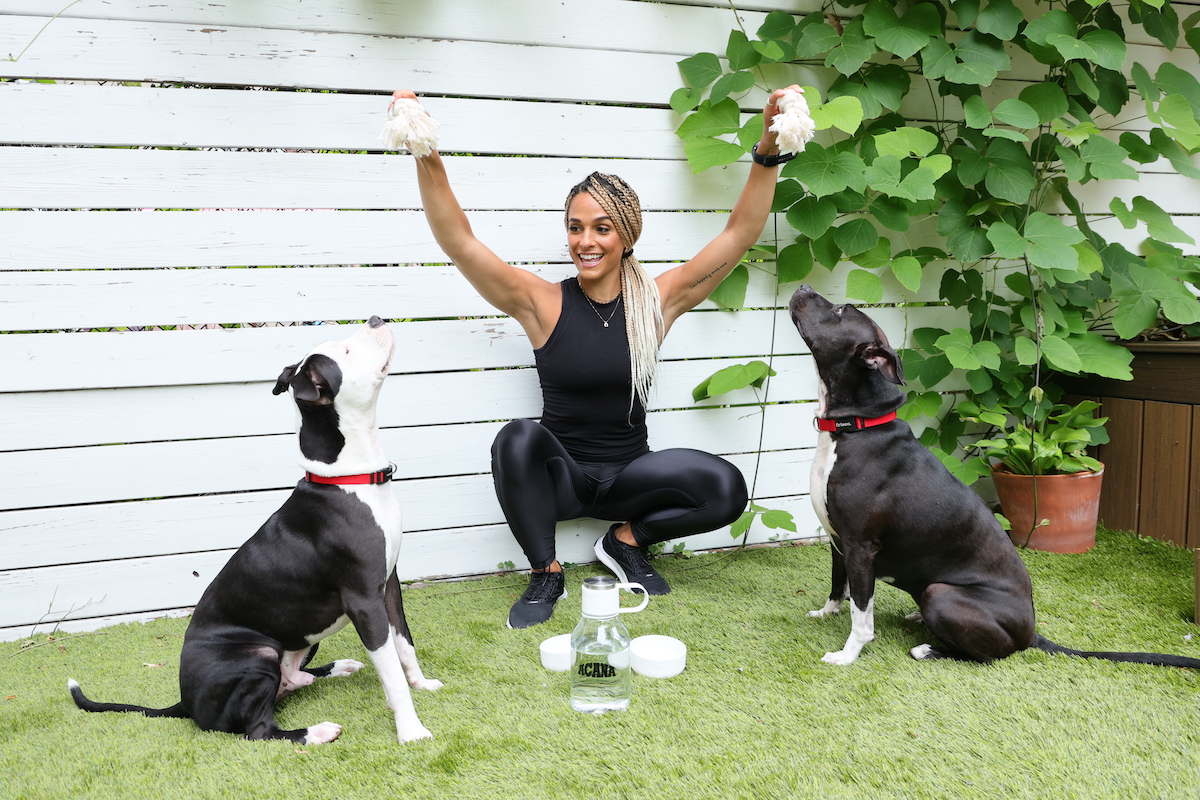 "But I'm like, wow, because I have a dog, it forces me to exercise," she continued. "Gets my butt up and out of my chair, off Zoom. And it helps me get into nature. And I'm such an overthinker and such a busy body. I'm constantly doing a million things. But I really try to make a vow to myself and to my dogs is when I take them out for a walk it's phone-free."
Jess Sims loves to see the world through her dogs' eyes
She discussed the mind-body connection that comes with simply walking your dog. "There's nothing that brings me more joy than seeing the world through Sienna and Shiloh's eyes," she remarked. "You know, the grass and what they smell. What they see, other dogs, and how they play with them. And I'm just so grateful for them specifically in the last year and a half."
Sims also walks both dogs at the same time, which takes some extra physical strength since her pups are young pit bull mixes. She says both dogs are well trained and she continues to work with them so she can take them both for a walk. "Shiloh needed to be trained more than Sienna," she said. Shiloh is still a puppy at 11 months old. Sienna is four years old. "Sienna knows her basic comments, sit, stay … all of that. But when I was working with my dog trainer who was like, 'You gotta take them out separately because Shiloh needs to know you are just talking to him.'"
That meant that Shiloh and Sims got a few extra walks. "You also have to stimulate the mind," she said. "They need to be thinking and they need to exhaust themselves mentally as well as physically."
Jess Sims also partnered with ACANA pet food
Sims is just as focused on nutrition as she is on fitness. That's why she partnered with ACANA pet food to meet her furbabies' nutritional needs. And as a mom of two rescue dogs, she was thrilled to work with the brand to help with the launch of ACANA Rescue Care for Adopted Dogs; a first-of-its-kind dog food formulated specifically for the transition of dogs from shelter environments to their new forever homes. "It just clicked, it made sense," she said about the partnership. "There's simple, super great ingredients."
"So when you get the dog food, yes you get amazing food," she continued. "My Sienna has food sensitivities. I was a little nervous wondering if she was going to like it. She lives for it. And you get a bunch of resources." Plus, "There's going to be a master class with their in-house senior veterinarian," she said. The master class will be held on Aug. 25.