Pentatonix: Which Christmas Songs Are Included in the Upcoming Release 'Evergreen'?
It's been a long, long time since Pentatonix embarked on a holiday tour — or released a holiday-themed album. Recently, this band announced their upcoming release, Evergreen, and revealed it would include 13 tracks. 
Here's what we know about some of the festive songs performed by the Grammy Award-winning "choir nerds."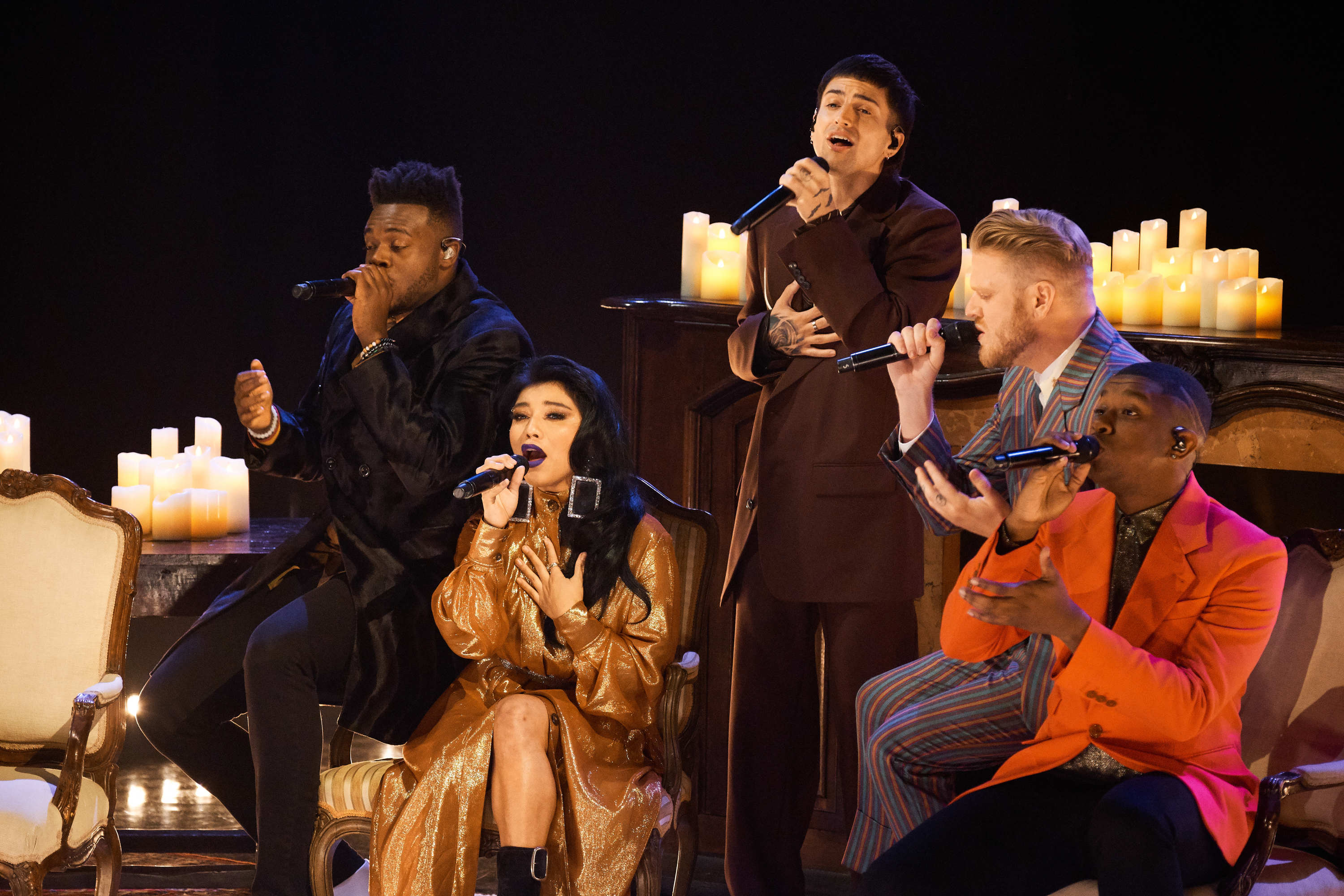 Pentatonix returns with a Christmas tour and holiday album, 'Evergreen'
They're known for their medleys, covers, and holiday hits. Pentatonix's "Mary Did You Know" holds over 100 million Spotify plays. Their remake of "Do You Hear What I Hear" even featured the voice of Whitney Houston. 
"Dance Of The Sugar Plum Fairy" earned this band the Grammy Award for Best Arrangement, Instrumental, or A Cappella. In 2021, Pentatonix returns with another holiday album, complete with featured artists and music videos starring the five members. 
Evergreen will premiere on Oct. 29, and Pentatonix will embark on its holiday tour later during 2021. In the meantime, fans took to social media to play a guessing game with the a capella group. 
Pentatonix had fans guess the 'Evergreen' tracklist
Evergreen is set to debut on Oct. 29. However, this a capella group offered a sneak peek into their upcoming album on their social media accounts. Similar to the Christmas Is Here release, there was a game for fans to discover which holiday songs are included. 
"Starting today, we'll be revealing the tracklist to each song off of our upcoming album Evergreen in the form of emojis! The first two tracks coming to you today. Up for the challenge," Pentatonix tweeted in October 2021.
The subsequent thread was full of colorful emojis, each detailing the new Pentatonix holiday hits. The potential tracklist, based on which guesses were confirmed by the a capella group, includes "It's Been a Long, Long Time," "Wonderful Christmastime," "I Saw Three Ships," "Frosty the Snowman," "The Prayer," and "I Just Called To Say I Love You."
Other fan-guessed (but not confirmed) tracks include "Home For the Holidays," "O Christmas Tree," and one song featuring violinist Lindsey Stirling. Track 9's clue (a snowman) led some Twitter users to guess either "Frosty the Snowman" or "Do You Want To Build a Snowman" from Disney's Frozen.
Pentatonix already released their first single off of their 2021 album, 'Evergreen'
Ahead of Evergreen's release, Pentatonix debuted a teaser for "It's Been a Long, Long Time" along with their tour announcement. 
October also brought the release of "I Just Called To Say I Love You," the group's Stevie Wonder cover, and its corresponding music video. Since its Spotify debut, this single earned over 400,000 plays. 
Evergreen by Pentatonix is available on most major music platforms beginning on Oct. 29. Until then, already released Christmas songs, including "Thank You," and "That's Christmas to Me" are available on streaming services like Spotify and Apple Music. To learn more about Pentatonix's upcoming tour, visit their website.