Is Pentatonix in 'Pitch Perfect'?
Pentatonix is the award-winning a capella group behind songs like "On My Way Home" and "That's Christmas To Me." It only made sense that they would appear at an international singing competition alongside the fictional Barden Bellas.
Here's what we know about this band's cameo in Pitch Perfect 2.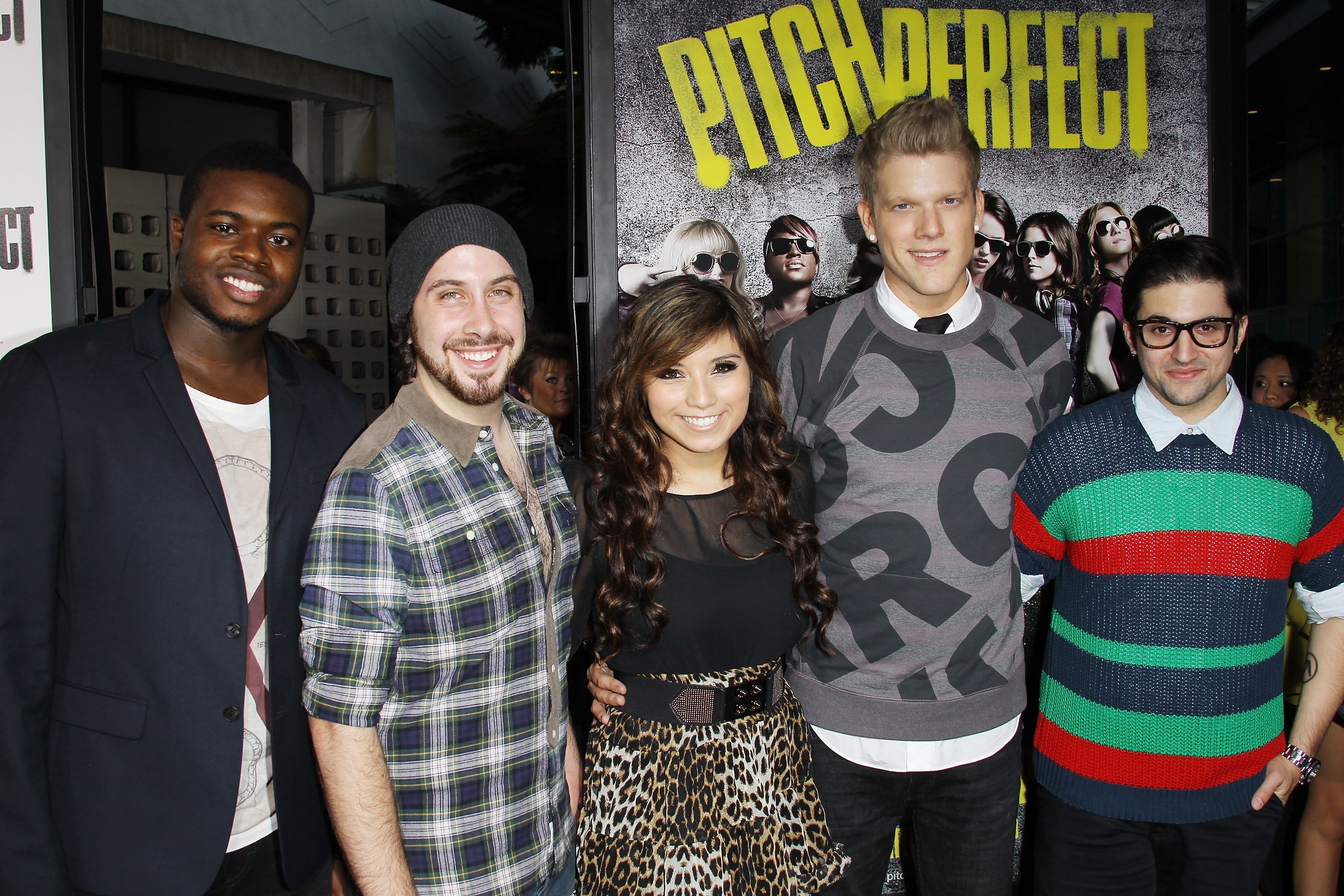 'Pitch Perfect' is a movie about the Barden Bellas and their journey to the ICCAs
The original Pitch Perfect told the story of one all-female, a cappella group with dreams of attending and maybe even winning the ICCAs. When a wannabe DJ named Becca joins the team, she threatens years of tradition with fresh ideas and arrangements. 
Is that enough for these aca-losers to snatch the trophy? Evidently, it was enough. The Barden Bellas returned for the second Pitch Perfect film. Instead of challenging their college's groups, they competed on a large stage as the reigning champions of the ICCAs.
Several other a cappella groups appeared in this movie, although some were fictional. The actual Grammy Award-winning band of "choir nerds," Pentatonix, made an appearance during this comedy.
Pentatonix appears in 'Pitch Perfect 2'
The Pentatonix members, including Scott Hoying, Mitch Grassi, Kirstin Maldonado, Kevin Olusola, and Avi Kaplan, portrayed themselves in this film, even recording a song to play in the background while the Garden Bellas assess their new, international competition. (Kaplan later took a step back from the a capella group to spend time with family. Matt Sallee then assumed the role of the bass in the band.)
Pentatonix's version of "Any Way You Want It" also appears on the special edition original soundtrack for Pitch Perfect 2. Since being published on the streaming service, this track earned over 2 million plays from fans.
"Our fans were really petitioning to get us into the movie, but also we had a lot of connections to people that were working on it as well," Grassi said during an interview with Seventeen of how their cameo came to fruition. "The people that worked on The Sing-Off worked on Pitch Perfect, too."
Pentatonix appeared in several other television and film projects, including 'The Wonderful World of Disney'
Outside of their appearance in Pitch Perfect 2, this a capella group appeared in several television-related projects. They performed "Problem" during the Disney Channel original series K.C. Undercover. They also starred in several holiday specials, some featuring Dolly Parton, Kelly Clarkson, and Reba McEntire.
Of course, Pentatonix is known for its unique and innovative songs, including its Grammy Award-winning "Daft Punk" medley. Their version of "Hallelujah" currently holds over 260 million plays on the music platform Spotify.
Music by the award-winning group, Pentatonix, including their albums That's Christmas to Me and A Pentatonix Christmas Deluxe are available on most major streaming platforms. That includes Apple Music and Spotify.
RELATED: Scott Hoying From Pentatonix's 'Let's Go Live' Song Perfectly Sums up How We're All Feeling Right Now