When Does Pentatonix's New Christmas Album, 'Evergreen,' Premiere?
This award-winning a capella group is back with another holiday album, this one even featuring a Stevie Wonder song. Here's what we know about Pentatonix's 'Evergreen.'
October may be time to celebrate Halloween. Some Pentatonix fans, though, shared that they "need a little Christmas," and this a capella group was happy to oblige.
Just months after the release of The Lucky Ones, the music group announced a new holiday album, Evergreen, debuting in 2021. Here's what we know about the upcoming release.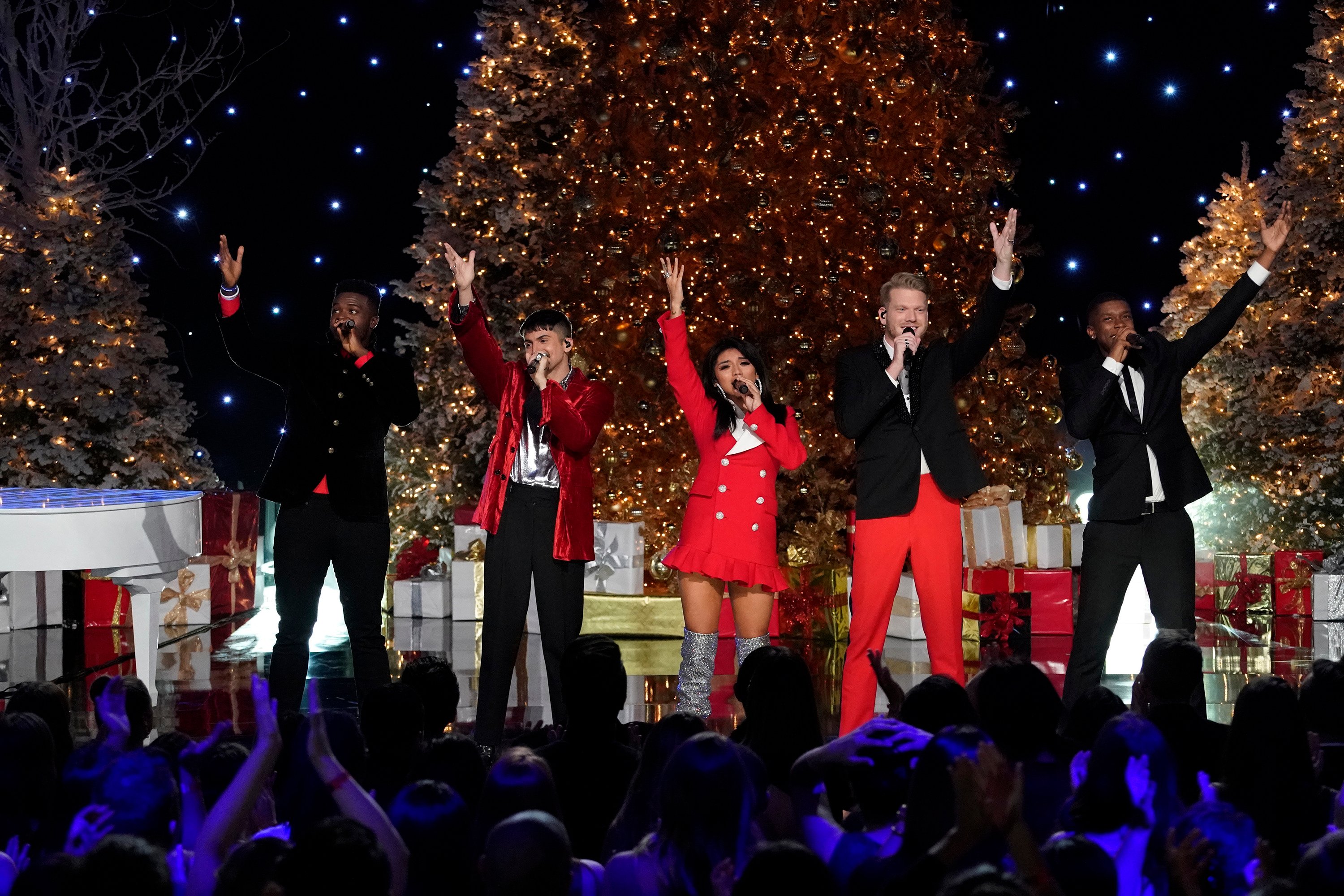 The Grammy Award-winning a capella group, Pentatonix is releasing a new holiday album
Mitch Grassi, Kirsten Maldonado, Scott Hoying, Kevin Olusola, and Matt Sallee are known for their unique and inventive a capella music, released as the band Pentatonix. Together, they performed at Walt Disney World and even had a cameo in Pitch Perfect 2.
Some of Pentatonix's Christmas music also earned recognition from award ceremonies and fans worldwide. Their version of "Dance Of The Sugar Plum Fairy" earned the band the Grammy Award for Best Arrangement, Instrumental, or A Cappella.
After months of being socially distanced from fans, Pentatonix returns with another holiday album, and its corresponding tour, during 2021. This album, entitled Evergreen, promises new covers of longtime favorite holiday songs.
Pentatonix announced their upcoming holiday album 'Evergreen'
It's been a long, long time. After months of anticipation, this a capella group announced their upcoming album, titled Evergreen, which debuts on Oct. 29, 2021. Most of the songs included in this album are still a mystery. 
Ahead of its release, Pentatonix debuted two tracks and their corresponding YouTube videos. That was their cover of "It's Been a Long, Long Time," featured in Marvel's Avengers: Endgame and Stevie Wonder's "I Just Called To Say I Love You."
The group did announce several locations for their Evergreen tour, where they will perform holiday favorites along with new tracks from their 2021 album, making stopping in Texas, New Jersey, and across the country.
"It's going to be an Evergreen Christmas with us, Pentatonix, on tour this November and December," Mitch Grassi said during an Instagram announcement. "We can't wait to see all your faces again. Tickets are on sale now. Come celebrate with us."
Pentatonix released several chart-topping holiday songs, including their version of 'Mary Did You Know'
Some know this a capella group from original songs like "Can't Sleep Love" and "Sing." In conjunction with holiday albums, they also released covers of "Hallelujah" and "I'll Be Home for Christmas." 
The band's holiday music videos also earn millions of views on YouTube. Their version of "Mary Did You Know" holds over 100 million Spotify plays. Their remake of "Do You Hear What I Hear" even featured the voice of Whitney Houston. 
Evergreen by Pentatonix is available on most major music platforms beginning on Oct. 29. Until then, already released Christmas songs are available on streaming services like Spotify and Apple Music. To learn more about Pentatonix's upcoming tour, visit their website.