People Are Convinced Jordyn Woods Only Gets Support From Kardashian Haters
When Jordyn Woods kissed Khloé Kardashian's man, she went from a background character in the Kardashian-Jenner circle to a full-blown celebrity in her own right. It's been over a year since the scandal, and much to the Kardashian's frustration, she still hasn't returned to the shadows. In fact, she may be releasing her own music album soon. But despite all of Wood's recent successes, there are some fans who believe she only gets support from Kardashian haters.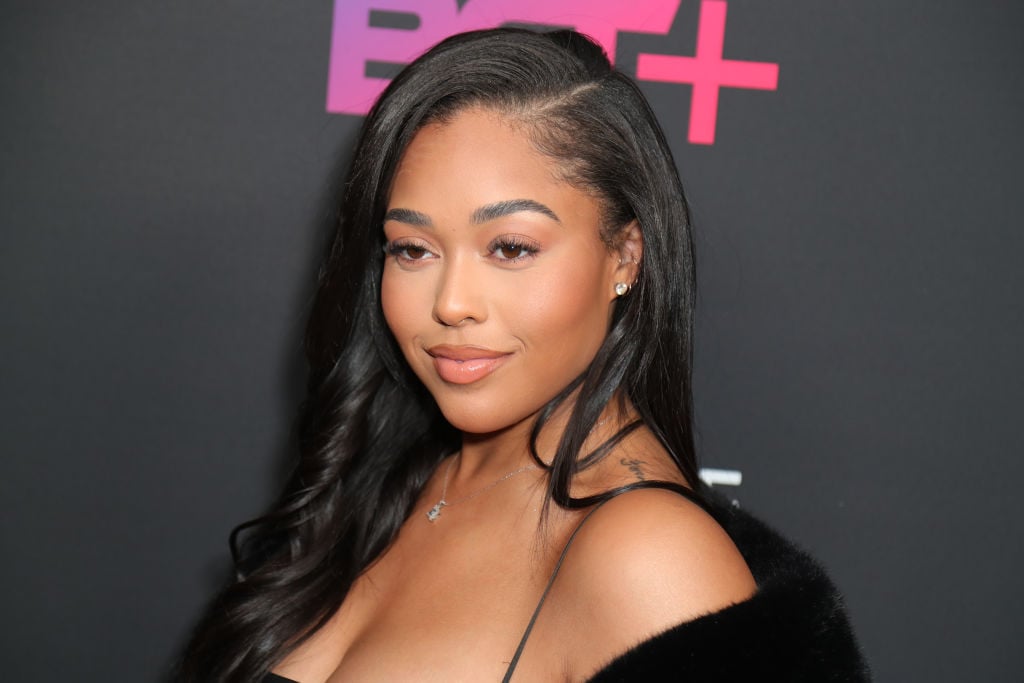 Jordyn Woods has made the best of her scandal
In early 2019, records began to surface that Woods had been seen out with Tristan Thompson, Khloe's baby daddy and long-term partner – also a notorious cheater. Woods later admitted to kissing Thompson but denied anything further. Neither her apology or the fact that Thompson had a record of being unfaithful did anything to convince the Kardashian family that she deserved forgiveness. Kylie Jenner, who was previously Wood's BFF, immediately moved her out of the guest-house, where she'd been staying. Khloé then began trash-talking the former friend of the family online, with full backing from all her sisters. It's safe to say that Woods was out of the elite Kardashian circle. 
But Woods didn't let the scandal get her down. After dealing with a wave of hate from Kardashian fans online, she did the best she could to move on. And in some ways, Woods actually benefited from the scandal. Her fame certainly skyrocketed. Before the scandal, a few fans recognized her from when she would occasionally appear on Life of Kylie. But after the news of her fling with Thompson hit media, everyone was suddenly discussing the Instagram model. 
Jordyn Woods wants to begin a musical career
Over the last year, Wood's fame has diminished very little. Last month, she even appeared on the reality show, The Masked Singer, as the bedazzled Kangaroo. Although she had never sung in public before, the judges loved her performance and offered plenty of praise. The experience encouraged her to move her career in a new direction- music. After she took off her disguise, Woods told the audience she'd decided to release an album in the future. This was again confirmed during an interview with People. 
"Yes, there will be an album!" Woods said. "Stay tuned for when this is all over [Coronavirus stay-at-home orders] and I can actually get to the studio to record the music I've made."
The public believes Jordyn Woods only gets support from Kardashian haters
Even with all the success Woods has seen over the last year, some are convinced that she only gets attention from people who want to see the Kardashians taken down. This was made apparent during a recent Reddit discussion. 
The topic was brought up by a user named trapbae2000, who wrote, "…Everyone supports her for getting these brand deals and opportunities she didn't [have] when she was friends with Kylie and brand her as unproblematic when she probably wouldn't even be booking … if she didn't gain clout from the sisters…"
Another user agreed but took the observation even further. "People root for Jordyn not because they genuinely care for her but because they like anyone that goes against the Kardashians," maui_punch wrote. 
Others offered an opinion about why the public would want to turn against the Kardashians to support Woods. "I think part of it is because the Kardashian tried so hard to make it solely Jordyn's fault, so that made people mad," kaykenner54 wrote. 
Woods may have some musical talent, but it hasn't escaped the public's attention that her opportunities are coming much easier as a result of the scandal. "…She [is] young and I guess she can just do her but I think [she] gets far more credit than she deserves," ladybunsen wrote. 
There are young women all over the world with musical talent, but most have to work hard for years to get noticed by the industry. Woods recently sang for the very first time in public, and she already has a record deal (or so we assume from the way she's talking).
There's no doubt that her association with the Kardashians has given her some major opportunities that otherwise wouldn't have been available. Some people may support Woods just because they dislike the Kardashians, but in doing so, they're creating someone who (let's face it), acts just them. So, what's the point?