People Are Convinced Kourtney Kardashian's Relationship With Scott Destroyed Her
Kourtney Kardashian had her fair share of ups and downs throughout her life. For over a decade, the oldest Kardashian sibling had almost every aspect of her life documented and showcased for the world to see and it is no secret that she has struggled with being in the spotlight. While she has been coming to terms with her newfound fame, many fans have thought that her family didn't treat her very well while she was dealing with the stress and drama in her life.
Her immediate family members aren't the only ones who faced criticism for treating Kourtney poorly. Many fans think that her ex and father of her children, Scott Disick, also hasn't treated Kardashian very well. And many fans are now saying that it was her relationship with Disick that caused her to drastically change her personality for the worse.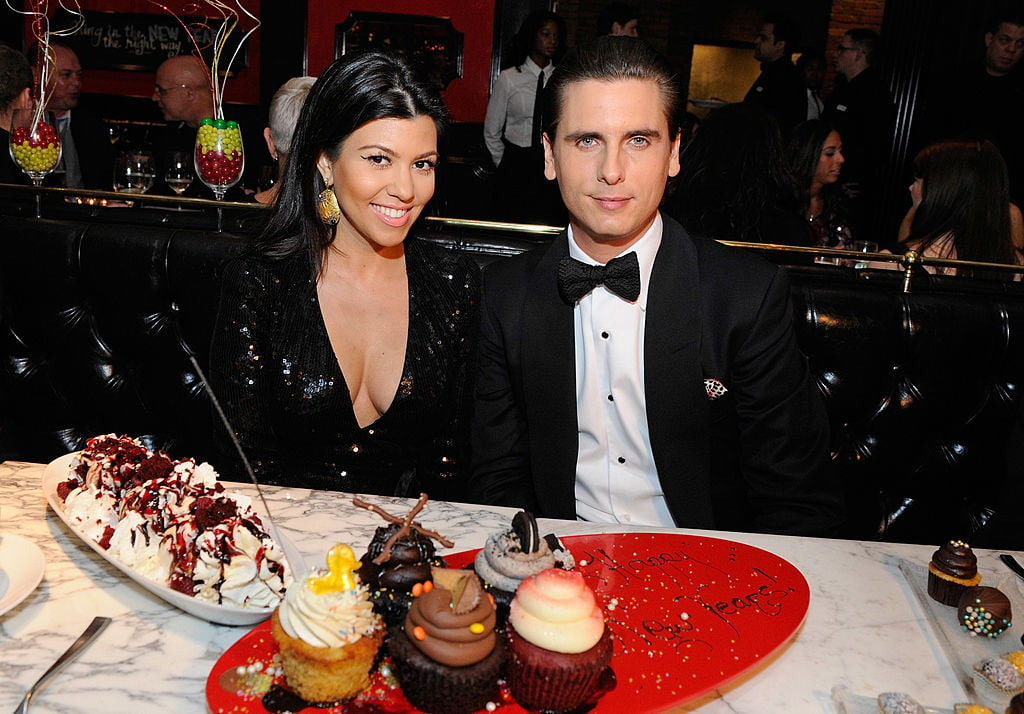 When did Kourtney Kardashian and Scott Disick start dating?
Kardashian and Disick's relationship was rocky from the start. They met at a party at Joe Francis' (the creator of Girls Gone Wild) house and Kourtney was less than impressed. She had once said on an episode of Keeping Up with the Kardashians that when she first met Disick, she thought he was immature and was turned off by the fact that he did not have a job.
He eventually wore her down with his charm and dashing good looks, and before she knew it, she and Disick were in a monogamous relationship. And about two years after they started dating, they welcomed their first child, Mason, back in 2009.
Between the rumors of Disick cheating and then developing a drinking problem, the couple faced some serious bumps in the road during their relationship and had broken up and gotten back together several times throughout their 10-year relationship.
Does Kourtney Kardashian have a good relationship with Scott Disick now?
Kardashian and Disick called it quits for good in 2017. They each have moved on to new relationships with much younger people. Disick has been in a serious relationship with Sofia Richie for the last two years. And Kardashian started up a relationship with a young model named Younes Bendjima shortly after splitting up with Disick. Kardashian and Bendjima have since broken up, although some fans believe that the two may actually have secretly gotten back together.
After Disick started a relationship with Richie, his life has seemed to change for the better. He no longer goes out to the clubs and parties every night, he has overcome his drinking addiction, and he is a much more hands-on dad to his three kids. Kardashian and Disick do a really good job of co-parenting their kids. Though they still have the occasional disagreement, for the most part, the two seem to be on the same page and Disick still has a good relationship with the entire Kardashian-Jenner family.
Why do fans think that Kourtney Kardashian's relationship with Scott Disick destroyed her?
On a recent episode of Keeping Up with the Kardashians, fans got to see Kardashian struggle with the fact that she was turning 40 years old. Right before her 40th birthday party, Kardashian was seen crying and having a lot of anxiety about turning a year older.
On a recent Reddit thread, fans were discussing Kardashian's meltdown over her birthday and how she seems to not be as happy and outgoing as she once was, and they came to the conclusion that Disick was the reason why Kardashian seems so unhappy nowadays.
One fan wrote: "She hit 40 and realized that her time for more children was running out and she was not married or in a relationship (then got back with Younes). The girls have said a few times they are glad they only had 1 baby daddy. But Kourt can't have any more kids with Scott because he's in a serious relationship. She always says she would have more kids with him because they made great kids but her chance is gone."
The fan also went on to say that Kardashian may be upset with Disick because she spent the better part of a decade trying to get him to change and be more of a family man, but he never seemed to get his act together until he started dating Richie and Kardashian is probably wondering why he was able to change for Richie but couldn't change for her.