How Many People in Britney Spears' Family Are Named 'Jamie'?
Following her explosive court statement in June 2021, Britney Spears' family is being called on to address her claims against them. For some who haven't followed the case or the #FreeBritney movement too closely, however, it can be a bit confusing, as more than one person bears the name "Jamie." Learn how they're all connected.
Britney Spears' parents are Jamie and Lynne Spears
Britney Spears is the second child of James "Jamie" Spears and Lynne Spears (nee Bridges), born in December 1981. She began performing at a young age and earned a spot in the cast of The Mickey Mouse Club in 1992. From there, she made it big as a pop star, releasing her debut album in 1999.
Following her rise to superstardom, Britney Spears was placed under a conservatorship in 2008, with her dad, Jamie Spears, controlling her finances, among other things. Over the years, both the artist and her fans have lobbied for her to have a chance to get out of the conservatorship, with some concerned about her father's role.
In a June 2021 statement, Britney Spears confirmed her dad's role in the "abusive" situation. "The control he had over someone as powerful as me — he loved the control to hurt his own daughter 100,000%," she said (via Variety). She also called him "ignorant" and said he "should be in jail."
Her younger sister, Jamie Lynn Spears, is named after their parents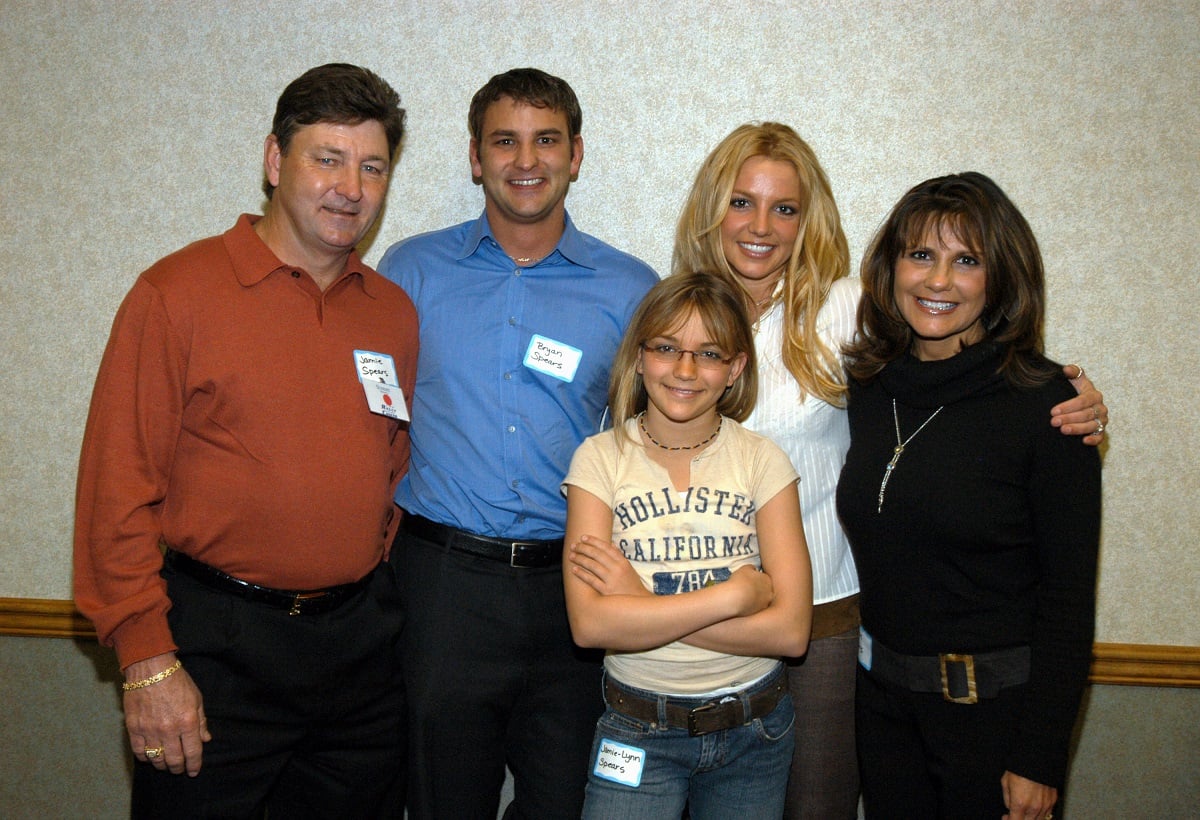 Britney Spears has two siblings. Her older brother, Bryan James Spears, is, in part, named after their dad. Additionally, her younger sister, Jamie Lynn Spears, is named after both of their parents. Jamie Lynn Spears is an actor known for TV series such as Zoey 101 and Sweet Magnolias.
In her statement, Britney Spears primarily spoke about her dad. But she also said that her "family [did] not do a goddamn thing" when she was put on lithium, adding, "my whole family did nothing." However, she never directly called out Jamie Lynn Spears.
Days after her older sister spoke, the youngest Spears sibling explained her silence up until that point in her Instagram Stories. "I felt like until my sister was able to speak for herself and say what she felt she needed to say publicly that it wasn't my place and it wasn't the right thing to do," she said.
As previous reports stated that Jamie Lynn Spears was part of the conservatorship deal, the actor wanted to set things straight. "This situation does not affect me either way because I'm only her sister who's only concerned about her happiness," she said. "I paid my freakin bills since I was 10 years old," she continued, adding, "I'm not my family. I'm my own person. And I'm speaking for myself."
Jamie Lynn's husband is Jamie Watson 
As if two Jamies in one family weren't confusing enough, Jamie Lynn Spears added another to the mix several years ago. The actor married businessman Jamie Watson in March 2014. Before his wife chimed in, Watson gave his own statement to the press regarding his sister-in-law.
"I can assure you her family loves her and wants the best for her," Watson told the New York Post (via Page Six). "I wouldn't be around people who weren't. Who wouldn't want to be in support of Britney?"