'The Tiger King and I': People Weren't Happy With Joel McHale's 'Rude Sarcasm'
Fans of 'Tiger King: Murder, Mayhem and Madness' were disappointed in Joel McHale hosting 'The Tiger King and I' special.
Yesterday, fans of the Netflix docuseries Tiger King: Murder, Mayhem and Madness heard even more bizarre stories about the one and only Joseph Maldonado-Passage, a.k.a Joe Exotic. The Tiger King and I, hosted by comedian Joel McHale, went into greater detail about what it was like to work at with Maldonado-Passage at the G.W. Zoo. 
While many people were excited about the prospect of new Tiger King content, some viewers took issue with the 'rude sarcasm' McHale interjected throughout his interviews with the cast of the docuseries.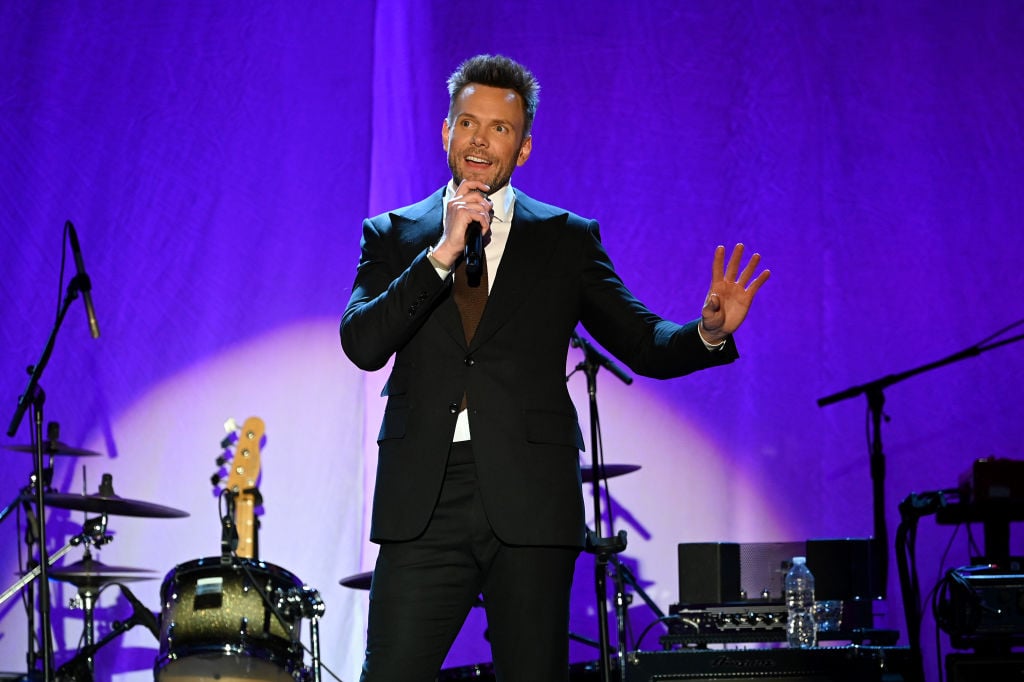 [Spoiler Alert: Details about The Tiger King and I ahead.] 
Who was part of 'The Tiger King and I'? 
McHale spoke with many of the famous characters from the wildly popular docuseries, including reality television producer Rick Kirkham and the current owners of the G.W. Zoo, Jeff and Lauren Lowe. 
Maldonado-Passage's former campaign manager, Josh Dial, was also interviewed. McHale's conversation with Dial covered what is was like managing Maldonado-Passage's political campaign and the PTSD he suffered from witnessing Travis Maldonado's accidental suicide. 
Head zookeeper Erik Cowie announced that he has never done drugs, despite what fans of the show have said. When McHale asked Cowie if Maldonado-Passage should ever be released from prison, Cowie replied: "Twenty-two years doing federal time — that guy's gonna die in there. So, good riddance." 
Other staff, like John Reinke and Kelci "Saff" Saffery, were also interviewed. They explained how difficult it was to work for and trust Maldonado-Passage and how they never stopped trusting the animals. 
Missing from the 40-minute special was Carole Baskin, owner of the Big Cat Rescue and notorious arch-nemesis of Maldonado-Passage. 
Joel McHale criticized as host of 'Tiger King' special 
Those familiar with McHale's background on The Soup would understand that he has a very sarcastic sense of humor. That sarcasm was injected into his interviews with the Tiger King cast, which angered several viewers. 
One Instagram user wrote, "The episode kinda sucked, dude. It didn't need comedy. It already was tragedy meets comedy." Another user on Twitter wrote: "Tiger king and I was lame, don't do a Game of Thrones and ruin something good."
In a time where a majority of what's on television has to do with the coronavirus, many fans thought the comedic flair McHale brought to The Tiger King and I was warranted. McHale supporters rallied in his defense, saying his "his jaded sarcasm" was just what the episode needed. 
Animal activists were disappointed with 'Tiger King and I' 
McHale wasn't the only issue viewers had with The Tiger King and I. In the episode, Kirkham mentioned that the best thing to come out of the Netflix docuseries was the attention it raised about exotic animals kept in captivity. Other than that, not very much good came out of the world Joe Exotic created.
Regardless of what Kirkham thinks, many animal rights activists were displeased with the original docuseries and even more upset with the special. Many viewers believed that the series sensationalized Joe Exotic instead of shining a light on how to improve the issue of exotic animals in captivity. 
As people are wont to do, viewers took to Twitter to express their disappointment in The Tiger King and I special.  
Another Twitter user addressed Netflix profiting from a series that showcases the abuse and exploration of animals:
Watching #TigerKingandI Can't help but wonder what Netflix is doing to support righting the wrongs seen in #TigerKing. If you are going to profit from the abuse/exploitation of animals you should make up for it. Let's face it, TigerKing glorifies & makes fun of animal cruelty.

JacJac_, Twitter
Still, other people were angry at the production quality of the episode, which was filmed was filmed on iPhones given everyone's self-quarantining. Many viewers took their anger out on the producers of the series, referring to the latest episode as "the worst thing Netflix has put out."
Form your own opinion! Tune into Netflix for the eight installment of Maldonado-Passage's tale, The Tiger King and I.
Related: 'Tiger King': People are Hoping for Another Season and Creators Say Season 2 Could Happen