'Perfect Strangers': Louie Anderson Almost Played Larry Instead of Mark Linn-Baker
Perfect Strangers was one of the most popular sitcoms in the late 1980s and early 1990s. The TV show's first season only had six episodes.
Perfect Strangers was one of the most popular sitcoms in the late 1980s and early 1990s. The ABC TV show's first season only had six episodes, but it quickly grew in popularity.
By the time Perfect Strangers aired its eighth and final season in 1993, the sitcom had become a niche favorite and spawned a hit spin-off series. Yet the on-screen universe of Perfect Strangers could have looked very different, with a different actor originally cast as one of the sitcom's iconic characters.
'Perfect Strangers' first premiered in 1986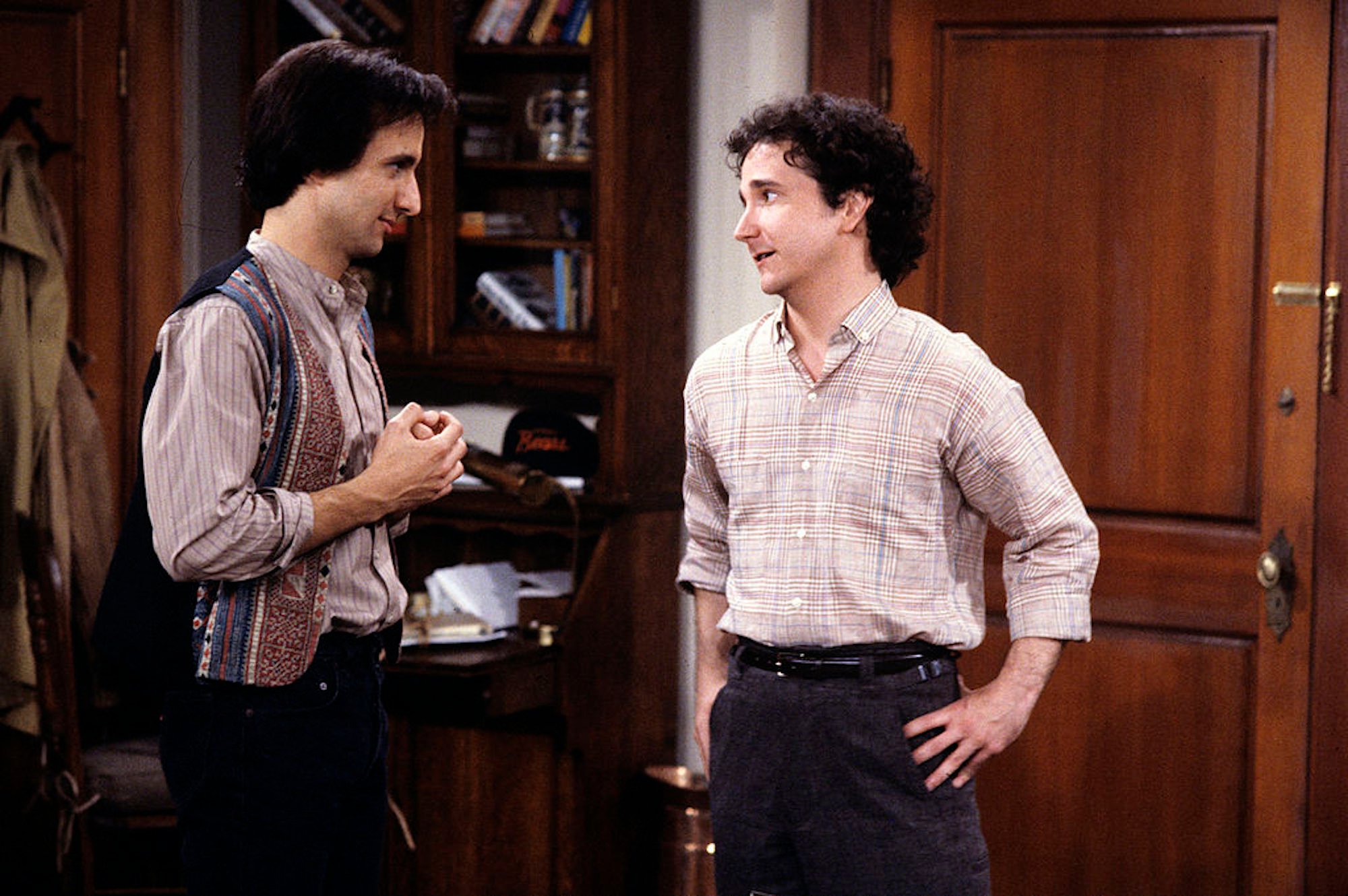 The show stars actor Mark Linn-Baker as Larry Appleton, a Wisconsinite who moves to Chicago. Appleton's relocation to the Windy City is quickly thrown into comedic turmoil when a distant cousin shows up unexpectedly: Balki Bartokomous (played by Bronson Pinchot).
This cousin is a shepherd on the fictitious Mediterranean island of Mypos, and the unlikely pairing sparked nearly a decade's worth of sitcom episodes. 
"Balki — whose knowledge of America is gleaned entirely from American television — shows up at the door of Larry's Chicago apartment and, well, hijinks ensue as the cousins share their cultures with each other," explains The Today Show. "The buddy show, which aired from 1986 to 1993, never won an Emmy but it did count comedy legend Lucille Ball among its many fans."
'Perfect Strangers' led to a very popular spin-off TV show
A few years into its run, the Perfect Strangers audience met the character Harriette Winslow (Jo Marie Payton) and her police husband Carl Winslow (Reginald VelJohnson). The two new characters were such a hit with viewers that ABC spun them off into their own show entitled Family Matters.
Family Matters would go to air nine seasons, and its series finale aired on July 17, 1998. While there was no direct crossover between the two shows, they were both set in the same Chicago universe, and some of the actors from both shows were involved in each series. For example, IMDB shows that Perfect Strangers' Linn-Baker occasionally guest-starred on Family Matters, albeit as a different character. 
And that wasn't the only surprise uncovered when viewers took a closer look at the casting choices and actors on Perfect Strangers.
The original pilot had a different actor in a major role
Pinchot's Bartokomous quickly became iconic in the world of sitcoms. "What fan could ever forget Balki's ecstatic 'dance of joy'?," asks the Today Show. 
Yet Pinchot almost didn't end up in Perfect Strangers.
"When [Pinchot] was first offered the role of Balki, he turned it down as he was already committed to another show where he played a gay attorney," explains the Everything '80s Podcast. "This show was called Sara, but lucky for us it was canceled quickly, making him available for Perfect Strangers."
And that wasn't the only time that a major character could have turned out very differently. The Appleton character also could have been a very different person on the show.
"In a slightly more cynical version of the pilot, comedian Louie Anderson appeared as Cousin Louie opposite Pinchot's Balki," reports Mental Floss. "Producers thought the chemistry was missing, so Anderson was let go; of the several actors to audition after his departure, everyone agreed Pinchot had the best dynamic playing against fellow Yale graduate Mark Linn-Baker."
Today, Pinchot has recently starred in TV shows like Lodge 49 and Project Blue Book. And Linn-Baker most recently guest-starred on Law & Order: Special Victims Unit and Succession.