'Perfect Strangers': On-Set Accident Between Bronson Pinchot and Mark Linn-Baker Resulted in Stitches and a Root Canal
TV shows in all eras often have their dangerous behind-the-scenes fighting or crazy stunts in action-packs series. Surprisingly, some of the most dangerous ones were actually unintentional and never meant to cause any physical harm.
This was the case for Perfect Strangers stars Bronson Pinchot and Mark Linn-Baker. After an on-set accident in the '80s, the two actors found themselves heading to the emergency room after.
Bronson Pinchot and his role on 'Perfect Strangers'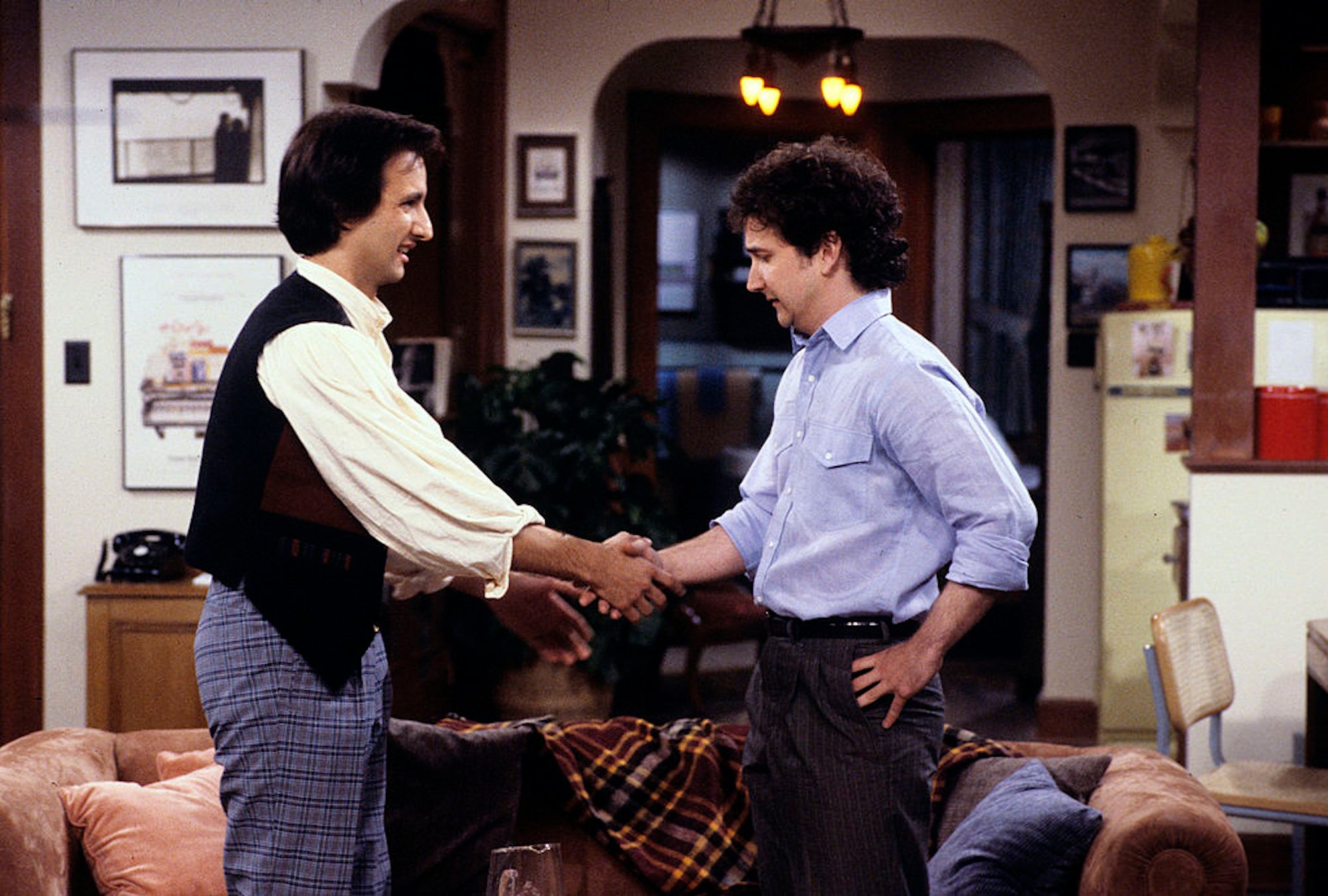 While most people know Pinchot for his major role in Perfect Strangers, the actor has an extensive resume of movies and shows, including his most popular — Beverly Hills Cop (I, II, and III), True Romance, and Risky Business.
Pinchot played Balki Bartokomous on the ABC sitcom, a foreign cousin from Hellenic Island of Mypos. He lived as a shepherd and bored with what he was doing, hoping for something more in the U.S. 
The naive, kind and positive character took to his cousin Larry's house to get closer with his family, only to get his cousin into some trouble and create some of the funniest memories viewers got to see at the time. His total ignorance of American culture and quirky way from an island he often called 'strange' made for some serious clashes with Linn-Baker's character.
Mark Linn-Baker and his role on 'Perfect Strangers'
While his acting resume is not as extensive as Pinchot's, Linn-Baker has his own collection of popular roles you may be familiar with, including Noises Off…., My Favorite Year, and Adam.
Linn-Baker took on the other leading role of American cousin Larry Appleton, a cynical person looking to get away from family — not closer like Balki. The Wisconsin-born character grew up with a huge family (with eight siblings!), so his move to Chicago was meant to be his getaway all on his own.
Despite really not wanting Balki there at first, Larry let his cousin live with him and taught him about American life throughout the series. On several occasions, Larry would also have to clean up Balki's unintentional messes.
The on-set accident that ended in a bloody mess
While a tooth to the forehead is not what anyone had in mind for the 'Stop! assertiveness' episode, that's exactly what they got when Pinchot started shaking Baker.
"It was the scene where Larry was trying to make Balki mad to show he needed to follow the Stop! assertiveness method to get his raise. It was the first take, so no one in the audience knew what was supposed to happen," PerfectStrangerTV reports. "Bronson grabbed Mark by the shoulders to shake him. He pushed Mark back, then forward, when pow! Their heads connected, and Mark literally hit the floor. A few seconds later, Bronson followed suit."
They added, "When their heads connected, his tooth went into Mark's forehead. Bronson said that for the rest of the show, whenever his tongue hit his tooth, he saw stars. They went to the emergency room right after the show, and Mark had one stitch while Bronson later needed to have a root canal."
While the scene did turn out great for the show, likely, the actors (and everyone around them!) didn't expect a little shaking to be as dangerous as it was. Considering it was the '80s — an era of on-set audiences — the whole thing played out in front of hundreds of shocked viewers. After all, how were they supposed to know if it was meant to happen or not with the two actors finishing the episode off before seeking medical help?
RELATED: 'Family Matters' Was a Spinoff That Became More Popular Than the Original Show