'Perfect Strangers': The Very Strange Origin of Balki's Name Involved a Family Dog
Bronson Pinchot's 'Perfect Strangers' character Balki Bartokomous got his name from an unexpected backstory.
The '80s introduced viewers to some of the best classic TV shows, but arguably some of the most unusual. The decade has its fair share of aliens, questionable jokes that wouldn't make it on TV today, eccentric characters, and in the case of hit series Perfect Strangers — peculiar character names. More specifically, Bronson Pinchot's character Balki Bartokomous.
Although it isn't a name you'd hear today, the story behind its creation is one worth hearing. In fact, it includes a family dog!
The premise of 'Perfect Strangers'
Perfect Strangers hit the small screens in 1986, introducing American man Larry Appleton, who wants nothing but time away from his family, and Eastern Mediterranean cousin Balki Bartokomous who wants nothing more than to connect with his distant family.
The two distinctly different personalities and cultures made for a funny sitcom that often saw Balki getting into trouble on accident and Larry getting him out of it. This significant change in their lives brought the two together for more than seven years of some trying but funny moments.
According to IMDb, the top-rated episodes of the '80s sitcom series were season two's "A Christmas Story" and "Hunks Like Us," and season three's "Pipe Dreams." However, most episodes saw satisfactory ratings overall.
Balki's role on the show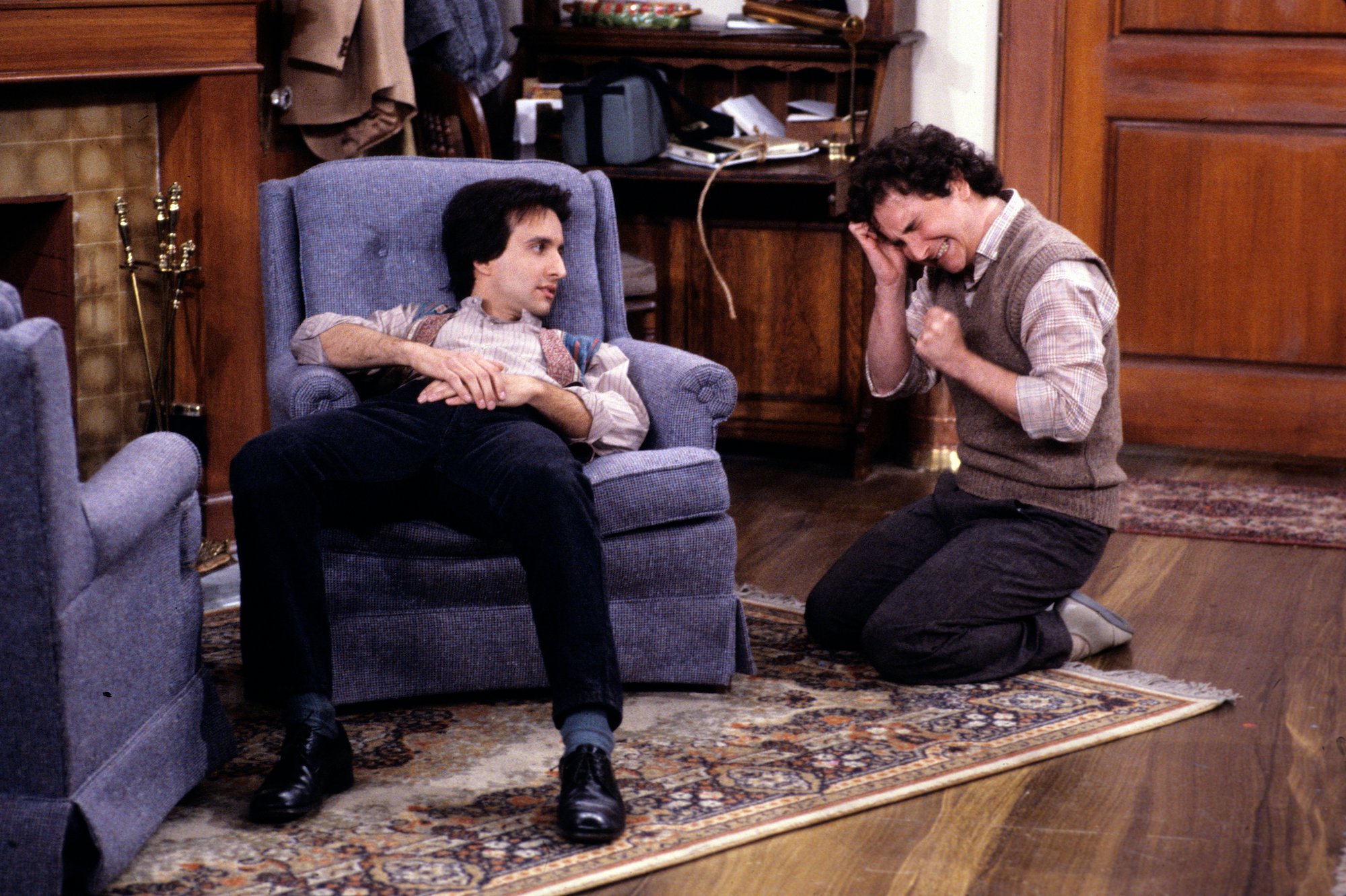 Balki Bartokomous was the European cousin who brought a range of unique and quirky qualities to his American cousin in the states. His heavy accent and different name set him apart from many other '80s characters of his time.
Not to mention viewers loved all the naive and optimistic behavior the character brought to the show and his total ignorance of American culture.
Balki's fun and positive personality in the series weren't only attractive to viewers, but the actor in the role as well. In an interview with the San Francisco Chronicle in 1988 that was reported by PerfectStrangers, Balki tells the journalist he only likes playing "offbeat characters such as Balki his specialty."
"Since playing Balki, Pinchot has refused all villain roles," they reveal. "'I won't play evil,' he says.  'I don't want that inside me.  I'm not interested in playing negative qualities.'  He says it with a trace of fear as if he believes even make-believe could be harmful to an actor's health."
Pinchot talks about the Origin of Balki's name and his family dog
There's not much better than a great story behind a unique character name in some of your favorite shows. When it comes to Perfect Strangers, Pinchot is more than happy to deliver with a unique backstory. 
"Balki is short for balcony," PerfectStranger.TV reports Pinchot saying in 1986. "Which is where Balki's father first saw his mother. But the real reason he's called that is because of my sister. When we were kids, we got a new dog, and my sister suggested we call him Balki — short for balcony. We never did name him that, but the name stuck in my head. When the series' producers and I were discussing a name for my character, it just popped out, and they liked it."
You'd be surprised just how many of your favorite shows had similar outcomes as Balki and Perfect Strangers. In fact, most shows are heavily influenced by the real lives of the actors playing them or notable people around them. Despite the name being different, getting the name from a family dog isn't on the list of the weirdest things to influence TV shows, although it is unique and creative.